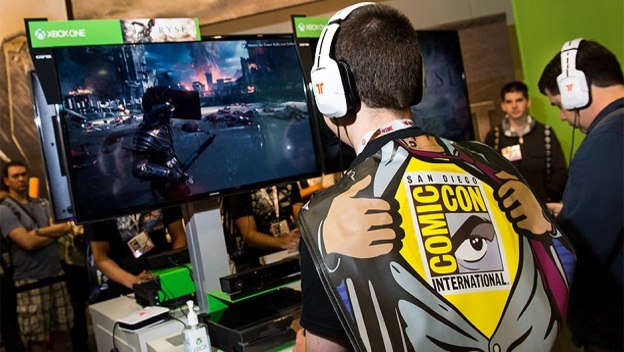 Spandex and game consoles…there is no prettier sight!
This year's Comic-Con is just around the corner. If you listen closely, you can actually hear all that skin tight vinyl and spandex starting to stretch in anticipation of the big event. For a long while now, this event has served as the mecca for the kid in all of us. We get to indulge in a few days of un-adulterated fun and fantasy. Whether you go all in by dressing in head-to-toe superhero garb, or choose the more conservative route of the simple costume shirt…there's always a place amongst your brothers and sisters at Comic-Con!
There has been a huge media influx over the last two decades or so, resulting in the event shifting focus away from just comics and into other avenues of entertainment. While movies are a logical extension of the graphic novel (with many comics translating to film and vice versa), the video game industry has certainly become a driving force at the event in 2014 as well. In fact, when looking at what some gaming companies like Sony and Microsoft plan to roll into the convention with, you could almost see this as another mini E3.
Take the folks on Team Xbox for example. They've recently posted their updated Con schedule to The Wire (which looks to make use of every possible moment the event has to offer). If you were to focus on just the things Microsoft has planned, you'd likely miss out on the rest of Comic-Con (it's that jam packed)!
So if you do plan to make it to San Diego this year, here are the highlights of what the next-gen console maker has to offer that you might find interesting during your trek.
Halo: Nightfall First-Look:
Thursday, July 24, 11:45AM – 12:45PM, Room 6BCF
We all heard the rumors for years and years. When Halo was at its zenith, all anyone could talk about was the inevitable feature film that was likely to come about. At first, names like Peter Jackson of Lord of the Rings fame were attached to direct (and for a time was connected to the creative process). Naturally, as things often do in Hollywood, it fell through. Now with Halo far removed from its glory days, the live-action digital series is as close as we may ever come to seeing a real walking, talking Spartan on screen.
Halo: The Master Chief Collection Developer Panel:
Friday, July 25, 10:15AM – 11:15AM, Room 6BCF
OK, two Halo entries in a row may make me seem like just a simple Halo fanboy but…well…guilty as charged. I'm super psyched about this upcoming "anniversary" collection. Not only is pulling together the original trilogy (with Halo 4 thrown in as a +1) a nostalgic stroke of genius, the idea of offering up a playlist of the very best moments (as a highlight reel of sorts) is a great move on their part. Also, the thought of Halo 2's multiplayer rising from the ashes is literally giving me goosebumps. I truly hope it recaptures the essence of the experience, as this is some of the best times I've ever had in a multiplayer lobby.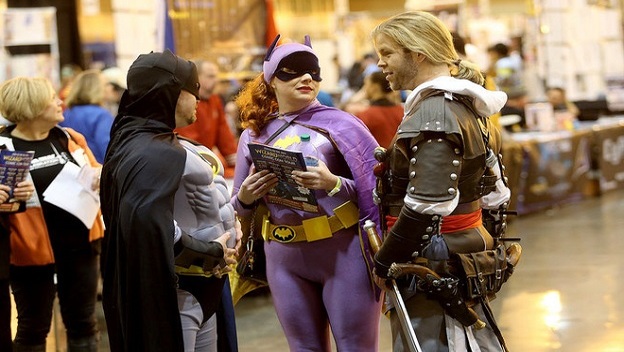 Xbox Tournaments Powered by MLG
Various Days/Times, Check The Xbox Wire For More Details
I have to admit; the chance to participate in an eSports event kinda' appeals to the gladiator in me (he's short but he's in there). Only problem is I would never make it this far via conventional methods. I do consider myself a decent gamer, but I'd likely get my ass handed to me in the qualifying rounds of most tournaments. At Comic-Con however, that's not really an issue. Games like Killer Instinct, Forza Motorsport 5 and more will be available to anyone who'd like to try their hand at competition. For the first time, amateurs and novices both will get a feel for what it's like to participate on a professional level (and get an opportunity to compete head-to-head with the pro's themselves). In a nut shell, this is the most fun you'll have losing at a video game in your life. Billy Mitchel and Steve Wiebe would be proud!
While I'd love to visit this year's convention personally (in full-on Batman gear no less), commitments to the site will keep me grounded. However, that doesn't mean I can't live vicariously through the CheatCC readers!
If any of you make it to the convention, be sure to Tweet me news and pictures from the floor. Also, don't forget to return here and share your stories in the comments section below!