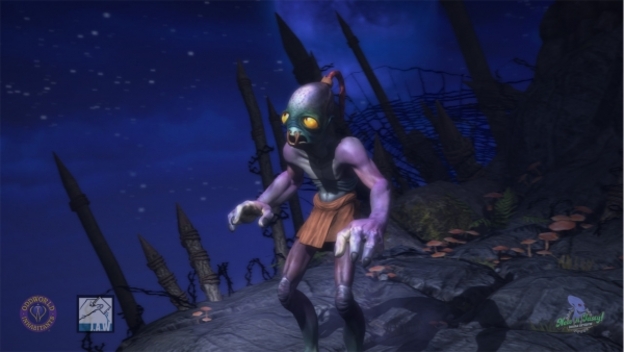 One of the latest, and in my opinion greatest, trends online is the phenomenon known as kimo-kawaii. Those in the know will recognize it as the cult of the ugly-cute. You know how breeds of dogs like pugs and bulldogs are so ugly that they're adorable? Kimo-kawaii is the same thing, except more extreme, and now everyone who has loved Oddworld games for years can rejoice in the fact that they were kimo-kawaii fans before it was cool.
Because truly, the Oddworld games are obviously an unsung hero of the kimo-kawaii movement. Anyone enjoying Oddworld: New 'n' Tasty, the Oddworld: Abe's Odyssee remake, can clearly see the connection. The inhabitants of Oddworld are all freaks. There's no debate. Yet, they're the most endearing, cutest freaks you'll ever want to meet.
Take the star Mudokons. Anyone who tries to tell you Abe's face isn't lovable is lying. Take in that purple-green hue to his skin, which should really be an official color called purpeen, and those wide, expressive, jaundice eyes. Abe is the ugliest pretty boy you will ever see. With their odd-numbered fingers, bound mouths, childlike personalities, and goofy voices, the Mudokons are practically kimo-kawaii poster children.
Which, strangely enough, would probably make the Glukkons the bishonen (and bishojo?) of the kimo-kawaii world. Bear with me, because this does make sense. Every single Glukkon we see is a sharp dressed man. These creepy guys have style. Not to mention, the glowing eyes are just entrancing. They're practically beauty queens (I'm giving up on determining Oddworld inhabitants' genders).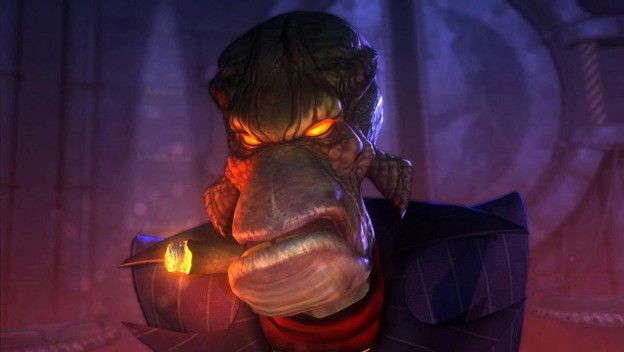 Sure, not every Oddworld: New 'n' Tasty creature follows within the kimo kawaii guidelines. It'd be tough to find someone who would find the Scrabs and Paramites cuddle-worthy. Even a Slig would be a hard sell, since we don't really see their faces. (Masked Sligs are definitely adorable though.) That's okay, because too much would be overkill. You don't want to be so captivated by a villain's character that you're too distracted to save Abe and the other Mudokons!
All that matters is the two main races in Oddworld: New 'n' Tasty clearly embody all that is kimo kawaii. Those character designs may make you cringe, but at the same time you can't help cooing over the Mudokons' precious babbling and envying the Glukkons' fashion sense. Oddworld: New 'n' Tasty isn't just fun--it's fashionable!