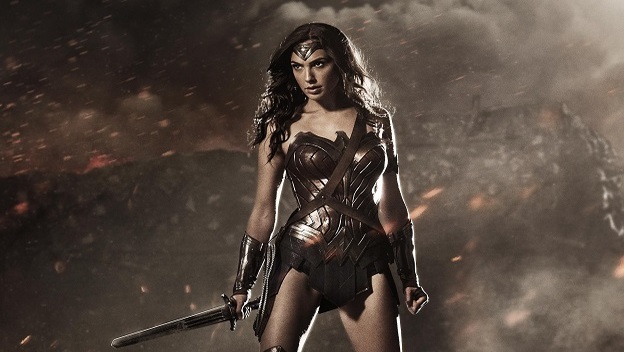 Sadly…it's time to put our skin tight spandex and foam swords away for another year.
The 2014 Comic Con has now come to a close, but boy did it not go gently into that good night! In fact, I dare say this has been one of the most loaded down Comic Con's in recent memory in regards to news. From TV series, to upcoming superhero films and all points in-between, this was one for the record books. I kicked Friday off with a quick rundown of what I considered the hottest convention news at the time, knowing the weekend would bring a tsunami of additional info. Now that the waters have receded, let's take a look at what I consider the highlights from the closing days.
LET THEM FIGHT!
I recently saw the new Godzilla reboot in theaters, and I must say I didn't expect to like it. I figured that rehashing a movie whose biggest draw involved guys in rubber suits knocking over cardboard buildings was probably a bad idea. Luckily, I feel they pulled it off in a way where films like Pacific Rim or even Cloverfield could not. It now looks as though the planned sequel will also return to the series' roots, by introducing even more classic monsters (like Mothra, Rodan and Ghidorah) for Godzilla to rumble with. From what I hear, footage from the originals was presented a 1940s news-reel fashion, giving it a historic feel. Nice touch if you ask me.
Gotham, Arrow, Flash and More…
If the theater isn't your bag (and you prefer to digest your superhero content in smaller, episodic bites) then now is a great time to be a couch potato. We were given new footage from the returning Arrow, as well as scenes from the upcoming Flash and Constantine launches. However, the real star of the show was the latest tease for Gotham. In it, we get a better feel for who the show will juggle both the comic lore of these colorful characters, while trying to maintain the look and pacing of a gritty cop drama. The focus will be on a younger Jim Gordon and the Gotham PD, but it's clear that actor Donal Logue steals the show as corrupt (yet heroic) Detective Harvey Bullock.
More Guardians' set for 2017.
While many are awaiting the upcoming Avengers' sequel with bated breath, the next best thing comes in the form of Guardians of the Galaxy! This rag tag group of unlikely heroes will look to set the stage for some of what you'll see in future Marvel flicks when their adventure hits theaters on August 1st. Marvel had previously announced only placeholders for unnamed movies in their coming schedule, but we did learn over the weekend that Guardians 2 is one of them! In addition, some test footage of the long-rumored Deadpool film (starring Ryan Reynolds) popped up on YouTube, but has since been abruptly taken down.
Good for the Bat…bad for the Amazonian.
There were also two reveals which took place during the convention, the first of which was a closer look at Ben Affect in the bat suit. While it doesn't feature much more than his profile, the latest image does help calm some fanboy criticism that Affleck was the wrong choice for the role. To me, it galvanizes the fact that Afflect could very well pull this off even better than Christian Bale's attempts (I hope I don't have to eat those words later). Unfortunately, the scuttlebutt for Wonder Woman's new look wasn't quite as positive. Sporting a mono-colored leather outfit, many are not happy with the new direction. Gone is the gold plated armor and colorful splashes of red, white and blue. It would appear her first big screen appearance of the modern era will scream Xena: Warrior Princess rather than Princess of Themyscira.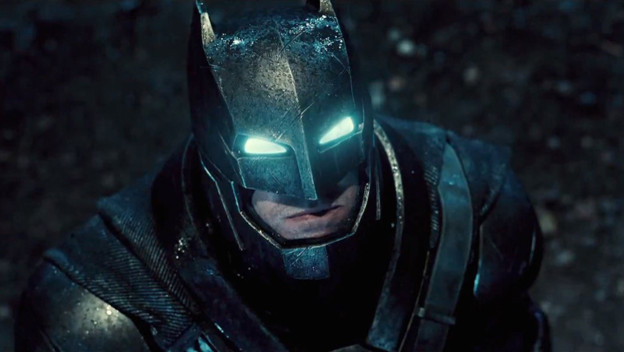 First details regarding Dawn of Justice Teaser
And speaking of Batman v. Superman, the folks over at SuperHeroHype recently posted a breakdown of what fans in attendance saw in regards to the upcoming teaser trailer. The scene is described as a rainy Gotham City rooftop. Batman and Superman faceoff in a confrontation which is apparently quite hostile. Superman's heat vision comes into play, while Batman's eyes are lit up with the glowing white illumination emanating from the heavily armored version of his bat suit. We're not given any details as to how the fight originates, but all signs point to these future partners going at it pretty hard before they finally bury the hatchet. We'll bring you further details once the teaser is released online (which should be sometime in the very near future).
I've said it before and I'll say it again: man I really wish I could have made it to Comic Con this year. Fortunately, next year will likely see even bigger things from Marvel and DC (as the releases of their biggest films will coincidence closely with 2015's event). I've already begun work on the costume I will cosplay in, which will sport the red and black designs of Flashpoint's Thomas Wayne's bat suit (combined with some hella-cool pistol holsters).
And now that this article is finished…I need to get back to work on it. TO THE NERD CAVE!