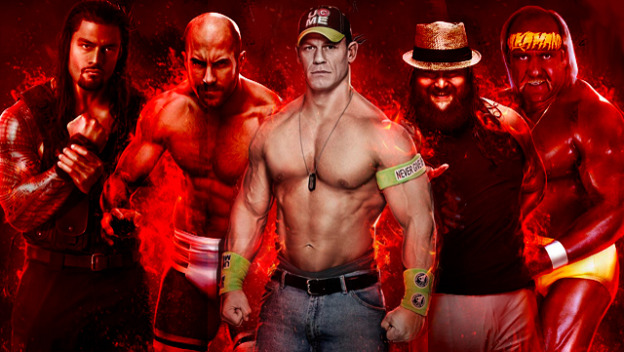 The more details we learn regarding WWE's latest game…the more nervous we get.
If you know me, then you know I've got a redneck streak runnin' through me about a mile wide. Even though I'm not quite as hardcore as say the Duck Dynasty crowd, I'm proud to say I've got one foot in the city and other firmly planted back home in the hills. With that comes two things. First is an unhealthy obsession with Mountain Dew. The second, I love me some wrastlin'. Granted I'm not a huge fan of what you see on TV today (in-fact I down right hate it at times) when it's in your blood it's hard to let it go.
And while I still yearn for the days of Hulk Hogan droppin' the big leg on his foes in all his red and yellow glory, the gaming world is the only place where that sort of thing still lives on.
This is actually a key reason I've remained a WWE fan for so many years. Even though I've been fairly uninterested with the current product for almost a decade now, the games have always delivered in a big way. With THQ at the helm, the Smackdown series provided a yearly dose of wrestling action that was consistently great. They upped the ante each edition (with legends, old school arenas, throwback belts, etc) and provided a suite of create-a-wrestler tools that were second to none. The CAW community grew so big, many would opt-out of buying DLC in lieu of downloading created superstars online (many of which looked even better than the official releases).
However, with 2K games taking over after THQ's financial troubles, things are headed in a very different direction. With last year's iteration doing a great job of paying tribute to the classics (a virtual love letter to wrestling fans of the '80s and '90s) this year they have made a conscious decision to move away from this and focus on more current elements. In addition to the recently confirmed list of playable characters (clocking in at over 60+), further details regarding the gameplay and story mode have also been unveiled. And the reaction thus far? A mixed bag to put it mildly.
So as a seasoned veteran of the franchise, here's my insight into a few key areas regarding the upcoming game (which has some fans a bit on edge regarding its planned course correction).
The Good:
Being this will be the first WWE game built specifically for the next-gen, we can expect a nice level of polish never before seen. This might very well get as close to photorealistic wrestling as the current hardware can provide. The in-ring action takes a hit once the gameplay begins, but the lighting and textures of the entrances look absolutely stunning! We're finally blurring the line between rendering and live-action. Can you imagine what they could do with a first-person view combined with the Morpheus or the Oculus Rift headset? It boggles the mind!
The Bad:
On their worst day, just about any WWE game is bound to provide some level of entertainment. Having said that, this year's roster receives the distinction of being the least fun I've seen in a long time. One of the biggest complaints logged by fans to date is the lack of legends (you'll still get entries such as Hogan, Sting, The Rock and more…but nothing like in the past). This proves troublesome for gamers like me, as I've already stated I play these games for the retro content and don't care much for the current stable of wrestlers. Could WWE be holding these back deliberately in order to booster DLC sales down the road? It's possible.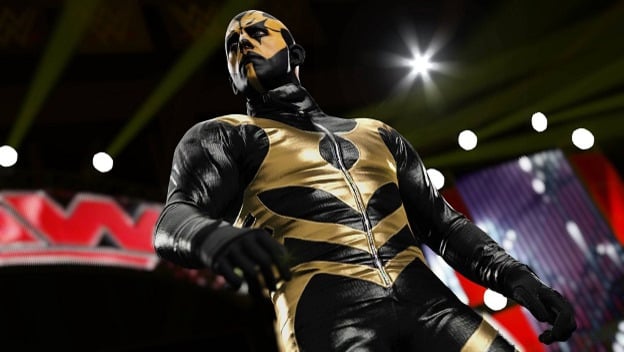 The Semi-Ugly:
I have mixed feelings regarding these next little tidbits. As for the story mode, things will break down in one of two ways. The first is MYCAREER, which will allow you to raise your created nobody through the ranks (in an NXT fashion) on your path to becoming the most talked about superstar to ever headline WrestleMania! The other focuses on feuds from WWE's recent past (like Triple H vs. Shawn Michaels and C.M. Punk vs. John Cena). Some have questioned the logic of picking these particular storylines to focus on, as many feel they don't hold the same level of interest as those featured previously. Again, I'm 50/50 on this one.
Although we still have a bit before the game drops in October, I think it's safe to say I'll probably pick this up on day one. If nothing else, I want to get a feel for 2K's sensibilities regarding where they see the future of WWE games heading. The revamped grapple system has been described as a step towards making it a true wrestling "sim," so I'm curious if this really will open new doors for my old favorite.
Only time will tell brother, so now might be a good moment to say those prayers the Hulkster is always talkin' about!