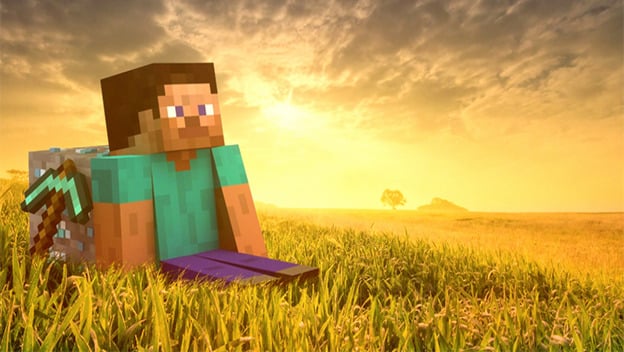 Minecraft is certainly no stranger to YouTube. And it makes sense. After pouring countless hours into the ever-expanding block world, who wouldn't want to share their creations with the world?
I've sifted through a ton of original designs, seen creative wonders by talented individuals, and descended miles beneath the earth to explore elaborate mine works. However, Minecraft always seems to take on a life of its own, simple and without boundaries. So I've decided to showcase more than just the pixelated architecture in the three video picks for this week. Enjoy!
The Construction Compilation
I would be a fool to pick just one mind-blowing creation and post it here, as there are thousands of equally impressive designs out there. Therefore, I found a pretty sizeable compilation filled with all sorts of different ideas sprung to virtual life, from sprawling medieval and futuristic cities to airships, dragons, and temples. My personal favorites are the gigantic Coke can waterfall and the Rubik's Cube. You're sure to find something in this mix that sparks the next hundred-hour idea for your own Minecraft world.
Cube Land
This Minecraft animated short is by far the highlight of the bunch. Though only a few minutes long, we are treated to a gripping story of loneliness, despair, triumph, and the faithful companionship of a pig. Even with Minecraft's blocky aesthetic, the emotion is clearly presented and well designed. Top it off with the whole scene set to the song, "Cube Land," composed and performed by the amazingly talented Laura Shigihara. She is most noted as the lead composer and sound designer for Plants vs. Zombies, but has done some incredible remixes of other well-known titles. You should check out more of her work when you get a chance.
The Many Deaths of Minecraft
There's nothing quite like sharing the fruits of your labor with a friend by playing a little Minecraft multiplayer. Of course, if you're bored with spending the whole day mining and building, you could always test some of the game's lethal contraptions. Here's a few clever ways to kill a friend in Minecraft. They start to get really funny after the "TNT Rain." I'm shaking my heading at the Benny Hill song that pops in prior to each kill, but I'll give creator ItsJerryAndHarry credit for fun use of sound at least.
By
Sean Engemann
Contributing Writer
Date: March 8, 2013