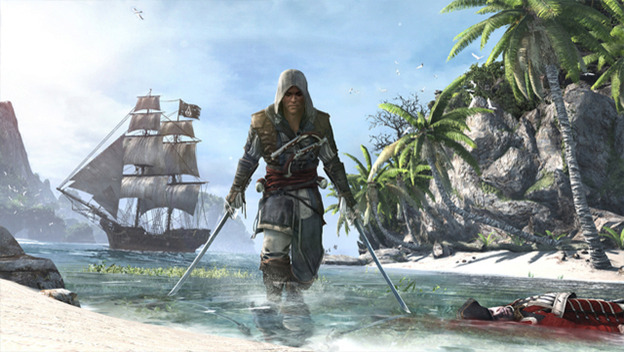 Can Assassin's Creed flourish in the long shadow of Ezio Auditore da Firenze? Assassin's Creed III has come and gone, but we're still asking that question. Gamers apparently failed to fall in love with Connor, so he's out. Sorry bud, no Brotherhood or Revelations for you. Instead, we now know that Assassin's Creed IV: Black Flag will star Connor's grandpappy Edward Kenway, Englishman and pirate. Everybody loves pirates, right? This new character and setting come with a lot of promise, but also with a hefty set of challenges for the developers at Ubisoft.
Set in the Caribbean of 1715, the game will star not only Edward, but feature appearances by such notorious pirates as Blackbeard, Anne Bonny, and Calico Jack. Don't expect Edward to be a Captain Jack Sparrow, however. Ubisoft wants to stick closer to the historical reality of piracy than to the peg-legged, plank-walking stereotype we usually see.
This approach raises several questions about Edward's character design. First, there's a reason why we've cobbled together an unrealistically jolly view of pirates in popular culture. The historical realities of piracy were fairly awful, involving regular atrocities committed against the innocent and not-so-innocent alike. We may cheer for the mythical gentleman pirate, but most of us prefer our game protagonists to have more of a conscience than actual pirates tended to display.
That leads to the second question about Edward's character: can he rise to the challenge of taking on a franchise that was once ruled by Ezio? It's a tall order to make a deadly assassin as likeable as Ezio was, and we still don't know if Ubisoft can hit that nail on the head a second time. Edward's personality is difficult to gauge from the voiceless footage we've seen of him so far, but it will be interesting to see how the development team takes on the challenge. Can they bring us a likeable swashbuckler with enough gravitas to be believable as an assassin, but not so much that he becomes moored in broodiness? Only time will tell, but dropping the white hood would probably help ease the sense of broodiness.
One of the biggest changes that Assassin's Creed IV is bringing to the series is the promise of open world gaming. Building an open world is challenging, and building an open world that involves copious amounts of sailing is doubly challenging. How will the game manage to keep players moving across open water without getting bored? At least Assassin's Creed IV has a good ship-to-ship combat foundation from the previous game to build upon. The new features of the combat, such as enemy ships with different builds and attack patterns, sound promising. Still, when not in combat, there's got to be a strong system to keep sailing interesting. Giving players at least some options for fast travel might be a good idea here.
Underwater adventure will also be included in the game, and includes some great possibilities for creative goals (perhaps even some assassination missions), as well as the challenge of creating a three-dimensional movement system that players find more fun than frustrating.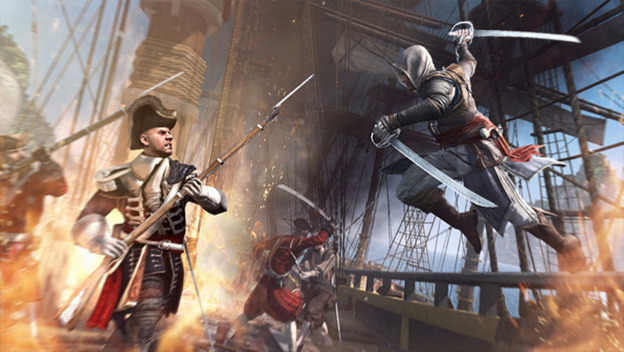 The final major feature we know is coming to Assassin's Creed IV is a revamp of the science fiction wrapping that Ubisoft insists on taping to this franchise's historical meat. Desmond is kaput, and the protagonist is now supposed to be the player, who works for the shady Templar-controlled Abstergo corporation. Apparently Edward's adventures are a part of the player's work testing a new Animus-style entertainment device. Likely, this part of the adventure will be slogged through and completely forgotten, just like all the previous "future" segments in the series.
Assassin's Creed IV brings with it a lot of promise for the franchise. The setting is compelling, a pirate protagonist has the possibility of being a great deal of fun as long as Ubisoft doesn't attempt to be too grimly realistic, and the more open world setting evokes starry-eyed hope in the minds of gamers who love freeform gameplay. All of these propositions come with hefty challenges, however. We don't know exactly how long Black Flag has been in development, but the planned November 1 release date seems a tad optimistic considering that Assassin's Creed III just came out last November. It might be best for both fans and the franchise if this game sees some development delays in order to make sure it's the grand open world pirate adventure everyone hopes to experience.
By
Becky Cunningham
Contributing Writer
Date: March 11, 2013