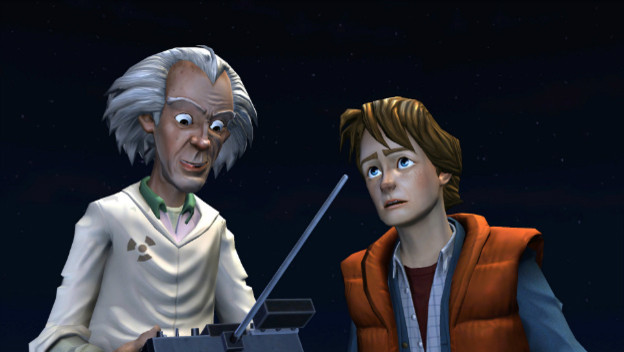 It's now October 21, 2015 and we don't have our hoverboards. It also doesn't look like the Cubs are going to be the winners of anything. Back to the Future may have gotten a few things wrong, but that's nothing compared to how much the movie series got right. It's a fantastic part of our cultural history, one which helped shape our lives.
It seems only fitting we take a day today to honor Back to the Future. Some may say the best way to do so is to marathon all three movies, maybe even in an actual theater. A marathon isn't a bad idea, but don't limit yourself. Recapture that magic by playing the best Back to the Future video games. (But not the NES games. Avoid the NES games.)
You really want to start with Back to the Future: The Game from Telltale Games, especially since a 30th Anniversary Edition has been released for the PlayStation 4 and Xbox One. It treads entirely new ground, moving the series forward after Back to the Future III. Such a prospect would seem scary, if Bob Gale, the original co-writer and co-producer of the trilogy, hadn't helped create the thing. Living in the past is great, but playing through this point-and-click adventure helps people enjoy one last romp with iconic characters. Especially since Christopher Lloyd, Claudia Wells, and Tom Wilson reprise their roles as Doc Brown, Jennifer Parker, and Biff Tannen. Michael J. Fox even appears for a cameo.
If you really want to look forward, not backward, and jet into a future with Marty McFly, then Lego Dimensions may be an even better prospect. Even though the title is an original entity, there are Back to the Future level and fun packs that let you experience a level based on Hill Valley, drive the DeLorean, ride a Hoverboard, and play as Marty or Doc. While it doesn't continue the story, it even has an edge over Back to the Future: The Game by having complete voice acting by both Lloyd and Fox. Of course, the real excitement comes from not only getting 1985 Hill Valley in the Adventure World, but also the 1885 and 2015 versions to enjoy.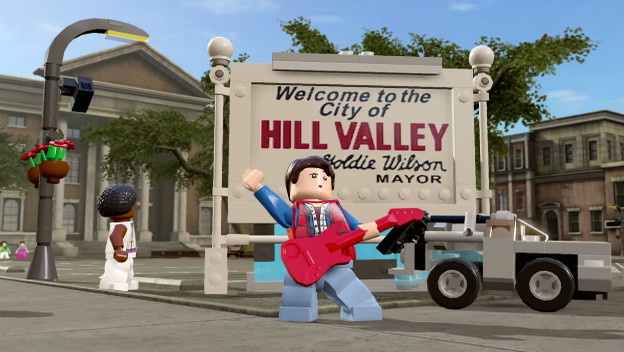 But then, maybe these two games are too long for you. Maybe you need a quick Back to the Future fix after unwinding with the movies after school or work. That, friends, is when you head to Rocket League. The game added a Back to the Future Car Pack today for $1.99 that puts a playable DeLorean Time Machine into your game. It even leaves behind a burnt ground rocket trail that's sure to impress fans with its accuracy. Granted, you aren't traveling through time, but I think Doc Brown would approve of your using it to essentially play soccer with cars.
Back to the Future is an iconic series that has withstood the test of time. It's a rare feat for a title that attempted to predict the future, since many other forms of media that do end up falling short as the actual dates depicted approach. But this series has held strong due to entertaining stories and delightful characters. Remember and honor it today with video games.