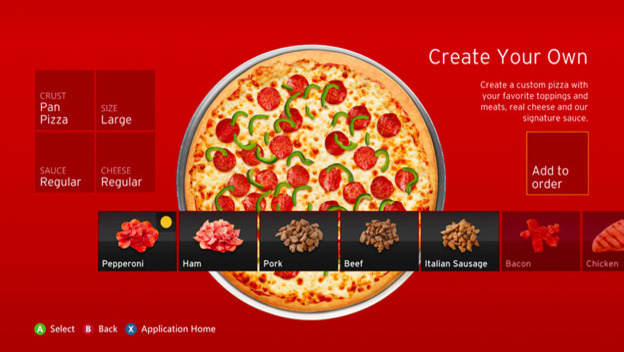 Pizza and video games might be the most quintessentially American combination since baseball cards and bubble gum. But they've never really been rolled into one convenient package—at least not for Xbox 360 users.
Sure, Everquest II players could order a pizza by simply typing "/pizza," and the PlayStation 3's Internet browser includes a Papa John's shortcut, but Xbox owners like pizza too. And, until today, they've been stranded in a pizza-less wasteland. Luckily, Pizza Hut was kind enough to create its own solution.
The Pizza Hut for Xbox app will give 360 users the ability to order a pie from the convenience of their living room. The software, which should hit the marketplace today, also allows players to build their own customized pizzas using the Kinect's voice and motion controls.
Larry Hryb, the Director of Programming for Xbox Live, told Polygon that Pizza Hut and Microsoft have been discussing the app for a very long time, and that both companies are pleased with the implementation. "We're always looking at ways to give our audience more of what they're interested in," he added. "If you look at our audience, they love pizza. I mean, who doesn't? It has international appeal, and Pizza Hut is a recognized brand that matches up well with the Xbox brand."
Hryb also noted that this app is the first piece of console-based software that allows users to purchase physical items. If successful, this business model could open some interesting doors for a few entrepreneurial companies. "Xbox Live is a tremendous force in the living room," Hryb said. "With all the streaming you can do and the games you can play... It's not necessarily about bringing in next-gen, it's about what's right for the living room space."
Now, very few people on earth eat as much pizza as I do, and I've already informed my family that I'll be ordering an Xbox pizza later this evening, but will this app actually increase pizza sales?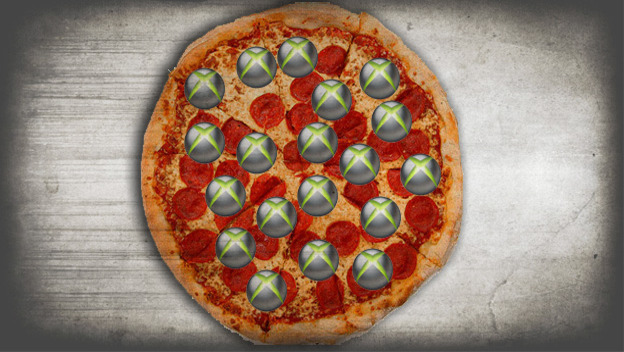 I doubt it.
I'm sure that Pizza Hut will see an initial surge of Kinect concoctions, but the fact that I can already order a pizza from my computer, cell phone, tablet or landline makes me wonder if I really need a novel way to contact Pizza Hut.
Though, I've never tasted a pizza that was created using virtual reality technology. So, I'm reserving judgment.
By
Josh Engen
News Director
Date: April 23, 2013