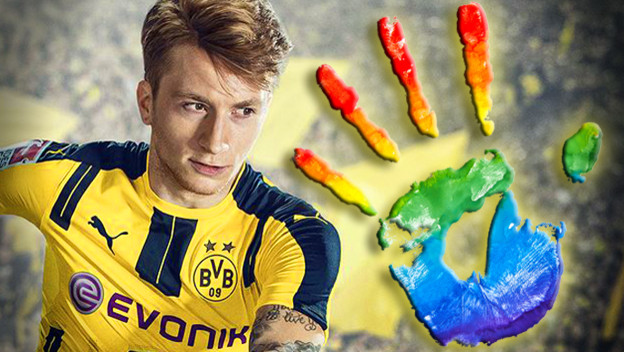 During the last week of November, EA Sports decided to join Stonewall's Rainbow Laces campaign by featuring free rainbow-coloured uniforms in FIFA 17 for everyone. These are specifically for the virtual soccer players in the game's Ultimate Team mode. All you had to do to get one was boot up the game before November 28. Stonewall is a UK-based LGBTQ rights group that began the Rainbow Laces campaign to fight homophobia, biphobia, and transphobia in soccer. According to their promotional video, 72% of fans have heard anti-LGBT remarks at games over the past five years. It is important to note that not only EA Sports joined this campaign, but so did the Premier League. Premier League is more or less the UN of soccer, laying down the rules and conduct of the sport.
All good things, right? I'm certainly glad to hear that EA is continuing to be so inclusive and supportive of LGBTQ rights. Besides, if you're not into rainbow uniforms, you can definitely avoid them by simply choosing not to put them on your players. According to Russian MPs, the choice is not nearly enough. They sent a rather colorful letter to the Communications Oversight and State Consumer Protection agencies stated that FIFA 17 "invites users to support the English football premier league's Rainbow Laces action, a massive campaign in support of LGBT." The letter continues on to point out that this goes against Russia's 2013 law that bans such "propaganda of non-traditional sexual relations," citing that it causes "harm to children's health and development."
Despite the ridiculousness of this claim, the Russian MPs are suggesting that FIFA 17 be banned in Russia. United Russia MP Irina Rodnina told the Russian newspaper Izvestia that the agencies should "verify the possibility of distributing this game on the territory of the Russian Federation. Every state has its internal laws and order; they need to be obeyed." That's code for requesting a ban or altering the game's content to suit Russian law. Another MP, Valery Rashkin, supports this suggestion and in the letter petitions to EA to "introduce changes to the programming code or the age classification of this information product, and if it refuses, adopt corresponding restrictive measures."
As much as I want to battle this with humor, these MPs are to be taken quite seriously. This is the same group that in 2015 moved legislation forward to fine or jail anyone who comes out or speaks of their homosexuality in public. They are applying their backwards logic to a video game event by claiming that it will be harmful to children. If video games must follow any law of censorship, it should be the country in which the games are developed. I won't agree with it then, either, but that makes a lot more sense to me than allowing the laws of a foreign country to apply to a virtual space. Especially when that virtual space can be altered by those who did not have a hand in creating the original.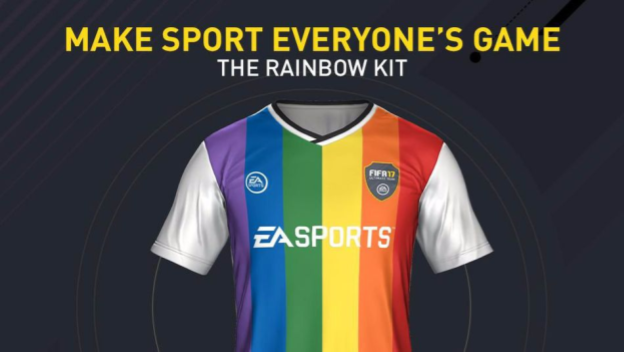 More importantly, anti-gay laws like this are ridiculous and sound even more so when applied to the global community of video games. Yes, there are some conservative gamers and developers out there, but I like to think they wouldn't dare sacrifice a game's content just to suit anti-gay laws. They already know it's their choice to ignore it and move on if they don't like it.
This is FIFA 17, a soccer game, and you can very easily ignore the campaign by simply not equipping rainbow jerseys on your team. This isn't even the famous Russian punk group Pussy Riot screaming for LGBTQ rights in Russian streets. Banning a harmless soccer game is stupid, yes, but this kind of attitude is extremely hurtful. It will only get worse from here.