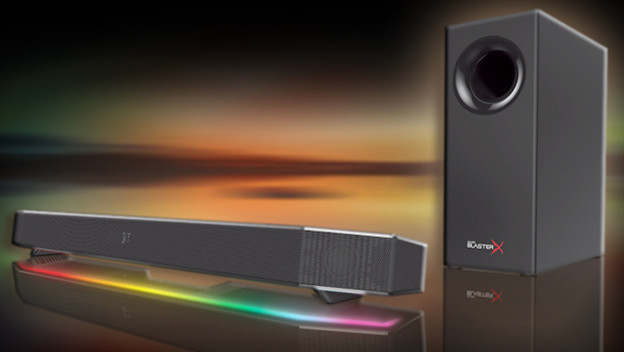 If you're putting together a gaming setup in your home, you want things to be right. Everything has to come together. You need the right PC, a great monitor or TV, and a means of making everything sound amazing. That's where Creative's Sound BlasterX Katana soundbar comes in.
The Sound BlasterX Katana is a multi-channel soundbar with computer, USB, Bluetooth, auxiliary, and optical-in connectivity options. Its chassis is made of brushed aluminum panels and has an under 60mm profile, allowing it to easily fit under both monitors and TVs. There are five drivers, each chambered and powered by a Digital Signal Processor amplifier. To ensure the sound is immersive, there are two 2.5" up-firing midbass drivers, a 5.25" long-throw subwoofer driver, and two 1.3" high-excursion tweeters. All of this means that there are no audio sweet spots. The entire space around the speakers and in your gaming or viewing area is the sweet spot. Especially since it supports Virtual 7.1 channel audio input signals.
This is complemented by the Sound BlasterX Katana's tri-amplified design and 24-bit high-resolution audio. The former are controlled by the aforementioned DSPs and have up to 75RMS/150W output. This ensures even distribution and high definition sound. The latter is a Dolby Digital decorder that allows conversions from optical sources to 24-bit 96Hz 5.1 configurations. This ensures that the room will be filled with the crispest, clearest sounds of whatever you're playing or watching.
The Sound BlasterX Katana has the advantage of being visually appealing as well. When you get speakers, it can be difficult to get others excited about, or even interested in, them. You know what all the technical jargon means and how much better that will make your games sound, but the people you're playing with might not get it. The programmable LED lights help with that. For people with a living room PC hooked up to their TV, it's a visible sign that there's something special there.
It also means your game room is going to look a lot better. The 49 LEDs are programmable. The Sound BlasterX Katana is capable of 16.8 million colors. You'll be able to put together profiles for specific games. Going to play Resident Evil 7 or Dark Souls III? How about a blood red effect? Is it time for Call of Duty: Infinite Warfare or Battlefield 1? Why not take a shot at a camoflauge pattern with black, brown, and shades of green? You're getting form and function here.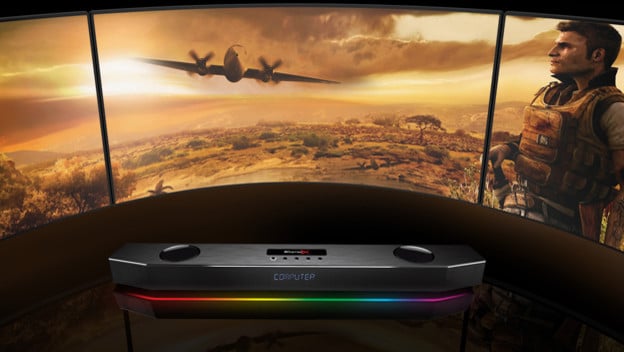 And then, there's the price. I know, $300 seems like a lot of money for a soundbar system. And it is. But think about comparable speakers. A Bose Solo 5 soundbar is $250, and it doesn't have the visual delights. A Klipsch R-10B Bluetooth soundbar is $500. This is the sort of thing that requires this kind of investment to get the right one. The Sound BlasterX Katana makes sense, when you compare it to competitors.
The Sound BlasterX Katana is an incredible system. It delivers amazing sound quality, thanks to it being made of some of the best materials you can get in a speaker. It's aesthetically pleasing, thanks to LEDs that let you set the mood for whatever you're currently doing. And, considering everything it is capable of and how much you'll be using it, $300 isn't even that expensive. This is a great piece of equipment that will improve your gaming quality of life.