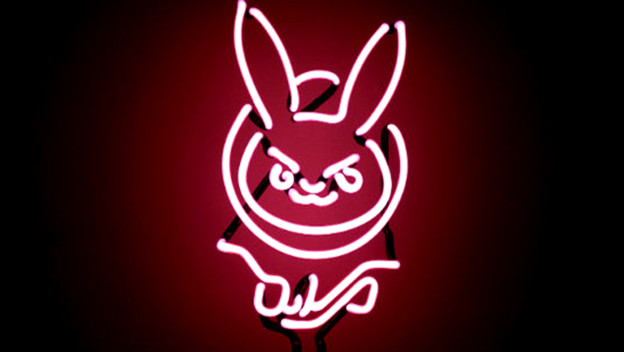 When you love a game, you want to show off your appreciation for the title. You want something unique and original. Maybe even something that looks generally cool, so people who aren't familiar with the game will also be struck by how awesome it is. Enter FanFit Gaming. This retailer offers amazing products for gamers in general, but especially offers an Overwatch line of items that will leave people who can't get enough of characters like D.Va, Mercy, Reaper, Reinhardt, Genji, and Soldier 76. Its neon lights and pennants are extraordinary ways to show your love for the game.
Let's go ahead and start with the Overwatch neon lights, since they're so incredibly cool. These are handmade products. Each light is completely original and created from hand bent glass, shaped into an icon or outline that reminds you of one of your favorite characters. The variation I'm rocking is a D.Va desk light that's a bright pink depiction of her rabbit insignia with her name below it. It's remarkably detailed, considering it is a neon light, with the rabbit's facial features easily distinguished and D.Va able to be clearly read. It gives off a pleasant, reassuring glow. I've found I like to use it as mood lighting when playing Overwatch (or other games) at night. Though honestly, there have been times when I've used it as a geeky night light as well.
What's especially nice about FanFit Gaming's neon lights is how you only notice the good things about them. There's no irritating buzzing or humming. You don't hear any sort of cooling fan. It's even a safe light that never gets hot to the touch, making you worry about accidentally brushing against it and hurting yourself or presenting some sort of hazard in your home. They're just large, gorgeous lights. It's really quite a relief, since you could leave it on as long as you'd like and enjoy it, rather than worrying if you should bother having it on or off. I can appreciate my D.Va light for what it is and use it whenever I'd like, rather than feeling conflicted about it as I did with my lava lamp back in college.
There's even a sense of variety to enjoy. I know I've been talking about Overwatch quite a lot, as well as the D.Va FanFit Gaming lamp in particular, but this is only one of a growing collection of items. In addition to new lights inspired by Lucio and Roadhog, others inspired by Nintendo are up for pre-order. Someone could call dibs on a Tri-Force or NES-inspired controller. Each one offers something different and unique to enjoy, with accurate renditions of familiar symbols and sometimes even multiple colors. It shows an opportunity to get something that appeals to you for your money.
And, considering the detail and quality, $79.99 is practically a bargain. Depending on the size and shape, more ordinary and typical neon lights can start around $60 and even pass $100. For the level of detail here, on a handmade product, you're getting something unique to enjoy. FanFit Gaming has an item that has such personality to it. It really lights up a room. (Pun intended.)
And then, there are the pennants. Another FanFit Gaming original, these felt banners are designed to cater to Overwatch fans. Each one has a collegiate feel and pixelated design that proclaims your love for the game or certain characters. They're sturdy and high quality, with ropes and materials that feel quite substantial. They look great when hung in a variety of positions around a room. Plus, the designs are instantly recognizable and able to be appreciated by folks who know the game. Reaper fans could get one with his name or "Die! Die! Die!" catchphrase on it. D.Va players could get one with her name or "Nerf this." Similar options are available for Genji and Winston, as well as basic Overwatch logo banners. They're a stylish and unique way to show your support and, at $20 each, a nice impulse buy for yourself or as a gift for a friend.
FanFit Gaming's neon lights and pennants make decorating a delight. You can deck out your room, showing support for your favorite Overwatch character. The lights are bright and beautiful, as well as safe and quiet. The pennants are well made and cleverly designed. All together, you could really set the ambiance for a match and make any room, not only a game room, feel a little more special with these decorative accents.