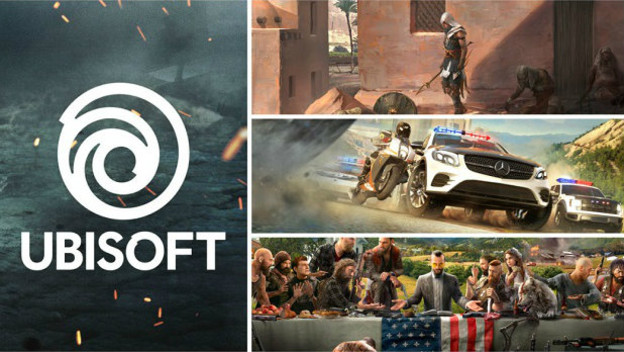 Be sure to check out our E3 hub for 2017 all week long to get the latest gaming news, previews and announcements right from the convention floor!
Well, instead of the expected Ubisoft defiance of press conference protocol, snubbed etiquette with sharp language and quick wit, slapping the face of those jeans, and sports coat executive often found on stage at those other shows, today the presentation began with class. In place of Aisha Tyler as host, Ubisoft CEO Yves Guillemot took the stage and introduced the legendary Shigeru Miyamoto. Yes, Mario and the Rabbids kicked things off.
Mario + Rabbids Kingdom Battle
Wielding a Bullet Bill cannon arm, Miyamoto sang praises to the partnership and friendly developer competitiveness of Nintendo and Ubisoft. He stressed that Mario + Rabbids Kingdom Battle is a completely new experience in the Mushroom Kingdom, and he was right. This tactical role-playing game has Mario and a pair of sidekicks, be they the usual Mushroom Kingdom suspects or costume donning Rabbid doppelgangers, exploring the twisted landscape and engaging in turn-based tactical combat on grid-based battlefields. Utilizing a varied selection of characters, weapons, and skills, defeating the nefarious Rabbid gang requires a keen strategy and clever use of the environment. Mario + Rabbids Kingdom Battle launches on August 29, 2017 exclusively for the Nintendo Switch.
Assassin's Creed Origins
From the Mushroom Kingdom to ancient Egypt, Assassin's Creed Origins followed with a gorgeous cinematic trailer that showcased more than simply deserts and pyramids. The playable world is full of civilization both meek and grand, with untamed wildlife creating hazards beyond those of you human adversaries. Apart from a glared out monitor showing the game's protagonist, a Medjay named Bayek, exiting the desert into coastal military camp, the rest of the gameplay was reserved for an exclusive showing after the press conference. Assassin's Creed Origins launches on October 27, 2017 for the PC, PS4, and Xbox One.
The Crew 2
The crisp looking cinematic trailer highlighted the various modes of transportation at your disposal in The Crew 2, from cars to dirt bikes and other off-road vehicles, as well as speed boats and propeller-driven airplanes. With these new toys, it's not just the bustling streets and racing tracks that are your playground, but narrow rivers, coastal oceans, and even the skies, all presenting the ultimate racing challenges. The Crew 2 is expected to launch in early 2018 for the PC, PS4, and Xbox One.
Skull & Bones
Skull & Bones builds on the naval gameplay from Assassin's Creed IV: Black Flag, allowing you to take control of a cannon-clad vessel of the early 18th Century. As pirates with your endless lust for loot, you'll take to the seas either solo or with a gang of friends and battle against enemy fleets. Different ships have different strengths, such as a battering ram or stouter hull. The press conference gameplay showcased a 5v5 PvP mode called Loot Hunt, where the goal is to collect as much loot peppered around the archipelago while ramming, blasting, and boarding enemy ships. Once the overpowered Pirate Hunters enter the waters and target the heaviest loaded ship, that is your cue to find the wind and make your escape before being overwhelmed. Skull & Bones is a long way off, with a release date marked for Fall 2018.
Far Cry 5
Another dose of Far Cry 5 arrived at E3 2017, this time straight from the developer. The cinematic trailer played a twisted rendition of "Amazing Grace" as the Hope County cultists fanatical preached of cleansing the sinners from their slice of Montana. The gameplay footage highlighted the strategic importance of using your "guns for hire" teammates, whether sniping from a water tower, mowing down enemies with a thresher, or using your faithful dog to disarm a cultist. Far Cry 5 launches February 27, 2018.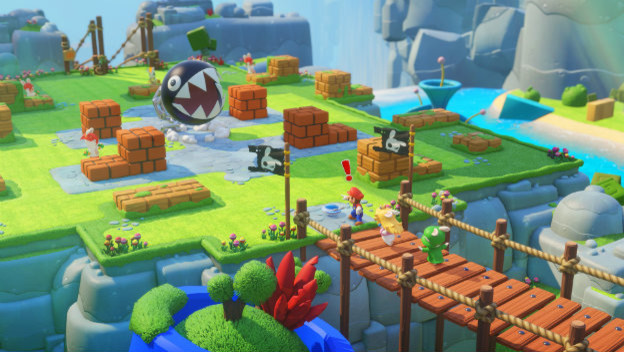 Beyond Good and Evil 2
Ubisoft's final trailer was met with a roaring ovation from the crowd (and myself), as designer and series director Michel Ancel took the stage in tears to unveil Beyond Good and Evil 2. This gritty and f-bomb soaked cinematic masterpiece dove into the alien world's backdrop, where corporations rule and create genetically engineered being from various animal species to perform their labor. Set before the birth of the original title's heroine, Jade, the uprising of the supplicants displays their gripping resistance and fight for freedom. There is no release date yet, but just knowing it is finally in the works is good enough for me.
Additional Notes:
South Park: The Fractured But Whole's new trailer was all about the new kid (you) being the superhero savior of the titular town, and Cartman swearing up a storm and basically stealing the entire trailer. The game launches on October 17, 2017.
Transference provided a trailer hinting at its psychological thriller design, featuring Elijah Wood and being developed for the PC, PS4, and Xbox One, as well as compatibility with VR devices. Its launch is slated for Spring 2018.
A psychedelic dance break brought with it a promotion for Just Dance 2018, coming in October 2017.
South Park: Phone Destroyer is a tactical collectible card game coming to mobile devices coming later this year.
Starlink: Battle for Atlus is a spacefaring and planet hopping toys-to-life game that allows physical customization of your starship placed directly on a PS4, Xbox One or Nintendo Switch controller. The game is expected to launch in Fall 2018.
Steep will receive its first expansion, bringing the PyeongChang 2018 Olympic Games to its digital slopes with all the skiing and boarding events included. This expansion will be released on December 5, 2017.