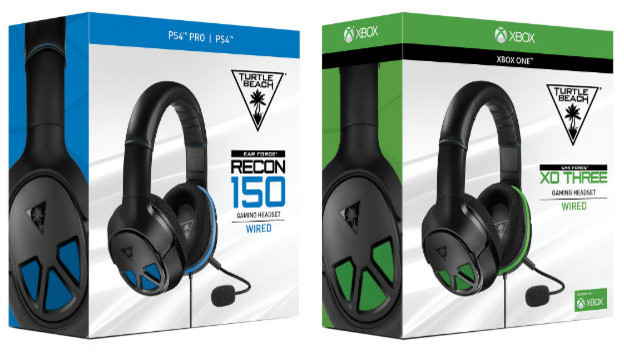 It is always exciting when new headsets arrive on the scene. Each year brings with it new advancements and technologies that make us and our games sound better. It's an area where things are constantly improving. Especially when companies like Turtle Beach work to bring updated and original headsets each year for the biggest platforms. 2017 brings us two new options, the Recon 150 for the PlayStation 4 and XO Three for the Xbox One each does its best to make this kind of peripheral more exciting than ever.
Both the Recon 150 and XO Three have a few things in common. Each one has 50mm speakers. This means you'll be able to enjoy amazing sound quality as you play. They also feature Turtle Beach's Crystal Clear Chat, a means of connecting to others be being sure they heard exactly word you said. This is thanks to the removable mic, which is incredibly sensitive. Both also have volume and mute in-line controls, so you can immediately adjust the quality of your sound or shut down your mic if you need to go somewhere.
There's also a level of comfort both the Recon 150 and XO Three provide. Both are over-ear headphones, helping to ensure you're only hearing what's important. These are fabric-wrapped cushions, so they won't hurt your ears if you're enjoying a three or four hour gaming session on the weekend. There is also a leather wrapped headband, for durability. The mic is removable, so you can use it with devices that have a 3.5mm audio jack. Also, since the ear-cups fold flat, you could take your headset with you to a friend's for gaming or on the road for listening to music or other compatible devices.
Speaking of compatible devices, the Recon 150 and XO Three aren't limited to their respective consoles. The Recon 150 can be used with the PlayStation 4, PC, mobile devices, tablets, and even the Xbox One. The XO Three is exactly the same, as it is billed as an Xbox One peripheral, but will go well with the PlayStation 4, PC, and mobile devices. The only difference is the color scheme, as the Recon 150 is blue and the XO Three is green. That kind of versatility is important.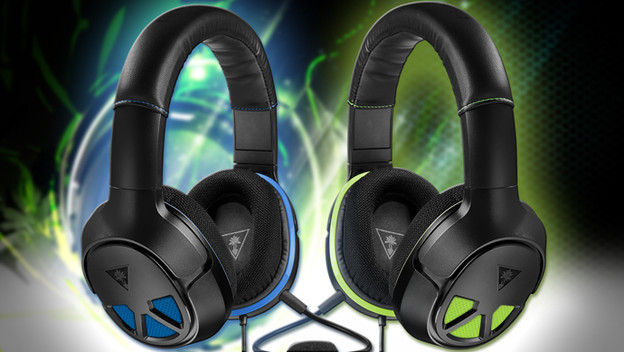 There's one other important element to note about the XO Three. It has one feature the Recon 150 doesn't. That's surround sound. If you use this headset with the Xbox One or a Windows 10 compatible PC, your games will sound even more amazing. The music, sound effects, and voices will be even more immersive. It kicks up your gaming a notch when you have that kind of option.
Maybe the best part of all is the price. Both the Recon 150 and XO Three are $69.95. When you consider this is a headset that will work with your favorite systems, as well as your computers and mobile devices, that's an incredible deal. Especially when you have such comprehensive speakers, range, and options available to you. Each one could make your online interactions more enjoyable.