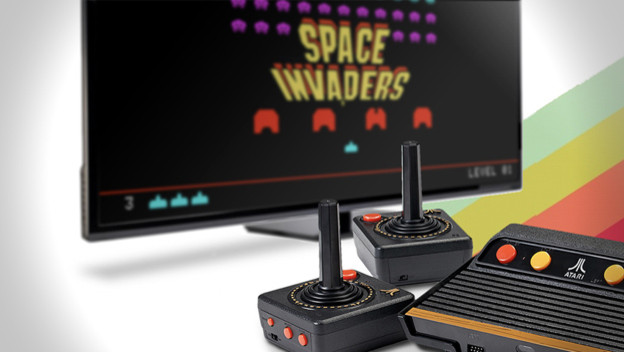 Retro consoles are experiencing a serious surge in popularity. Actual games are in high demand, with certain NES, SNES, Master System, and Genesis cartridges costing as much as or even more than contemporary titles. This means actually attempting to pull together a collection of classics is a costly feat. Fortunately, there are plug-and-play systems to turn to for easy access. AtGames has been putting together such convenient microconsoles for years so people can easily play older games. CheatCC caught up with Ray Attiyat, AtGames' Marketing Coordinator, to talk about systems like the Sega Genesis Flashback, Atari Flashback 8 Gold, ColecoVision Flashback, and Intellivision Flashback.
AtGames' systems are different, in that the company has a wide assortment available and covers multiple platforms. After all, Nintendo's only handling their own NES and now SNES systems, while this company is taking care of the Genesis, Atari, Intellivision, and ColecoVision. When asked about how these systems come to be, Attiyat said, "When [AtGames] have an idea, we will flesh it out into a full fledged pitch. Once that is completed, we will meet with the licensor(s) to work out the approvals/contracts. When that is all settled we would begin the last step of setting the hardware and writing all of the software/emulation that is needed."
Interestingly, the games available in each system vary for reasons you wouldn't expect. According to Attiyat, "We internally review our games list every year and do take public feedback into consideration." This is why the 2015 Sega Genesis system has 80 games compared to this year's 85, and the Atari Flashback 2 has 40 Atari 2600 games compared to the Atari Flashback 8 Gold's 120. Of course, these are only a part of the reason. Another is making sure the systems are at their best and improving. "Among hardware and software optimizations, we also include new games and publishers to our consoles every year." Pointing to the Genesis systems again, a clear difference between last year's and this year's is a rewind feature.
In each AtGames system, making sure everything is working properly is key to delivering the nostalgic experience people expect. This means emulation is an important part. Attiyat mentions how critical this is during the creation process, saying, "The emulation will always be the hardest technological aspect of the systems. Along with being a great value, we need to balance authenticity with easy accessibility." While some may occasionally express concerns with how a system may run, it is also important to consider the things AtGames' consoles are capable of.
With the Genesis consoles, that means putting together software that is capable of recognizing original controllers and even some cartridges. "For the Sega console we wanted to make sure that we could allow you to use as much of your old hardware as we could manage." Attiyat said. Think of it as a way to still make use of any Genesis carts you can actually find. It means having a microconsole that immediately works with your modern TV and expands your options. When it comes to the handhelds, it explains the reasoning behind the SD slot. Attiyat explained, "Giving the user the ability to add their own or other fan made games was a priority on the handhelds, since they would otherwise not be able to use cartridges like they can on the Sega console."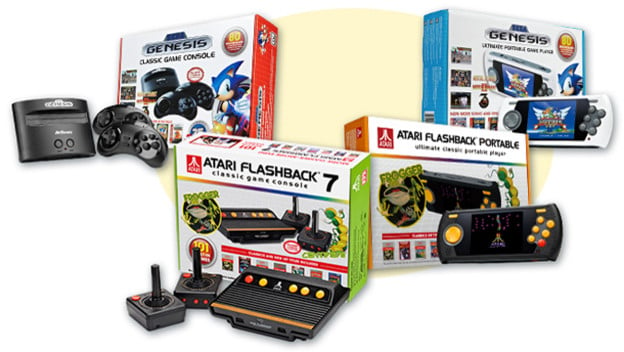 But what of other systems? There are so many other platforms and possibilities. When asked about the Nintendo Classic Edition line, Attiyat was quite positive. "Nintendo's releases have been great for the entire retro market. It gives everyone another great option and we welcome them into the retro gaming space." He was also very positive about AtGames' own future options. While he couldn't talk about new plug-and-play systems just yet, he said, "We're always looking at expanding our line-up and will definitely be announcing new products in the not-too-distant future."
For now, new Atari and Genesis plug-and-play systems are on the way. Both the Atari Flashback 8 and Sega Genesis Flashback are on the way on September 22, 2017. The Atari Flashback 8 classic system is $59.99 and has 105 games and Atari Flashback 8 Gold has 120 games, 720p HDMI output, and wireless controllers for $79.99. There is a standard $59.99 Genesis system that has 81 games and fewer features, as well as a $79.99 iteration with 85 games, 720p HDMI output, and wireless controllers. Who knows what advancements, game lists, and features we could see in 2018, 2019, and even 2020?