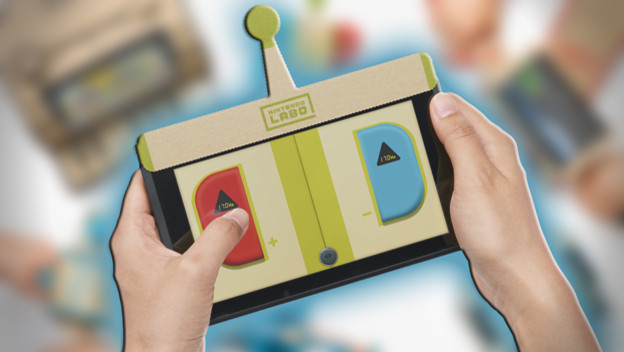 Nintendo has announced a whole new peripheral! Or is it a game? Or is it a craft project? Nintendo Labo is one of those things that might be a bit tricky to describe. The one thing we can definitively say is that it is cardboard. Yes folks, the future of gaming is not VR. It's paper. These kits will let people take pre-printed cardboard, pop it out, put it together, then use it as Switch accessories. The cost is a whopping $69.99 for the Toy-Con 01 Variety Kit and $79.99 for the Toy-Con 02 Robot Kit.
Which may have you thinking, did Nintendo just announce it is going to be selling premium, as expensive as a Nintendo 2DS cardboard? Technically, yes. But there is far more to this whole Nintendo Labo thing than that. Let's break down exactly why it might have that $69 or $79 price point, as well as why it is no big deal that it is such an expensive or ridiculous thing.
First, let's look at what's in each box. Every Nintendo Labo starts with a game. In the case of the Variety Kit, it is one with games or applications connected to the fishing rod, house, motorbike, piano and RC Car periperals you get to build. With the Robot Kit, it is a game that lets you be a giant robot. Most Nintendo Switch games are $49.99-59.99. So part of this big price tag is for that game that is packed into the box. Most people aren't focusing on that part of the equation.
Let's be generous and say the game part of the Nintendo Labo kits would be $49.99. That leaves $20 and $30 unaccounted for, respectively, for the Variety and Robot Kits. The Variety Kit also has 28 cardboard sheets, two things of string, two eyelet sets, six small rubber bands, two big rubber bands, three sponge sheets, and three sticker sheets. The Robot Kit has 19 cardboard sheets and four cartstock sheets, four things of string, four canvas straps in various sizes, 12 eyelet sets, and a sticker sheet. While some of that is just cardboard, they are preprinted and precut materials. It's actually a lot of stuff. And anyone who has ever bought any kind of crafting project can confirm even the smallest items can immediately be $10. When I grabbed a cheapo crocheting kit, it was $10 and only had one metal hook and two balls of yarn that were only enough for two very small projects. The projects in the Nintendo Labo set are far larger and more extensive.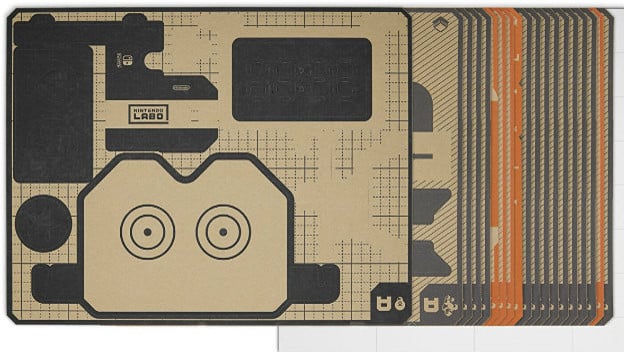 You also need to factor in the price of similar STEM kits on the market. One of those STEM Arduino robot kits for kids, which would let them make one robot that has some similar programming properties that would make it like the Nintendo Labo Variety Kit's RC Car, is $100 and would need a tablet of some sort to go with it. A LightUp Edison Kit to help kids learn about electronics is $75 before the price of a tablet to work with it. The Tinkering Labs Electric Motors Catalyst kit, which involves wooden pieces, is $59. These sorts of creative toys, where you build something and then get to play with it, are easily $50 projects at least. $69 or $79 for a full project with an actual game, perhaps even multiple projects, is not a bad deal.
It is okay to be skeptical about Nintendo Labo. This is a totally new and untested item. But, it is a product in a sphere where such things easily run $50-100. And it is also giving people a game and opportunity to build and create peripherals. There's a lot to this, even if it does have a rather simple cardboard foundation.