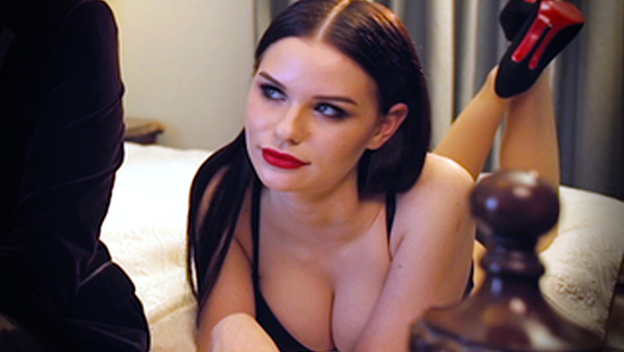 I'd like to say that nothing surprises me anymore and that I've seen just about everything, but whenever I really truly begin to believe that, something comes along that changes my mind. In one instance, it was a press release for a game that I absolutely didn't see coming. Funny enough, the fact that it was a full motion video game is what caught my attention first. Those are pretty few and far between, so it's incredibly fun and novel whenever I come across one. It was only after coming to terms with that realization that I fully understood what I was looking at. The game is called Super Seducer, which is arguably one of the goofiest and most oddly straightforward game titles I've heard in a while. It's self-described as a FMV choose-your-own-adventure seduction simulation.

I've heard of romance simulatons before, but I guess I've never come across anything that I would outright label a "seduction sim." This game in particular certainly is that. It was created in part by and features dating coach Richard La Ruina. I'd never heard of him before, but apparently he's made dozens of appearances on popular tv shows and has been featured in magazines like Men's Health and Maxim. He also literally wrote the book on how to pick up women: The Natural: How to Effortlessly Attract the Women You Want.
La Ruina's part in Super Seducer is part guinea pig, part wise teacher. He takes on the role of the player character who goes through different situations with women in an attempt to seduce them. Not only that, but La Ruina also pops up in little informative sequences that are supposed to help the player better understand why they got the reaction that they did. Essentially, Super Seducer is supposed to be a fun way to learn how to "get the girl." Think of it like The Learning Company's ClueFinders series from the 90's. (I'm showing my age a bit here, oops!). Super Seducer is the adult's learning software for romance and relationships rather than math and science.
Interestingly enough, Super Seducer seems incredibly unapologetic in explicitly understanding and accepting what it is. This is a game that's been made in part by a pick-up artist who wants to help guys attract women. Even La Ruina himself says that he knows some people will not like this game. He says, word for word, "I'm not going to pretend it's not a game that aims to teach men how to pursue beautiful women successfully, nor apologize for that subject matter." It's admirable, in a way, that the game's creator fully knows what it is, knows that some people won't like it, but was true enough to his target audience that he went ahead and did it anyway. I'm sure all of us can think of at least one person who would be interested in checking out this game. Their reasons could vary from morbid curiosity, to a genuine hope that they can learn something useful.

I suppose I fall more on the former part of the reactionary scale, but without malice. There is a time and place for self-help, which can also include relationship advice. Telling someone how to appropriately and effectively strike up a conversation with a pretty woman is comparable in ways to telling someone what they should wear to their first date. These are both legitimate concerns that people have out in the real world. Super Seducer just takes that advice and puts it in a neat package.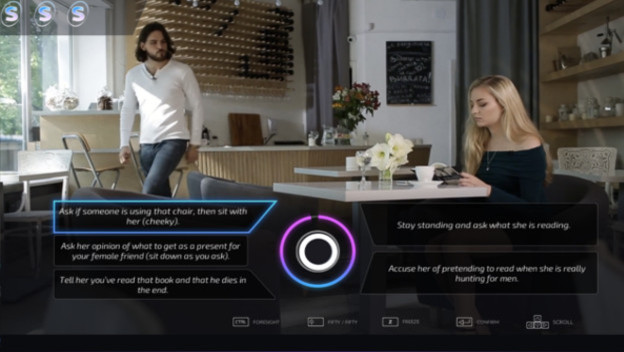 Supposedly, the game offers choices in real-life situation and plays out the results in as realistic a way as it can manage for canned situations. If you try to reach unbidden for one of the ladies' boobs or butt, you'll likely get smacked, reprimanded, abandoned, or all of the above. But if you act reasonably and respectfully, you'll get rewarded in kind. I can't say definitively as all I have to go on is a scant number of screenshots and a trailer. But it sounds like Super Seducer could be a very informative and educational, albeit goofy and corny as hell game.
The name of the game could have been something a little less heavy-handed, and the women lingering pointlessly near La Ruina during his explanatory sequences are a little unnecessary. But I'll admit, the title gets across its point very quickly and clearly, while the sultry women are meant to keep audiences' interest during the slightly more "boring" bits of the game. Let me know your thoughts on the whole thing below!