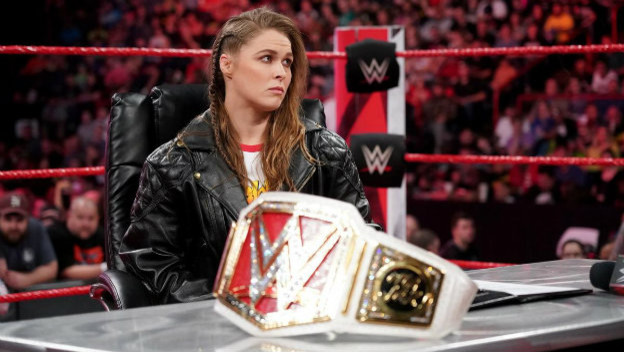 When WWE makes stunt hires or brings outside celebrities into the fold, you never know what you're going to get. Usually, it's just someone with a movie or something to promote stepping in for a RAW segment or making a ringside appearance at WrestleMania. But something different has happened. The WWE picked up UFC Hall of Famer Ronda Rousey and, as far as anyone can tell, she's working something resembling a full-time contract with the company. Her reception so far has been all over the place, but now there's a rumor she's soon to be annoucned as an early selling point for this year's video game, WWE 2K19.
The rumor came from a source that managed to confirm the first two announcements for the game so far, namely AJ Styles as the cover guy and Rey Mysterio as the intial pre-order bonus. This happened when word got out, via Pro Wrestling Sheet's Ryan Satin, that several wrestlers were doing some marketing filming work at 2K Games. AJ Styles, Rey Mysterio, Jeff Hardy, and Ronda Rousey were all on set for a commercial shoot, which all but confirms Ronda's involvement with the game.
The rumor comes from the following: When 2K Games annoucned Rey Mysterio as the first pre-order bonus, the focus was almost entirely on Rey Mysterio. After all, it's his first appearance in a WWE video game for the first time in four years. He's been away from the company, but recently had a surprise, ostensibly one-off appearance at the 2018 Royal Rumble. The scuttlebutt leading into the show, and definitely following it, has been that Mysterio has been in talks to make some kind of more solid return. He's wrestled elsewhere in the recent past, for the likes of Lucha Underground and New Japan Pro Wrestling. But hidden in all the fun Mysterio talk was the fact that there's two pre-order bonuses this year.
Rousey makes the most sense to be in that spot. The pre-order slots are usually reserved for either wrestlers who are coming back to the WWE after a period of absence (Ultimate Warrior, Sting, Goldberg, possibly Mysterio), or for wrestlers who weren't around for the initial planning for the year's game. Much of the development, of course, happens much earlier than the game comes out, meaning new hires close to the release are absent. Unless of course they're made later and packed in as DLC. It's an ideal spot for Rousey, who didn't get in the ring for a match until WrestleMania in April 2018.
Now that we have the backstory, I find myself wondering how much of a selling point a Ronda Rousey WWE 2K19 pre-order bonus is, especially compared to a bonafide legend like Mysterio. Rousey is respected for her time in the UFC (for the most part (although she's had some choice comments about Snady Hook and trans people that should absolutely inspire hesitation from would-be fans), but her WWE run so far has been uneven to say the least.
Rousey is being protected as a talent so far, although she does seem to be picking up the squared circle well enough considering how long she's been at it. The match at WrestleMania was gimmicky as hell, with lots of wackiness from Triple H, Kurt Angle, and Stephanie McMahon intending to disguise Rousey's green qualities, then showcase what she did have at that point. The match went over well with the crowd, as spectacle often drowns out technical skill (which is totally fine). But then things got weird after that.
Rousey was almost immediately booked into a title match against Nia Jax, the current Raw Women's Champion. It was certainly odd, as Jax had been playing the babyface part on her way to the title, then sort of had to quickly transition to heel for the match with Rousey. Then, during a house show tour, Rousey was mostly booked in large, multi-man tag team matches. The match happened, which mostly consisted of Rousey taking offense, then getting some in at the end before being bamboozled by a Money in the Bank cash-in from Alexa Bliss, a more proven and relaible champion.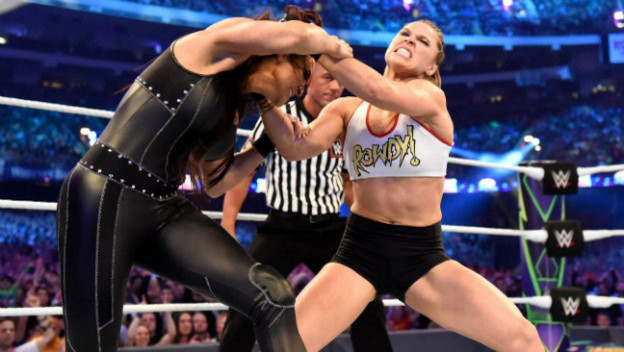 Rousey is still involved with the storyline, but it feels like the WWE originally intended to have her clean house, then pumped the breaks and deviated her matches away from singles. Now she's in a suspension angle, which means she might not be on TV for 30 days (or she will be, depending on how the storyline goes). The reception to this angle has been less welcoming than the WrestleMania match, and now it feels like fans are working hard on deciding if they like her or not.
It's telling, to me, that Rey Mysterio was annoucned first, if the rumors are true and Ronda Rousey is the second pre-order bonus. Mysterio is guaranteed buzz, especially if this means we'll see him coming back to WWE programming, even if in limited capacity. Rousey on the other hand, is a proven name for sure, but not neccessarily a WWE name. I'll be curious to see how much emphasis is placed on Rousey's inclusion in WWE 2K19, or if that will be more of a little bonus compared to AJ Styles and Rey Mysterio being in front.