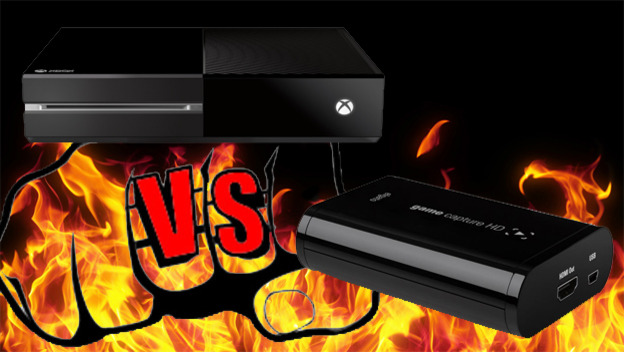 One of the coolest new features of this console generation is the ability to capture and share live gameplay clips straight from the console. Both the Xbox One and PlayStation 4 are capable of this, even though they handle recordings a bit differently. These built-in DVRs may be enough to cause some people to pass up dedicated capture devices for their recording needs. Granted, there aren't as many limitations on a capture device compared to what Sony and Microsoft are offering, but the console alternative could very well be good enough for those who just want to share brief clips, without spending money on extra equipment. Today, we're going to look at a couple videos that compare the video quality of the Xbox One's Game DVR and the Elgato Game Capture HD.
The Elgato Game Capture HD has a suggested retail price of $179. If you look around, you may be able to find one for about $30-$40 less. It's capable of recording gameplay footage in 1080p HD at 30 frames per second. It also requires two HDMI cables to obtain a video signal, and a computer to record the footage on. It's not a complicated process, but it may not be ideal for people on a budget, or players who plan on recording sporadically.
I used Forza Motorsport 5 for this comparison. Forza 5 can be played at 1080p, but files created from the Xbox One Upload Studio are 720p. I had to lower the capture resolution from 1080p to 720p on the Elgato to make up for this. I also placed the quality slider on the Elgato to as high as it could go. I figured since the Xbox One was recording as best it could in 720p, I would do the same on the Elgato. I left all the other settings on the Elgato at their factory defaults.
I recorded two separate clips at the same time. The video with the Xbox One DVR timer came from the Elgato, and the other video came straight from the Xbox One. Both videos recorded in MP4 format, but the final file sizes were not identical. The file generated from the Xbox One was 82.5MB and the Elgato file was 295MB.
As you can see in the videos, the Elgato capture is noticeably better than what the Xbox One can churn out. The Xbox One video shows more artifacting on the pavement, and there are glimpses of compression throughout. The sharpness of the visuals and color vibrance are also better on the Elgato. However, I'm looking at this with a critical eye. Even though there are differences, the Xbox One video is not ugly at all. I think people who choose to not pixel peep will find the video quality to be acceptable.