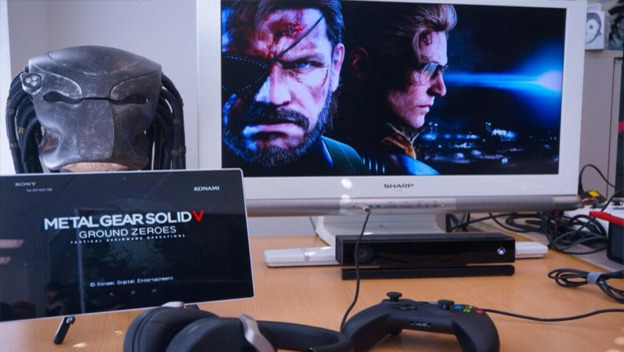 Famed video game director and renowned crazy person Hideo Kojima dropped a twitter bomb today to show off some of Metal Gear Solid V: Ground Zeroes' second screen features. For those of you who haven't been keeping up with the project, the game will allow users to connect to a tablet or smart phone in order to access additional game elements. Snake will carry a small device called an iDroid (very clever Kojima… very clever) and you can make its screen show up on your device by connecting.
Kojima showed off a bunch of images of the Xbox One version being tested. One image only showed the iDroid splash screen, but no actual gameplay. Kojima hasn't actually divulged what sort of gameplay the iDroid will play into, but you will likely end up using it for hacking and information gathering. It will also likely serve as Snake's primary communication device. It will be pretty cool to be able to pick up CODEC like calls on your actual smart phone.
There was one bit of gameplay functionality that Kojima did not mind sharing: the map function. Your smart device can show an overhead map of the game area at any point in time. The map will show important waypoints and the location of snake as he travels the overworld. If also appears to have a compass, a zoom function, as well as several other functions like an information button, which likely gives you details about your current task.
There are several other buttons along the left side of the tablet interface that are a bit more vague. One button looks like a document and probably allows Snake to browse intel that he has picked up, though it is unclear how this would be any different from a plain old information button. Another button had a downward facing triangle on it, which likely allows you to place custom waypoints. The last button looks like a floppy disk, which would make you think that it would save the game, though saving through the Tablet interface does seem to be needlessly complicated. There's also a matter of a red highlighted circle on the map which looks different from the rest of the waypoint markers. It's completely unclear what that means. Note, that this is all just conjecture at this point. Kojima has not yet officially revealed the functions of the iDroid beyond displaying a map.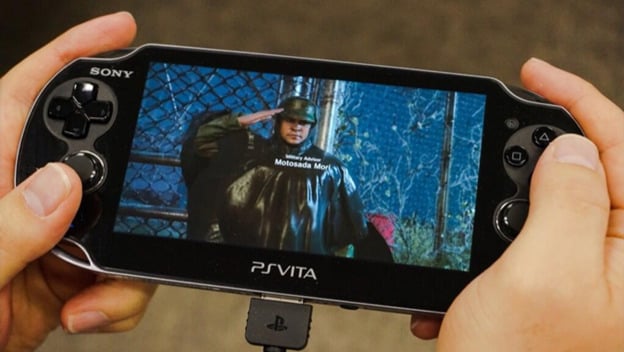 In addition to being able to connect up to mobile devices and tablets, Metal Gear Solid: Ground Zeroes can also connect up to the PS Vita as well. Kojima uploaded an image of the Vita playing the game via remote play on the PS4. He made a note to say that this is not Konami "transferring" technology, but the built in technology of the PS4 and Vita. It is currently unclear whether or not the PS Vita can hook up to Metal Gear Solid: Ground Zeroes the same way that a mobile device could, but it would be nice to be able to see your map screen on a vita as well.
Metal Gear Solid: Ground Zeroes will be available for the PS3, PS4, Xbox 360, and Xbox One on March 18th. Kojima has also shown the game running on PCs but an official PC release has not yet been announced.