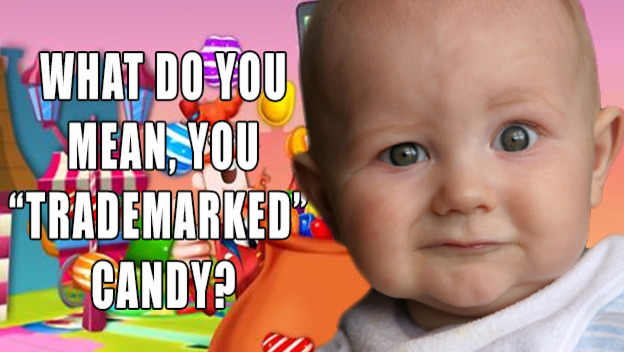 Really? I mean, really? Excuse me, I think I may need a stiff intake of coffee before I go further.
Right. Let's continue.
According to an article by Rock, Paper, Shotgun, casual-social developer King has managed to somehow trademark the word "candy" to protect their Bejeweled-like facebook app Candy Crush Saga, and in doing so the UK-based dev has caused a shockwave that's affecting, or has already affected, other videogame devs who have dared to put the word "candy" in their videogame titles. But it's not just videogame developers who are being affected by this: accessories, clothing, educational services and electronic devices are apparently all under scrutiny for any use of the word "candy" in their names, as detailed by Trademarkia.
Developers have already been threatened with legal action for them to change the title of their game or to remove their games entirely from the places that said games are featured/distributed on. One such developer, Benjamin Hsu, creator of All Candy Casino Slots, has been told to remove their app from Apple's App Store. When Hsu challenged this by contacting King's paralegal IP representative, the response they got in return was, I feel, a cringeworthy excuse that just doesn't make sense. "Your use of CANDY SLOTS in your app icon uses our CANDY trade mark exactly, for identical goods, which amounts to trade mark infringement and is likely to lead to consumer confusion and damage to our brand," the IP representative's reply read. "The addition of only the descriptive term "SLOTS" does nothing to lessen the likelihood of confusion." Hsu later confirmed to Gamezebo that they, as well as other indie developers affected by this, have no choice but to change the name of their title, as they "don't have the money or resources to fight back."
Wait, it gets better. Notice how the representative's response shortened Hsu's game to just Candy Slots when its full title is All Candy Casino Slots? I found that a bit of a stretch to demand that Hsu's game be removed, considering there is another word between "Candy" and "Slots". Well, according to Games Industry, the reasoning behind this is that the icon for Hsu's game has "Candy Slots" on it, and King focused on that matter alone, believing it to be "infringing [its] and other developer's IP," and that Hsu's "icon in the App store just says 'Candy Slots', focusing heavily on [its] trademark." Rock, Paper, Shotgun has already gone ahead and debunked this claim, since Candy Crush Saga's App Store icon has no words on it at all, and compared the two.
"We have trademarked the word 'CANDY' in the EU, as our IP is constantly being infringed and we have to enforce our rights and to protect our players from confusion," a King representative told Games Industry. "We don't enforce against all uses of CANDY - some are legitimate and of course, we would not ask App developers who use the term legitimately to stop doing so."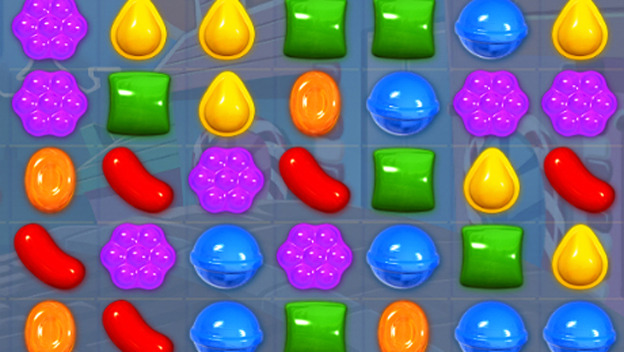 "The particular App in this instance was called 'Candy Casino Slots - Jewels Craze Connect: Big Blast Mania Land', but its icon in the App store just says 'Candy Slots', focusing heavily on our trademark. As well as infringing our and other developer's IP, use of keywords like this as an App name is also a clear breach of Apple's terms of use. We believe this App name was a calculated attempt to use other companies' IP to enhance its own games, through means such as search rankings."
King has trademarked a word--a single, very commonly used word--that is used in what is considered to be its their flagship social-casual Facebook videogame Candy Crush Saga. It's not the first time the company has trademarked a single word either - their documentation on Trademarkia lists at least five or six single words (and one letter) that are now legally the company's. What's more, the company already has the words for its titles (i.e. Candy Crush Saga) trademarked, meaning their titles are already protected from infringement--but to trademark one word? A long-term, far-reaching trademark of a word that's practically used countlessly in one day? A word that's already been used in videogame titles before Candy Crush Saga was even released? Are you genuinely kidding me?
What King has done is just preposterous. Sure, defend and trademark collective words that, when combined, structure the names of titles you legally own, but don't hoard and isolate individual words just for yourself, and then beat down other developers who happen to use the same word in their games, but do not use a word in their games that directly rip-off a title that's already legally yours. That's just petty, greedy and outright senselessly unfair. Yeah, coincidences can happen; one word can be used in many different contexts and applications in titles or products, but I still don't think that gives you the right to "protect" a single word from from use by other developers in whatever form they choose. Who are you, King, to demand such a thing? Arrogant, that's who.
I'm going to stop now before I go on even more of a rant... better for my mental health that way.
I genuinely feel for the other developers negatively affected by this idiocy.