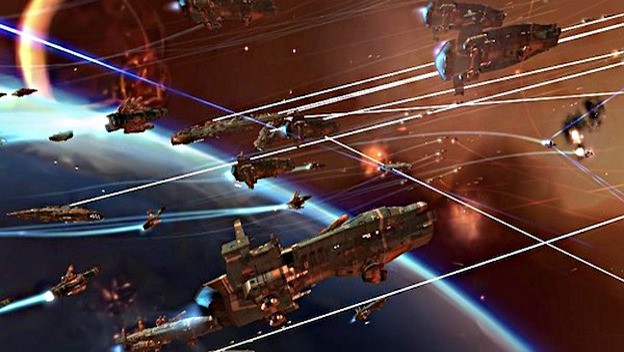 This is one of those occasions where I can write about a topic that's particularly close to me. In one of my most recent articles I wrote about Gearbox Software's name change of its Homeworld project, a videogame series I am personally attached to.
Having followed the journey of the Homeworld IP since before THQ's liquidation last year, it made me happy to know that Gearbox is putting in a promising effort to remaster the series for modern systems, and it is certainly putting in quite the effort. I'm giving Gearbox the benefit of the doubt of course (because of its recent titles like Alien: Colonial Marines and Duke Nukem: Forever), as it is taking on help from Homeworld's community, modders and veterans of the series. Yet I can't help but feel slightly ambivalent about Gearbox's efforts. I want to be won over (and I almost am), but I'd have to see some physical proof of the studio's efforts first, I think. I will admit that its current progress looks very promising though.
Homeworld, specifically Homeworld 2, is a series that's stuck with me from a very young age, back when I first played the sequel some 10 years or so ago. Since then, I had been searching on and off for my own copy of the game, as I had only been able to play it through a friend. It wasn't until last year when I finally got a second-hand copy from from my local CEX store, and I was internally skipping for joy about it. I still have that copy today, and it's not going anywhere.
Because the game has a particularly close place in my heart, and that its rebirth will be appearing on the horizon at some point, I want to give you a brief summarization of the journey of the Homeworld IP, from its inception in the late 90s, from the IP being passed around between publishers, from its auction back in 2013, and to where it is now.
The Homeworld series began its life back in September, 1999, with Homeworld, a space real-time strategy game, developed by Relic Entertainment and published by the now defunct Sierra Entertainment. Since then it has received two sequels: a stand-alone expansion developed by Barking Dog Studios (now Rockstar Vancouver), Homeworld: Cataclysm, released back in mid 2000, and a full continuation of the story with Homeworld 2, released in late 2003, developed by Relic. Both of the sequels were published by Sierra.
A year later, in 2004, Relic was bought by THQ, and the future of the Homeworld IP was unknown at the time. Rumours of the long-awaited third sequel started circulating, but it wasn't to be. A few years later, in September, 2007, the now defunct publisher THQ announced that it was in talks with Sierra to obtain the IP rights of Homeworld, which was finalised a couple of months later in November. After the ownership of the Homeworld IP transfered to THQ, several Relic founders and Homeworld staff left Relic Entertainment to found Blackbird Interactive with the aim of developing its own space RTS without the Homeworld IP. This game, Hardware: Shipbreakers, was considered to be a spiritual successor to Homeworld, until the studio was given permission to use the Homeworld IP again. The title has since been renamed to Homeworld: Shipbreakers, and it's implied to be a sequel to the series in its own right.
Sadly, THQ, which had been experiencing financial fluctuations for a while, declared bankruptcy in December, 2012, which resulted in its IPs either being acquired or auctioned off to other developers over the course of 2013, the Homeworld IP included. However, the fate of the Homeworld IP wasn't to be decided until THQ's last IP auction in May, 2013. It was during this time that a small indie development team by the name of teamPixel decided to take the initiative to raise funds in the hopes of acquiring the Homeworld IP for itself. Back in January, 2013, the indie team initiated a money-back guaranteed Indiegogo campaign to crowdfund its efforts, with promises of developing Homeworld 3 (the series' long-awaited sequel), porting Homeworld and Homeworld 2 to mobile devices, bringing the series to Steam and GoG, and to compete for the IP once it was scheduled to be auctioned off. Needless to say, however, the Indiegogo campaign failed, reaching only $13,675 (£8,176) out of its $50,000 (£29,894) minimum goal. That didn't stop teamPixel though, as a few months later, in early March, the studio opened up another money-back guaranteed campaign via Kickstarter, with the same goals as its Indiegogo campaign. The campaign was successful, raising $58,644 ($35,062) out of its $50,000 goal. Even though both campaigns were finished, teamPixel opened up an option to donate via PayPal, so those who wanted to support teamPixel still could.
It was a waiting game after the Kickstarter campaign was successful, and teamPixel sought additional funds since the campaign's completion. It was soon announced a few months later that THQ's last IP auction would include the Homeworld IP. Initial bids for the auction were submitted on April 1, with the deadline for the final bids being on April 15. At that time THQ determined the best and highest bid for each asset, and then presented the sales to court for final approval in May. Despite teamPixel's gumption to raise funds to take part in the IP auction for Homeworld, however, the studio's combined funds weren't enough for it to remain in the auction.
In the end, it was Gearbox Software that walked away with the Homeworld IP as the highest bidder of that particular asset, with a final bid of $1.35 million. The studio stated in a short announcement on its community website that its chief creative officer, Brian Martel, has great love and respect for the Homeworld series, and personally led the acquisition of the IP.
"Gearbox Software has prevailed as the highest bidder in the acquisition of the Homeworld franchise from THQ. Brian Martel, Gearbox Software's Chief Creative Officer, has great love and respect for Relic's brilliant, fun and innovative game and personally spearheaded the acquisition," Gearbox said in its community post. "Brian intends as first priority to direct Gearbox's interest to preserve and assemble the purest form of the original acclaimed and beloved games, Homeworld and Homeworld 2, with the intent of making them accessible on today's leading digital platforms."
Later on in the year, at PAX Australia, Gearbox announced that it would improve the graphics of both Homeworld and Homeworld 2 to a modern appeal, coined as Homeworld HD and Homeworld 2 HD. Along with remade versions of the games, the original versions will also be available to purchase just as they were when they were first released back in 1999 and 2003 respectively. No release date or price tag was announced at that time. It was also during this event where Gearbox shared its story on how it managed to obtain the Homeworld IP from two other competitors, both publishers (Aspyr Media and Paradox Interactive).
"One of the brands in the THQ stable that they didn't really do anything with, for as long as they had it, was a brand called Homeworld," Randy Pitchford, President of Gearbox Software, said during Gearbox's PAX Australia panel. "And when THQ started to evaporate, Brian [Martel] kept coming to my office everyday and saying, 'Hey Randy, you got to get Homeworld.' So we became part of that process bidding on the brand."
In September last year, after it had obtained the Homeworld IP, Gearbox reached out to Blackbird Interactive, which had already started work on Hardware: Shipbreakers, intending it to be a revolutionary RTS with Facebook integration (not to be misconstrued as a Facebook game), and signed a deal with them during PAX Dev, a developer-only event that proceeds PAX Prime. Aside from providing financial support to Blackbird, this deal with Gearbox officially made Hardware a part of the Homeworld franchise, and was thus renamed from Hardware: Shipbreakers to Homeworld: Shipbreakers, an official prequel to the original Homeworld game. No further information on Shipbreakers' progress has been released as of yet.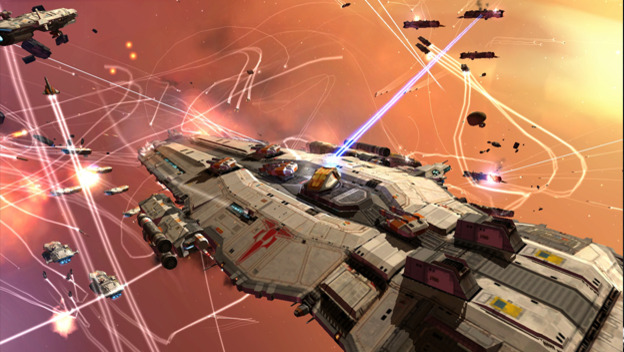 Gearbox Software's development of bringing the Homeworld HD remakes to modern systems was now well underway, and not much was heard from the IP until earlier on this year, where Gearbox's CEO Randy Pitchford detailed to Polygon about the HD remakes' promises, touting that the game will support 4K resolution.
"We thought a couple of things should happen," Pitchford explained to Polygon. "One thing is that the original games are great, but it's been a while, and they've never really been released digitally.
So we invested a lot to remaster the original Homeworld and Homeworld 2. We'll be releasing them on digital platforms in fully remastered--not just ported to work, but fully remastered. If you have a new crazy-ass Nvidia 780TI or an Nvidia Titan and you happen to have one of those $3,000 4K monitors, you're going to see an unbelievable image.
We went nuts in the high-definition treatment on this," he continued. "It's really UHD, not just HD. That's too low. We got with the original audio guys and remastered all the audio. It's really impressive."
According to Pitchford, Gearbox has spent so much money on remastering the Homeworld games that it has overspent its budget on the project, because of Brian Martel is such a fan of the series.
"He's overspent because he wants to [do] right by his own interest in the property," Pitchford said. "They'll come soon, hopefully. We'll announce a date soon."
While Pitchford hasn't given a date when the games will come out, the development of the project has gone so overboard that Gearbox felt it was appropriate to rename its efforts of developing a HD remake of the series from Homeworld HD to Homeworld Remastered, the most recent piece of news on the project as far as I'm aware. The reasoning behind this name change was because the studio believes that the original name didn't properly convey the amount of work it had put into the project; the project had gone beyond a simple HD remake and was touted as being a complete overhaul.
"Previously, we'd been referring to this effort as Homeworld HD but as work progressed it became clear that title didn't properly communicate the scope of the work," Gearbox explained in a community post. "This is more than a simple re-release or up-res -- given the input we've received from fans, mod makers and series veterans, the result is full-fledged remastering of nearly all aspects alongside the archival Classic versions."
A new website dedicate to Homeworld Remastered was also mentioned in the same announcement: HomeworldRemastered.com. The website features additional information on Homeworld Remastered's development, including the Homeworld Remastered Collection (which is both the original and the remastered versions of Homeworld and Homeworld 2 in one set), information on the games' remastered graphics and visual effects and updated models, and information on its audio and cinematics being remastered too--which uses the original audio source material to create a new soundtrack of effects and music. What's more, the multiplayer for both games will be centralised, meaning that you'll still be able to play against others no matter if they're playing Homeworld or Homeworld 2.
What's also featured on the site right now--at the time of writing--is a survey that lets fans of the Homeworld series choose what they would like included in the Collector's Edition of the collection. While still only a concept for the time being, the two versions of the Collector's Edition both include a different Mothership replica, the staple flagship of the series. The survey is to decide which replica you'd like to see in the final product. The two mothership replicas are both different in terms of craftsmanship, and each one is estimated to alter the final price of the Collector's Edition as a whole. One of the replicas, a six-inch, die cast zinc alloy model with a brushed metal finish is estimated to bring the final product to $75. The other replica, a 12-inch, hand decorated, molded ABS resin model with LED lights is estimated to bring the final product to $100. While the Collector's Edition itself is not finalized and could change without warning, the current proposed base product includes an artbook, a game manual, some key chains and game codes.
It is touted that the Homeworld Remastered Collection will soon be available for pre-order on leading PC digital platforms. As it currently stands, that's it for the journey of the Homeworld IP, at least as far as I'm aware. I will be keeping a close eye on Gearbox's efforts, and I certainly do hope that the Homeworld Remastered Collection lives up to what the studio is building it up to be. We'll (hopefully) soon find out.