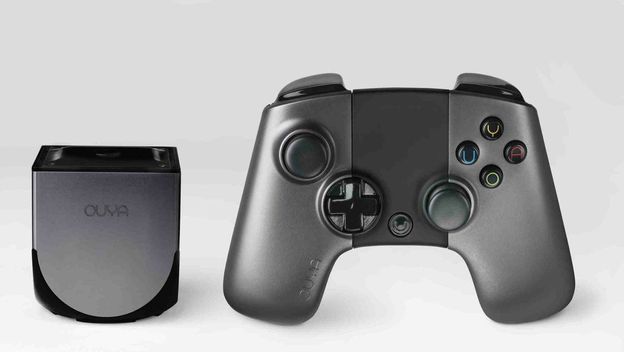 Call me crazy, but I don't think we should be counting the Ouya out. I know, the recent announcement of MadCatz MOJO. getting Ouya games on it via Ouya Everywhere may sound like a death knell. (Why buy an Ouya, when a MOJO. will do the same, and more?!) But, after a weekend with the micro-console, I think there's still some potential there.
It isn't just because I'm a sucker for the hard-luck cases. Yes, I was a Vita and Wii U early adopter, but this isn't a case of rooting for the underdog. More, it's an accidental mini-console crush. Curiousity compelled me to buy a brand new, sealed Ouya cheap at Goodwill for $35 after using a 15% off coupon and the 5% Club Goodwill card, and now I'm glad I took the plunge. Not only did it give my friends and I at least one Saturday of joy, but it's also made me realize this little guy isn't that bad.
I mean, it is definitely facing some identity crisis issues at the moment. It looks like, moving forward, there will be more focus on the Ouya Everywhere notion and less on actual hardware. Still, I've found the basic concept is sound. While I didn't care for being forced to either attach a credit card or put credits on the system to make an account, I'm pleased with the general experience thus far. My unit hasn't had any of the WiFi issues others experienced, it's very easy to use and I've downloaded at least 20 games that were enjoyed this past weekend.
Besides, we shouldn't see Ouya's second-class console citizen status as such a bad thing. Sure, it isn't a super star, but it is still gradually getting games, and it's so easy to sideload apps and other stores that even I've been able to do it (that's saying a lot, I assure you.) It just means people have to push harder for it to get noticed, and that weirder and smaller games appear on it. Not to mention the sales. I just picked up Ittle Dew, a game I've been meaning to play, for $3.40 on it. That's a pretty good deal, and isn't even factoring in all the free games I grabbed from the Ouya store.
That isn't even counting the sideloading aspect. Grab the FilePwn file manager and a USB drive, and you can go ahead and start putting other Android apks on the Ouya to see if they work. I ended up going through my entire collection of Humble Bundle apks on Friday, and found a surprising number worked just fine on the Ouya. Sure, some could only work with the touchpad, and others had some quirks, but I was largely impressed with my initial library of games thanks to impulse indie bundle purchases. I also went ahead and put the Amazon App Store on the system, and have been gradually going through, seeing which of the free apps I've been claiming every day for the past two years will work on the system (it's going to take a while.)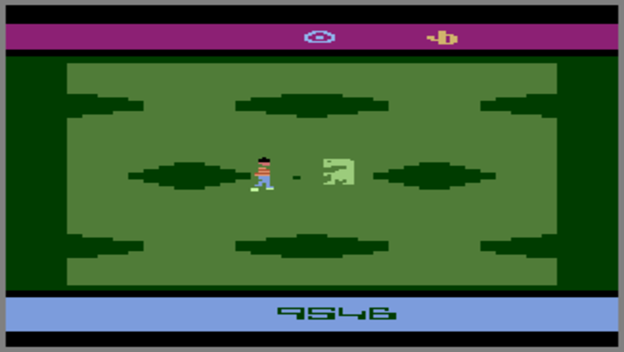 Then, there's the E-word. I'm talking about emulation. Normally, I'm 100% against it and have always bought games new and used, but I'm going to come right out and admit it. When it comes to the Ouya, I'm guilty of this sin. I've been wanting to play some of those ridiculous Atari 2600 games, like ET, for a while now, so I did it. I grabbed the 2600.emu application and put ET, Strawberry Shortcake: Musical Match-Ups, Bachelorette Party, and a few other equally ridiculous games on the Ouya. The result was magic. My friends and I spent far more time than any 30 year olds should reliving our childhood with the Strawberry Shortcakegame on Saturday, moving on to Bachelorette Party for giggles and then closing the Ouya events with a hands-on examination of why the ET game deserved to be buried in the desert. I'm almost tempted to say the Ouya purchase was worth it for that night alone.
Besides, the Ouya's future isn't as grim as people may make it out to be. The MOJO announcement is a good thing. The only real problem I have with the Ouya as I write this is I've already downloaded all of the free games I would want and seen everything the store has to offer. Really, I've looked over absolutely everything. The library needs to expand. With the Ouya Everywhere initiative, developers will have more incentive to make an Ouya version of their existing Android games, or even make more exclusives.
So yes, the Ouya isn't the runaway success people expected after its $8,596,474 Kickstarter. Sure, it's stumbling on its way to find its place in the gaming world. But, now that I've actually played with one, I'm finding it a lot less useless than I originally thought. Find one for more than half off, like I did, pair it up with one of your extra PS3 or Xbox 360 controllers, load it up with free games, and it ends up being a nifty little niche-filler. At the very least, it's definitely worth it if you can find one for under $50.