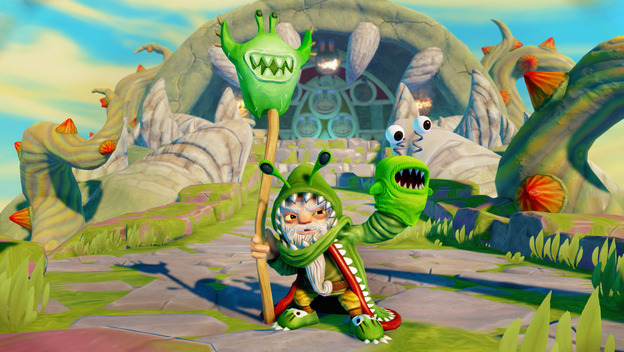 Activision and Toys for Bob aren't playing fair. I was done with Skylanders. I'm sure a lot of other people were too. It isn't that I didn't enjoy Skylanders SWAP Force. I probably loved that installment more than Skylanders: Spyro's Adventure and Skylanders Giants combined. It just felt like a good stopping point. I was ready to unsubscribe from Toys R Us' email list because the new figures didn't matter. I even started getting my figures together and considering breaking up my collection. Then, yesterday, Skylanders Trap Team was announced and everything went to hell.
It's Skylanders Pokémon. Let's not kid ourselves. That's pretty much exactly what Skylanders Trap Team is. The Trap Team figures are monstrous Pokémon trainers, the 40 escaped villains are the Pokémon and there's no way we're going to be able to escape the allure of this game. That name isn't designed to be clever or cute. It's diabolically ironic. We were out, but now we're hooked and being pulled back into the marketing web.
Which wouldn't seem too bad initially. Okay, so we're getting roped into another Skylanders game. We'll have to get another starter set, complete with a Trap Master archer alligator named Snap Shot, a tomato wielding plant named Food Fight, and what appear to be leaf and water Traptanium crystals. Since villains can only be captured by a Traptanium crystal that's the same element as they are, it means at least spending money on the beginning bundle and 6 other crystals. That's fine. We'll wait for sales and do that, and "think" we can make do with the figures we have and 40 recruitable villains.
Except we probably can't, because Toys For Bob apparently has a window into our minds. One of the new Skylanders in Skylanders Trap Team is a T-Rex with a helicopter jet pack. Yes, you read that right. His name is Chopper (Ouch!) and he can shoot missiles. How do you stand strong against something like that? You don't! If the Chompy Mage villain wasn't already my spirit animal, Chopper would be! Who knows what other unsuspectingly lovable characters lurk among the 60 new Skylanders figures. This could be irresistably brutal!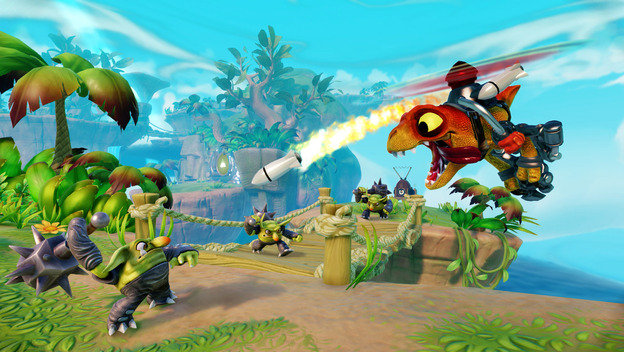 Ever since this NFC game craze got started, we've all been secretly hoping for a Pokémon game to capitalize on the trend. Except, the actual Pokémon NFC game, Pokémon Rumble Blast, was a bust. Somebody had to pick up the slack, and Skylanders Trap Team has done it. And, despite the fact that it probably means another $80-$100 investment if we can't wait until after Christmas, it sounds like Activision might be doing it right. Only needing a Trap Master and 8 Traptanium Crystals to capture the 40 villains, some of which you get in the box, isn't too outrageous. And, if we were made of stronger stuff, we could probably get through this entire game with the Skylanders figures we already have.
Maybe it's okay to not resist Skylanders Trap Team. We all do have a flying T-Rex shaped hole in our hearts, after all. We'll just make this our last $120 NFC investment. For real, this time!