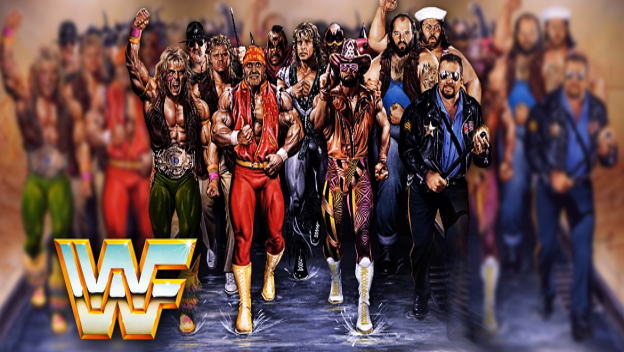 Watcha' Gonna' Do Brothers…when the WWE Network…runs wild on YOU?!
Ah the joys of professional wrestling. Never have I gotten more enjoyment from watching oiled up, muscle bound guys in their underwear than in the squared circle. I have to admit that, regardless of how intellectual I make myself out to be, pro wrestling is still my guilty pleasure. Some say it appeals to the lowest common denominator. I say, count me in then. 2014 has brought a huge milestone for the WWE and wrestling fans, with the launch of the WWE Network. For just $10 bucks a month, you get streaming access to virtually every PPV of note ever aired (and not just by WWE…but by many other wrestling organizations of yester-year).
And with the WWE Network app just recently coming to the Xbox One how about a brief progress report?
Vince McMahon is known as a bit of a gambler (with the very first WrestleMania being a perfect example). Needless to say, he bankrolled everything he had to make it happen. Had it not been a success, you wouldn't be reading this article right now. They would have been out of business long ago. The same can be said for the WWE Network today. This is a concept that has been in the works for some time now, which finally came to fruition on February 24th of this year. In order to be considered another "good bet," the WWE announced that one million subscribers was the mark to recoup their start-up costs and begin making a profit. Early in April (just after their biggest yearly event WrestleMania), that number stood at about 2/3rds of their goal (clocking in at around 660,000). While the subscriber numbers continue to increase every day, many in the WWE are disappointed that the goal has not already been reached. This is in addition to the push back from other premium services that consider the WWE Network a threat. Both Dish and Direct TV satellite have already drawn a line in the sand, stating they will not carry WWE's upcoming Extreme Rules show (as offering the same content on their platform at a discount simultaneously is seen as a conflict of interests). Several small cable outlets have also jumped on this anti-WWE bandwagon as of late. So, it would seem this new venture has not come without a price. However, if they continue on their current trajectory, I predict the loss of partners like Dish will just push those costumers to invest in a WWE Network subscription (and ultimately backfire for other satellite and cable companies).
Alright, enough of all that! Let's get to the gut-wrenching action! If you are currently a WWE subscriber (or plan to become one) here are just a few MUST-SEE pay-per-views that any fan should check out. Whether it's due to the sheer spectacle or jam-packed main event cards, these are the cream of the crop in my book!
WrestleMania III (1987)
Pontiac Silverdome - Pontiac, Michigan
Attendance: 93,173 (*Set new in-door attendance record for North America)
This is kind of a default entry of any wrestling list. It was huge for so many reasons; many see this as THE WrestleMania event (even more so than the first). The card was great through-out and packed with stars, but Hogan/Andre (and more specifically the slam) is a moment that will live in wrestling-infamy. It was also considered a passing of the torch to Hogan.
W.C.W. Starrcade (1997)
MCI Center - Washington, D.C.
Attendance: 17,500
Another main event featuring the Hulkster (now Hollywood Hogan), but this time he was one of three stars involved. This marked the culmination of a great storyline, where the now-goth Sting would return to finally defeat the evil of the n.W.o. and take back the title for W.C.W. Also in attendance, a returning Bret Hart as special guest referee (coming off the legendary Montreal Screw Job). Drama at its finest!
WrestleMania X-Seven (2001)
Reliant Astrodome - Houston, Texas
Attendance: 67,925
'Mania 17 is one that many consider to be the best pay-per-view that WWF/WWE has ever produced! Featuring an action packed night from new comers like Edge, Christian, The Dudleys and the Hardy Boys; the main event saw the two hottest wrestlers of the Attitude Era (Rock and Austin) tear the house down. The night peaked with what would essentially be a career ending matching for Stone Cold. The emotion between the stars told a whole other story beyond the match itself.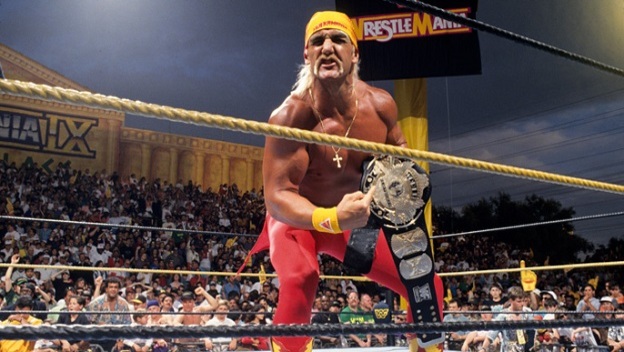 WrestleMania IX (1993)
Caesars Palace - Las Vegas, Nevada
Attendance: 16,891
OK, I know this is yet another Hogan-based main event, but what can I say? I'm a Hogan mark! And since WrestleMania is the house-that-Hogan-built, indulge me a bit here. This contains my ABSOUTLE favorite finish to a match EVER! It begins with Yokozuna stealing the title from Bret Hart, after manager Mr. Fuji throws salt in his eyes. Then, in an unexpected move after the match, Hogan would drop the big leg and regain the belt (in a championship-reign that lasted just over one minute for the late-Yoko). I still love hearing Jim Ross go nuts screaming; "HOGAN WON THE TITLE! HOGAN WON THE TITLE!"
Looking back at this list, you'll see that it's very WrestleMania-centric (Starrcade was also considered W.C.W.'s biggest event of the year). There are tons of other PPVs that I could have thrown on this list that would equally entertain (Flair/Steamboat from the Chi-Town Rumble in '89 for example). However, I do feel that WrestleMania deserves top billing. If not for its achievements, there would be no WWE Network today. I can tell you that I am a subscriber, and for the sheer volume of content I receive for a mere $10, I would recommend it to any wrestling fan (both past and present).
I promise you this: even if you don't watch the current product, scrolling through their archives will be a welcomed nostalgia trip. And that's the bottom line because…well…you know.