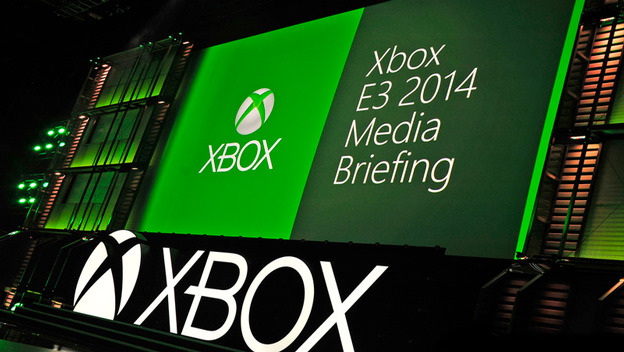 Microsoft has been listening to us. Don Mattrick is gone, and this year's press conference was nothing but a parade of game after game that will be coming to the Xbox One. Shall we wade into it? Here's a who's who of all the titles we saw and my off-the-cuff impressions of the madness.
Call of Duty: Advanced Warfare: Call of Duty kicked things off with a trailer featuring more shaky-cam than America's Funniest Home Videos. This world of future warfare looks strikingly similar to the present, except shinier and with the occasional swarm of mini-drones. We watched the presenter follow an NPC and engage in a quick firefight that featured lots of explosions and a tearful farewell to a guy we never knew. That mini-drone swarm was pretty cool, though.
Anticipated Release: November 4, 2014. DLC will be coming first to Xbox Live.
Forza Horizon 2 was shown to be full of extremely shiny car porn, like all Forza games. This one also features plenty of beautiful vistas in order to entice you to stop paying attention to the road. Apparently your Driveatar is playing the game already, which seems a bit spooky to me.
Anticipated Release: September 30, 2014. Xbox 360/Xbox One exclusive.
Evolve from Turtle Rock Studios is a class-based multiplayer shooter with a twist: you can choose to play as the heroes or the monster. That's all we got from the brief trailer, but it looked intriguing.
Anticipated Release: Fall 2014. Multi-platform.
Assassin's Creed: Unity was announced a bit earlier than E3, thanks to leakers. We've finally had the chance to see more than a brief glimpse of the game, and it looks like more of an evolution to series formula than a revolution. Still, the exciting historical era, the beautiful architecture, and the chance to play through the game's campaign with up to three other people should please fans. The depiction of aristocratic heads on pikes certainly suggests that Ubisoft won't be pulling any punches when it comes to the violence that occurred during the French Revolution.
Anticipated Release: Late 2014. Multi-platform.
Dragon Age: Inquisition's trailer showcased such an increase in graphical fidelity over Dragon Age 2 that even major fans could be forgiven for failing to recognize the game at first. It was just a teaser, but we're sure to see more during EA's conference later today.
Anticipated Release: October 7, 2014. DLC will be coming first to Xbox Live.
Sunset Overdrive is looking better and funnier than it did at last year's E3. We got to watch its goofy punk protagonist bounce and swing through a mutant-filled amusement park, splattering orange goo liberally around the city. It will feature an eight-player multiplayer mode along with its single-player campaign.
Anticipated Release: October 28, 2014. Xbox One exclusive.
Dead Rising 3 showed off a piece of DLC that was described as some kind of multiplayer cosplay extravaganza. Its full title is Super Ultra Dead Rising 3 Arcade Remix Hyper Edition EX Plus a.. I'm honestly not certain exactly what I saw, but it's available now. Hadouken!
Anticipated Release: Right now. Microsoft exclusive.
Dance Central Spotlight, a download-only release will be coming to the Xbox One this fall. It will feature new hit songs and a fitness mode, but you're going to need an Xbox One with Kinect to play it.
Anticipated Release: September 2014. Only announced for Xbox One so far.
Fable Legends is a multiplayer-centric entry in the Fable series. You can team up with other players or NPCs to do quests, and in an emerging theme, you can choose to play the villain as well. It looked as hammy and goofy as Fable always is. No word yet on whether you'll be able to play as Dog.
Anticipated Release: Entering Beta this holiday. Xbox One exclusive.
Project Spark showed off a trailer telling us about its neat game-creation tools and suggesting that its beta is going well. Then Conker the squirrel, who some of you will remember from the Nintendo 64, appeared to let us know that he'll be available to star in games of your own creation. Is that the scent of paid DLC I smell?
Anticipated Release: Currently in Beta. Xbox and PC exclusive.
Ori and the Blind Forest from Moon Studios was shown to be a gorgeously-animated, atmospheric platformer.
Anticipated Release: Holiday 2014. Xbox One exclusive.
Were you looking for Halo 5: Guardians footage? Too bad! Instead we saw Halo: The Master Chief Collection. It will contain Halo 1-4, with everything unlocked, on one disc. Blur Studios will be creating new cutscenes to better tell Master Chief's story, and access to the Nightfall live-action series will be included in the package. Halo 2's multiplayer was announced to be included exactly the same as it was ten years ago, a statement that proved popular with the crowd. It will run at 60 frames per second on dedicated servers.
Anticipated Release: November 11, 2014. Halo 5: Guardians multiplayer Beta starts this Holiday. Xbox One Exclusives.
Inside is a game by the developer of Limbo. It appears to be similarly black and white. That's about all we got.
Anticipated Release: Early 2015. Only announced for Xbox One so far.
The ID@Xbox program showed a quick video reel of numerous indie games that are coming to Xbox Live. Take a gander at it, and you might even be able to exclaim, "Hey, I Kickstarted that!" once or twice.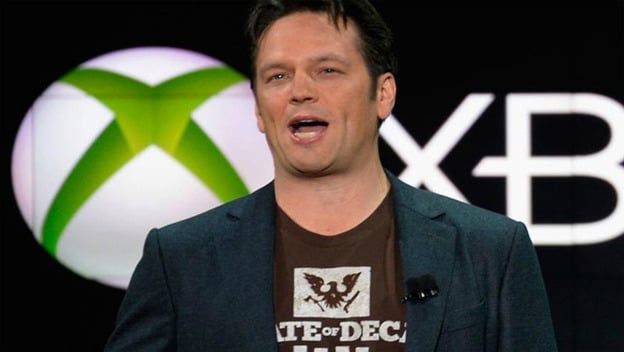 Rise of the Tomb Raider's trailer started off looking more like Lara Croft: The Therapy Years. Fortunately, a twist at the end revealed the fiercely independent Lara that we know and love.
Anticipated Release: Holiday 2015. Almost certainly multi-platform.
The Witcher 3: Wild Hunt showed off some open world gryphon hunting with a quick break to save a peasant lady in distress. She gave our hero Geralt of Rivia quite the come-hither look. Too bad her voice actor didn't get the memo.
Anticipated Release: February 24, 2015. Multi-platform.
Have you ever heard of Phantom Dust? I hadn't, but apparently it's an original Xbox "cult classic" that is being rebooted on the Xbox One. The trailer featured stylish mages dueling, and the original game had arena combat gameplay.
Anticipated Release: Unknown. Xbox One Exclusive.
Tom Clancy's The Division remains a team-based multiplayer shooter with light RPG elements. Apparently you can get glimpses of the past in certain areas, if I'm properly interpreting what I saw in the trailer.
Anticipated Release: 2015. DLC coming first to Xbox One, otherwise multi-platform.
Hideki Kamiya of Platinum Games loves to defy expectations, and his appearance on stage at Microsoft's conference suggested that reports of Platinum becoming a second-party Nintendo house are greatly exaggerated. He showed off Scalebound, a game in which the player bonds with a dragon and fights giant monsters. As always with Platinum, it looked quite stylish.
Anticipated Release: Ask your mom. Xbox One exclusive.
Finally, the promised Crackdown trailer was shown. People who know more than I do suggest that it looks like Crackdown. After two hours of a dizzying number of games, they could tell me just about anything.
Anticipated Release: Unknown. Xbox Live Exclusive.
We would like to thank Microsoft for this year's lack of TV and live sports, awkward dance-a-thons, and creepy child-Kinectimals bonding. I'm liking this games-games-games. Which games are you most anticipating?