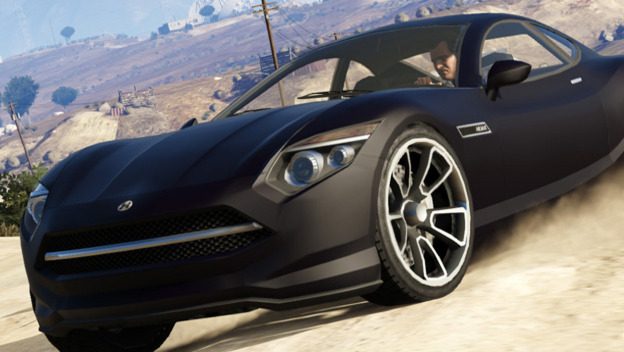 The folks over at Rockstar Games have been teasing us with Grand Theft Auto V videos that are just long enough to scratch our GTA itch but too short to reveal any important details. So, even though we've gotten to know the game's characters, we haven't seen much gameplay. But today, Rockstar was kind enough to show off some in-game footage for their upcoming opus, and I must admit, it looks incredible.
Last week, we learned that Grand Theft Auto V would require two disks: an install disk, which manages most of the environmental data, and a gameplay disc. Anyone who played a game on the PlayStation 2 is undoubtedly familiar with this system, but considering the capacity of today's DVDs, we were all a little surprised. But now that we've actually seen some of GTA5's mechanical elements, the need for more disk space is less surprising.
The world of Grand Theft Auto V, a caricaturized version of Southern California, is simultaneously filthy and lush, extravagant and rundown. It can be all of these things because of its size. The attractive-sounding woman who provides the voiceover for today's trailer describes it thusly: "A sprawling, satirical reimagining of modern Southern California, covering mountains and oceans, expensive stores and strip malls, urban decay and untouched wilderness, beaches and backwoods, the sublime and the ridiculous, greed and hypocrisy."
Every time I learn something new about Grand Theft Auto, I'm practically dumbfounded by the game's scale. Sure, there are missions, but they almost feel like they're taking a backseat to the game's mechanics. Though, we don't really know anything about the storyline, so this feeling is probably understandable.
However, in today's trailer, we did finally get a chance to see how the three-protagonist setup would work in reality. During a mission, specifically a heist, players will be able to choose how to complete the task at hand. The system is dynamic and even has a separate set of dialog depending on how you decide to handle the job.
Throughout the quest, players will have to switch between characters in real time to handle each individual's tasks. It's a system that, at least in the video, looks extremely flexible and impressive.
When they're not on the job, though, the characters will want to relax with a few of their favorite hobbies. Today, Rockstar showed off the gameplay for tennis, cycling, diving, hunting, golf, bounty hunting, and stock trading. I can already tell that I'm going to enjoy San Andreas more than the real world.
We also got our first look at the vehicle and character customization screens as well as the game's weaponry and flight mechanic. And even though I could probably ramble on for several thousand words, it would be better if you just watched the trailer.