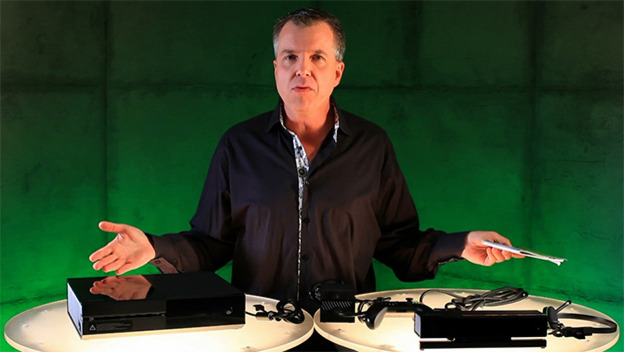 The details of the Xbox One have been surprisingly enigmatic considering all of the media hype surrounding it and its competitor, the PlayStation 4. Scraps of information are sought daily by game journalists everywhere–from interpreting game release dates as clues to the console release to speculation on hardware specs and compatibility requirements for the system. Most days turn up little, if any, truly quantifiable information.
Today is not one of those days.
In addition to several Xbox One peripheral videos released last night, Xbox Live's Larry Hyrb (AKA Major Nelson) was featured in an Xbox One unboxing video released by Microsoft this morning. You can watch the complete video below.
The contents of the box include a Kinect One sensor, chat headset, wireless controller, HDMI cable (4k rated), Power Brick, power cord, Xbox One console, paperwork, Xbox One sticker, and a digital exclusive code (Day One Edition only.)
A Kinect in Every Box
It has been said for some time, but this video makes it official–the Kinect One will come with every Xbox One. This doesn't really come as a shocker considering that some of the system's functionality requires a sensor to work, such as the "always-on" function. It would have been nice to have been able to choose whether we wanted the Kinect or not, which could have possibly reduced the price point, but having one will unlock the full potential of the Xbox One's media interface, so it can't be all bad.
Chat Headset Included
Microsoft has been catching flak regarding headsets ever since Sony announced that the PlayStation 4 would come packaged with one. Whether it is a ploy to catch up with the PS4 by including a headset, or if they planned on packaging a headset with the console all along, we may never know. One thing is for certain--it really doesn't matter because it comes with one now. Check out the video below for more headset info.
Wireless Controller Still Requires Batteries
This is one truth that I could have lived without. Using standalone batteries instead of rechargeable internal batteries for the Xbox One controller is like fueling your car with firewood; it doesn't make any damn sense, especially considering that the recharge port for the rechargeable battery pack is built into controller. Come on guys. Anyway, check out the video below for more wireless controller info.
If you are upset about using normal batteries, you do have the option to buy a Play & Charge Kit. However, these will be sold separately, and they will probably cost more than they did last generation. So, if you are prepared to spend $20 or more for this feature, more power to you. Personally, I will stick to my rechargeable batteries that are compatible with all of my home electronics.
HDMI Cable Capable of 4K
It's no secret that both the Xbox One and the PlayStation 4 are capable of 4k screen resolutions. Actually, if they weren't, it wouldn't really be "Next-Gen," would it? While most games and televisions don't yet support this level of resolution, it is nice to know that when the technology catches up, you will already have an HDMI cable that is compatible with it.
Oh No, Not Another Power Brick!
Another disappointing piece of news to be divined from this video is the existence of yet another power brick. When it comes to these, it looks like Microsoft hasn't learned its lesson yet. The Xbox 360 Power Bricks are a major hassle for gamers because they fail constantly. While it is possible that Microsoft has improved the design, I'm not going to hold my breath. But only time will tell whether this power supply will be a hindrance to gamers or not. We'll keep our fingers crossed.
Conclusion
Altogether, the Xbox One is shaping up to continue Microsoft's role as a major player in the console market. It has come a long way since the DRM debacle, and the company continues to gain ground wherever it can, keeping pace with Sony at every turn. Always-online and used-game policies have been reverted, and the recent announcement of each Xbox One being Development Kit capable has helped to balance out the Sony-skewed indie game market. Earlier this year, many critics had counted Microsoft out of this console war. But Microsoft has shown the necessary resilience and flexibility needed to not only succeed, but also to excel throughout this console cycle.
Now, hopefully, we won't see another "Red Ring of Death" fiasco. That would be bad.