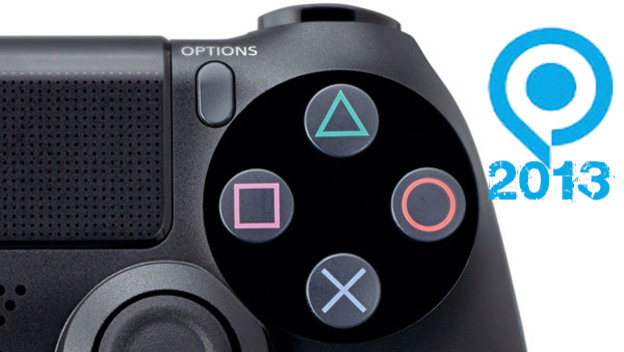 Today at Gamescom 2013, Sony took the stage to tell us what awesome new games we can expect from the PlayStation 4. Unlike the E3 presentation, where Sony spent much of its time talking about social media, this presentation started right with the PS4 in the center. Well, by that we mean that it started with an eerie guy on a couch looking at a PS4 menu. The conference then showed how you could switch back and forth from apps without issue, clicking between games, music, the PSN store, social media programs, and more. OK, so there was a bit of futzing around with console features after all.
The demo then switched to what appeared to be a stream of a Killzone: Shadow Fall multiplayer game in progress. The user watched the game, dropped in, started playing, and then showed off the new touchpad typing-interface saying, "Let's start the show."
Sony's Jim Ryan took the stage afterward to slightly divert us to PS3 news. He introduced a new video for Gran Turismo 6, which will feature brand-new "concept cars": i.e., cars that have not yet been made. The video then proceeded to show off some very futuristic car designs to an epic opera soundtrack. Of course, it was shortly thereafter that we switched over to rock and saw these cars racing through mountains, castle tops, shoreline villages, and plenty of other locales. Gran Turismo will launch globally on the PS3 on December 6th of this year. In addition, Sony Pictures is creating a full-length feature film based on the Gran Turismo franchise. We can only hope that Vin Diesel is in it.
LittleBigPlanet Hub was announced next, a new free-to-play LittleBigPlanet service. Essentially, it's a pared-down version of LittleBigPlanet that allows you to purchase specific items, costumes, stage pieces, and more using microtransactions. It will be released later this year.
After that quick announcement, we moved on to Grand Theft Auto V, which will be launching on September 17th. Sony announced a hardware bundle that includes a PS3 console and a headset along with GTAV. Anyone who pre-orders Grand Theft Auto V will receive an automatic 75% discount on any other Rockstar title in the PlayStation Store.
Ryan turned to the PS Vita next and announced some PS Vita titles. Batman: Arkham Origins, Lego Marvel, Football Manager 2014, and Borderlands 2 were just some of the titles he mentioned as upcoming for the PS Vita. Starbound, Fez, and Velocity 2X are some of the indie games that will be coming to the Vita as well. Then there's the big news! PS Vita will be getting a price drop to $199 in North America starting tomorrow along with a huge price decrease in PS Vita memory cards.
Sony continued to talk about Vita games that we have already seen for a while, including Killzone: Mercenary, Tearaway, and more. They then announced a brand-new title, Murasaki Baby by Ovosonico. The game is a strange, 2D-platforming deal made out of nightmare fuel. It has a sketchy, almost Tim Burton-like graphical style, and it's all about guiding a child through a nightmare world. The game is controlled exclusively with the touch screen, allowing you to tug your character, set off traps, alter the weather, and even alter the gravity by tilting your Vita. Any indie fan will totally dig this title.
The next game announced was a free-to-play game called Big Fest. It's a music-promotion simulator in which you plan your own music festival. What's cool about the game is that it uses real music from real unsigned bands. Thus, when you download their songs and create a festival lineup, you are actually promoting up-and-coming bands in real life. You can visit your friends' festivals in order to hear their song lineups, and the game features full co-op and competitive multiplayer. It's a really interesting way to tie social music sharing into a game-like atmosphere.
Mark Cerny took the stage next to start talking about the PS4. He talked a bit about how easy it is to develop indie games on the PS4's architecture before introducing Shahid Ahmad, who continued talking about indie development and how a new indie-game renaissance is coming. Rogue Legacy will be coming to the PS4 and PS Vita next year, as will Binding of Isaac: Rebirth. More specifically, Binding of Isaac will be free for PlayStation Plus customers. M++ will be coming to the PS4 as well, dated for this winter. Volume, a new game from the makers of Thomas Was Alone, will be coming out next year on both PS4 and PS Vita, and Sony doesn't even know what the game is about! Guns of Icarus, Wasteland Kings, and Hotline Miami are just a few of the other indie titles coming to PS4 and Vita.
After this waterfall of indie, Sony began to talk about Sony Worldwide Studios. Sony Santa Monica, Naughty Dog, and Media Molecule are all working on as-of-yet unannounced titles. The Chinese Room, one of Sony's Indie Studios, is working on a new game called Everybody's Gone to the Rapture. The game seems to have something to do with replaying the end of the world over and over again. Its trailer showed off a command prompt talking about some sort of loop that could not be closed.
Sony then talked about Tequila Works and its new game, Rime. It appears to be an open-world exploration game with Parkour elements and slightly cartoony graphics. The trailer showed a character camping out in the dark and building a fire, finding a creepy underground colossus, and scaling walls over an ocean.
Arrowhead Studios will be working on a new co-op title that will crossover between PS4, PS3, and PS Vita. It appears to be a top-down, sci-fi action/space-sim game with dual-stick shooter elements. The game is called Helldivers, though a release date was not given.
Resogun is an arcade-style shooting game that is essentially a two-way, side-scrolling shoot 'em up/bullet hell. The trailer showed off a variety of interesting weapons including bombs, time-stopping EMPs, electricity waves, and more. It's made by the creators of Super Stardust HD, so it will be a huge draw to the shooter crowd.
Shadow of the Beast is the next game that was announced. This classic, side-scrolling platformer has been completely reimagined for PlayStation 4, with updated graphics and sound. The trailer demonstrated the game's iconic shadow mechanics, though it was entirely cinematic in nature. Still, any fan of the original will love this.
Sony then took us back to some games we have seen already. For example, Playroom, the motion-control demo we saw at E3, will come pre-installed on every PS4. Infamous: Second Son also had another trailer revealed; the trailer had some in-game gameplay footage of flight, smoke whips, fire-extinguishing smoke, and more. It ended with a shot of our main character absorbing electric powers from other conduits. They paid brief lip service to Knack and a few other previously announced titles before going on to show some more footage from Killzone: Shadow Fall. The trailer focused on multiplayer, showing off customizable game modes and loadouts. In fact, the game-mode customization seems to be a major part of the game, allowing you to turn on and off things like grenades, dashes, and even game objectives.
Twitch (Twitch.TV) will be coming to the PS4, which is interesting considering they originally announced Ustream as the PS4's streaming partner. Twitch was also thought to be an Xbox One exclusive, so this is a pretty huge announcement. The PS4 also supports full custom soundtrack capabilities in all games. Sony Music Unlimited will allow you to play music in the background of any game you play. Sony will also be offering special Sony-branded broadband packages with companies like T-Mobile and Virgin. These plans will deliver higher speeds than ever before according to Sony, with specific broadband reserved for gamers only.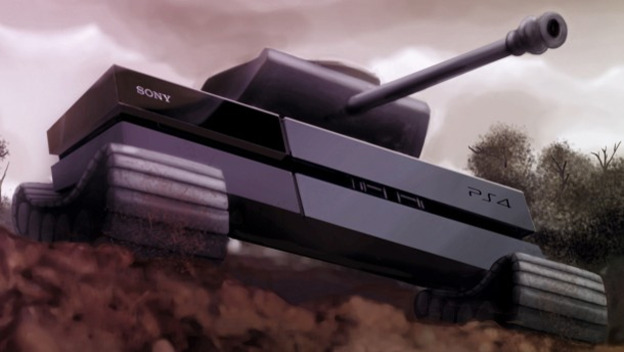 Sony then went on to talk about PlayStation Plus. Anyone who purchases a PlayStation 4 will get a free 14-day trial of PS Plus, complete with the Instant Game Collection. Drive Club and Resogun will be day-one free games on PS Plus for PlayStation 4. Assassin's Creed 3 will be coming to PS Plus for the PS3 later this September.
The next part of the demo focused on Assassin's Creed IV: Black Flag, and more specifically, Remote Play. Remote Play basically works exactly like the Wii U's GamePad does, but using the PS Vita instead. At any time, you can transfer a PS4 game to your Vita and continue playing it from your PS3, allowing your friends to interrupt your gameplay and watch TV or something. Almost all PS4 games will be playable on the Vita.
The demo itself showed gameplay on the deck of the Jackdaw. The ship was assaulting a port along with all the ships there. Your ship appears to have multiple health bars as well as ratings for all its weapons. It can also fire numerous weapons that work better against different enemies. Scatter shot, for example, is great against other ships, whereas you probably want to fire heavy mortars at ground installations. The PS3 and the PS4 will also be receiving exclusive levels that the Xbox One and Xbox 360 will not. They showed a teaser of these exclusive levels, but it was really nothing more than narration over a burning sea.
Watch_Dogs was shown next, with a trailer that finally explained a bit more about the story. It appears that you are stuck in a three-faction war. There is the CTOS, and its backers that believe a citywide computer system is good for all people. Then there appears to be a hacker faction that is trying to tell everyone that the CTOS is dangerous and is nothing more than a tool to control the masses. Aiden Pearce seems to be on the outskirts of both factions. The PlayStation 3 and 4 will be getting four exclusive missions, an exclusive white trench-coat costume, and a hacking boost.
The next announcements once again went to indies. Sony announced War Thunder, a free-to-play WW2 battle game, and Minecraft, everyone's favorite Lego simulator; both will be launch titles for the PS4. We only got to see trailers here, though, and very little info was given.
Andrew House took the stage to finally wrap up the night. The PS3 will be getting a new 12 GB low-end release retailing for only $199 dollars here in America. Also, Call of Duty: Ghosts, Watch_Dogs, Assassin's Creed IV: Black Flag, and Battlefield 4 players who own the PS3 version will be able to get the PS4 version at a "significantly discounted price." Sony is working to make this the case among most of its titles, if at all possible. Sony then took another dig at Microsoft, saying, "Some have changed their story, but we have remained committed to the gamer." The PS4 will be launching on the 15th of November in the US and the 29th of November in Europe.
Overall, the PS4 Gamescom conference was interesting. There certainly weren't many AAA-blockbuster reveals to speak of. However, there were indie titles coming out of Sony's ears. There were also just a few important announcements about UI functionality and other system features. We only got to hear about a few AAA titles coming in the PS4 launch lineup, but we saw lots of information about games that have been mostly kept under the radar. The conference wouldn't convert any one from the Xbox One side, but it sure made people who already pushed in their chips with Sony excited about what is coming to the PS4 in the future.