Infinity Ward and Activision have been saying that Call of Duty: Ghosts is an entirely redesigned Call of Duty experience for a while, and after watching the single-player campaign trailer, I might just believe them. While it's been shown that the multiplayer component of Ghosts has received a healthy and much needed overhaul, there has been little evidence that the single-player portion of the beloved franchise has been bolstered in any way--until now.
First of all, if you haven't seen the single-player trailer yet, you can watch it above. Take your time, I'll wait.
With this trailer alone, Infinity Ward has shown that Ghosts will be a much more cinematic experience than its previous contributions to the franchise. Leading off with an epic shootout in space, which we can only assume is a prologue to the events of the game; the trailer continually shows true, high-quality cutscenes, something Infinity Ward isn't particularly known for doing.
In addition to looking amazing, these scenes also function to personalize the story of the all-new cast of characters, something that is going to be sorely needed without personas from previous Call of Duty games. In the short span of the trailer, you can surmise that the main character of the game wasn't a military operative prior to the fall of the United States. Instead, he was trained by his father, who we could assume was part of the US Special Forces. These small hints at the backstory, ruined US landscape and other varied locations, family values, and patriotic undertones seem to conspire to make something we haven't seen in a long time–an Infinity Ward Call of Duty game with a unique story, one worth playing.
The divergence in the campaign mode of Ghosts from the Modern Warfare series formula is pretty apparent. Instead of being part of the largest military in the world with a global superpower backing your play, you are now part of an insurgency of guerrilla fighters, remnants of the mighty American war machine. This will bring the fight back to America, so the locations included in Ghosts should primarily take place in the US, outside of flashback levels, which there are sure to be. This should make for some pretty interesting gameplay, and the locations and situations shown in the trailer look to be some of the best Call of Duty has ever had to offer in a single-player setting.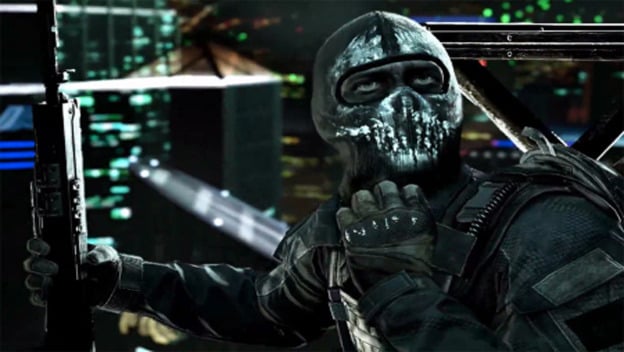 Personally, I have become moderately disillusioned with the Call of Duty franchise as a whole since Modern Warfare 2. But the amount of change and reimagining that has seemingly went into Call of Duty: Ghosts might just convince me to give the shooter-goliath another chance, a decision I don't come by lightly.
Battlefield 4 better bring the heat. Although I don't see the multiplayer of Ghosts replacing my antics in the warzones of Battlefield, the single-player could be an entirely different story. Of course, nothing is for sure. Until the game launches, I will have to wait with frantic anticipation to see which title will take the largest portion of my life. But this time around, it looks like it could be a lot closer of a race. I'm actually kind of excited.