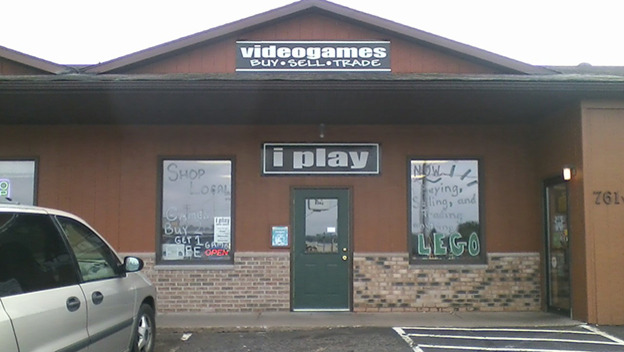 Sometimes, the most interesting video game stores are the ones you just happen upon. You know how it happens. You're out somewhere, not even thinking about your favorite hobby, or just enjoying the day, and you see a store you never knew existed, and it turns out to be someplace surprisingly awesome. That's what happened with me and i Play in Spooner, Wisconsin.
I was up in Northern Wisconsin, visiting my family's cabin, and when I happened to be getting some produce from a local farmer in the parking lot of a grocery store, I found i Play. It was one of those fortuitous events. I'll admit, it was the promise of "buy two, get one free" that lured me in, and I'm glad it did.
It turns out, the Spooner branch of i Play isn't the first. Sam Smith and Luke Hauser opened the original store, at 902 Belknap St. in Superior, Wisconsin, in 2007. The two began with a stock of 500 games. It was only in November 2012 that the Spooner store opened at 761 West Beaver Brook Avenue. While both stores focus on classic and recent used games, they have other features that set them apart.
For example, the first thing I noticed when I stepped into the Spooner branch of i Play is a giant table, filled with LEGOs. For $15, people get a pound of them, and shoppers can even trade in their old LEGOs in exchange for store credit. On other shelves, LEGO sets were built and acting as decorations. One appeared to be a Lord of the Rings-style hobbit home.
It was the deals that drew me in most. Lately, I've been searching for N64 games, and there was a rack filled with loose cartridges. Some were priced, but it's best if a shopper finds three. All loose cartridges are part of a three for $10 deal. These are the more pedestrian titles. The more famous titles such as Yoshi's Story or The Adventures of Lolo are kept aside in a locked, glass case.
Despite the rarity of the gems in the case, even they are part of the Buy Two, Get One Free deal. As you'd expect, the cheapest of the three games is free, but every other game in the store qualifies. For example, I picked up Robotica (Saturn), Perfect Dark (N64), and The Adventures of Lolo (NES) during my trip, and Robotica ended up being my freebie. The prices were fair, and though Robotica would have been more than it would have had I picked up the cheapest used copy on Amazon, I was more than willing to go for the bundle, knowing I was supporting an independent store.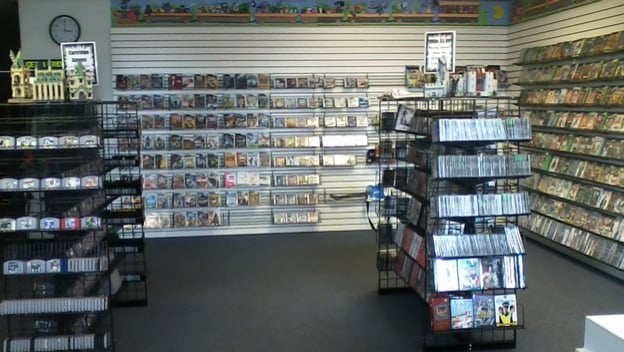 I must admit; I also have a soft spot for the decor. You can tell i Play is trying to do a little something special with their space. A trim lines the walls, showing famous Nintendo characters riding in a train. A Police Trainer arcade game sits at the back of the store, with an LED sign above it boasting about the constant Buy 2, Get 1 Free deal.
Little stores like i Play should be celebrated. Despite GameStop and other big retailers, little places like these continue to thrive, manned by gamers like Smith and Hauser who love what they're doing. They have that personal touch, from the hand-painted trim to the staff who knows about the games they're selling. You'd never see GameStop offering 100% in credit, yet that's exactly what i Play did in May 2013--gave people who were selling games what the shop intended to sell it for. Kudos to i Play and all the little guys out there like it.