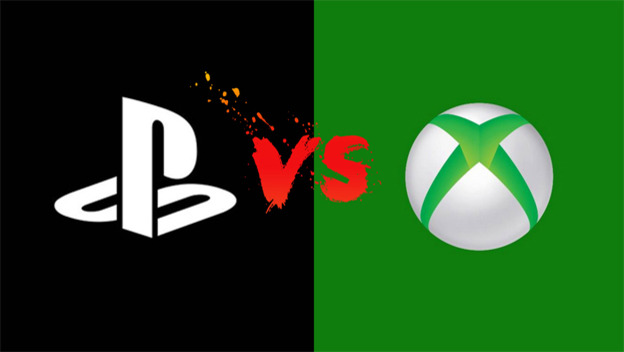 Why are we so eager to learn which consoles are "winning" at retail? Maybe we're bored by the slow release schedule ahead of the PlayStation 4 and Xbox One launch. Some of us are probably console warriors determined to champion one console over the other as "the best," using any positive data we can find to justify our point of view. And plenty of us (like me) enjoy watching the game industry for its own sake, fascinated by the rise and fall of companies and consoles as generations come and go.
Whatever our reasons, various news stories have been pouring fuel on the fire lately, creating new buzz about whether the PlayStation 4 or Xbox One has better pre-order news. Earlier this month, analyst Michael Pachter suggested that the PlayStation 4 has reached 1.5 million pre-orders worldwide, a nice boost since Sony's last report of having gained a million pre-orders between the E3 and Gamescom conferences. Microsoft has been more circumspect about its pre-order numbers, but one confirmed Microsoft developer on Reddit recently stated that the Xbox One has "just as many" pre-orders as the PlayStation 4. Take that for what it's worth.
What about software? The recent delay of Driveclub, a PlayStation 4 exclusive, and multi-platform title Watch_Dogs, for which the PS4 was the lead platform, has led to talk that the exclusive launch-day lineup for that console is looking a bit anemic. The always-droll Kaz Hirai parody Twitter account (Mr. Hirai is Sony's CEO who once ran the PlayStation division) sums things up nicely, below: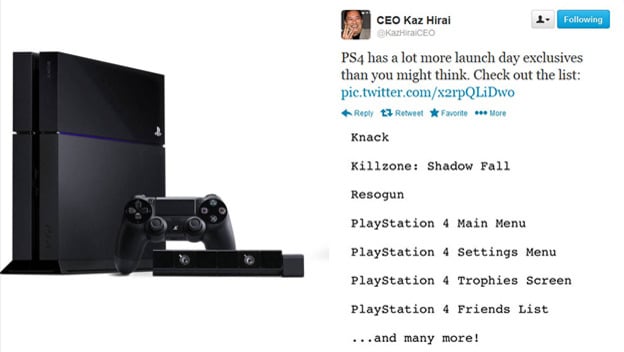 More seriously, VGChartz has released its estimated pre-order numbers for consoles and software in the USA. The company estimates that there are 725,000 PlayStation 4 and 525,000 Xbox One pre-orders in the USA, with the Xbox One making the greatest gains since the end of August.
VGChartz also shows its estimated pre-order numbers for the biggest software titles coming to both consoles. The company's figures show higher pre-order numbers for the PlayStation 4 version of every multi-platform title except Call of Duty: Ghosts (that's listed as 325k Xbox One pre-orders versus 298k on PS4). Their top-ten lists show Killzone: Shadow Fall as the most popular pre-ordered exclusive for the PlayStation 4 at 250,000 copies, and Forza 5 as the most pre-ordered Xbox One exclusive at 90,000 copies.
Unfortunately for us, it's very difficult to ascertain the accuracy of VGChartz sales numbers. The site's numbers are based on various polling methods, the details of which it will not reveal. Generally, industry-watchers learn to take VGChartz numbers with a grain of salt, as they are known to conflict with official sales numbers when such numbers are released. Even so, using these numbers as a quick pulse reading of current conditions, the PS4 appears to be hanging in there as the most popular console amongst early adopters.
The truth is that industry secrecy means we'll never know the exact pre-order numbers either for hardware or software. Pre-orders don't always lead to final sales, anyway, and the public perception of both consoles during their respective launch weeks will strongly impact both pre-order sell-through rates and day-one purchases. Will the PlayStation 4 suffer from its reduced launch lineup or ride its current wave of popularity to victory? Are more and more gamers getting excited about the Xbox One, or will it continue to suffer from this summer's series of PR disasters?
Hang in there, folks. November is going to be a wild ride, especially if you're the type of gamer who enjoys watching the industry almost as much as you enjoy playing games.