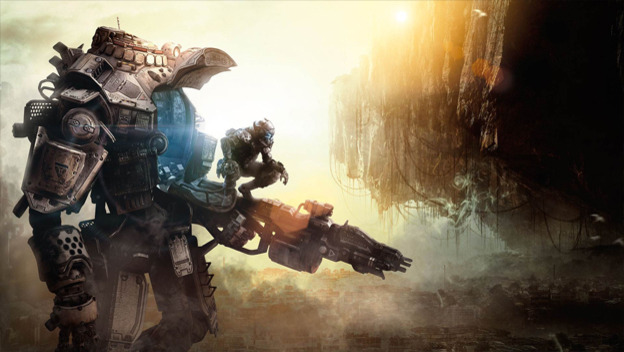 We've always known that Titanfall, Respawn Entertainment's giant robot shooter, would be a timed exclusive on Microsoft platforms. Publisher EA's recent admission that the game would be permanently exclusive to the Xbox 360, Xbox One, and Windows PC, however, came as a surprise even to the game's developers.
Not long after news sites began covering the fact that Titanfall won't be appearing on any Sony platforms, Respawn's Vince Zampella Tweeted that he had only recently learned that the game would be restricted to Microsoft devices for its lifetime. It had long been rumored that Respawn was working with PlayStation 4 development kits and that Titanfall would eventually release on that platform, but that avenue is now closed to the developer thanks to EA's deal with Microsoft.
If Zampella's name sounds familiar, that's because he's been through the wringer with a big game publisher before. He and his partner Jason West recently emerged (with a private settlement) from an extended lawsuit against Activision, for which their previous company, Infinity Ward, created a little franchise known as Call of Duty: Modern Warfare. Zampella and West learned an important lesson about owning their own intellectual property from that experience, but presumably still wanted access to the kind of development funding that only a large publisher could provide. Thus, Respawn signed on with EA Partners to create Titanfall.
How did Respawn end up in a position to be blindsided with this kind of news by its own publisher? According to Respawn's contract with EA, while Respawn owns the Titanfall IP, EA has exclusive publishing rights to Respawn's titles. Technically, it seems that EA had the right to work out this exclusivity deal independent of Respawn. Still, it wasn't a nice move, nor was it a smart way to do business with a successful and outspoken developer like Zampella. It's clear from Zampella's Twitter that he's had a good working relationship with both EA and Microsoft, so it seems silly that he was kept in the dark until after the ink on the contract had dried.
It's difficult to blame Microsoft for making this deal. The Xbox One is still climbing out of this summer's series of PR disasters, lagging behind the PlayStation 4 in both pre-orders and public opinion. Spending some extra cash to get lifetime exclusivity on a highly anticipated shooter makes sense for the company, and it's unlikely that Microsoft knew (or cared) that Respawn wasn't in on the deal. Windows 8 won't even be required for the PC version of the game, so Microsoft is keeping the title as accessible as an exclusive can be.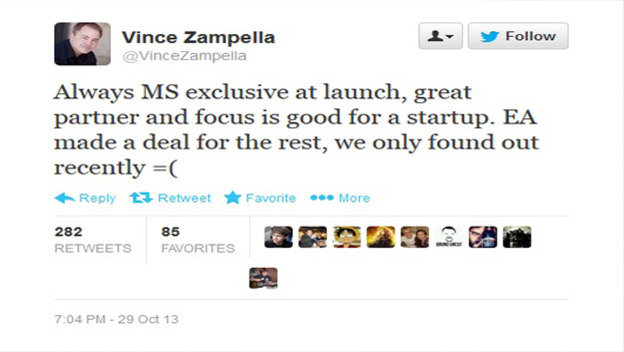 It's EA's judgment I'd question in this deal. Sure, the exclusivity deal with Microsoft probably came with a healthy upfront cash payoff, but tying Titanfall permanently to Microsoft platforms harms its long-term sales potential. There's a reason why almost all AAA third-party games are multiplatform: Publishers have determined that the money they get from making their games available on as many consoles as possible tends to outweigh the money they can get for inking exclusivity deals. I imagine this is particularly true of a game that's intended to found a franchise with multiple entries. It's important to garner as big a fan base as possible when that franchise is just starting out.
In the end, most gamers who own PlayStation 3 or 4 consoles and don't own an Xbox or gaming PC will simply end up skipping Titanfall. Those PlayStation-owning shooter fans are likely to pick up Bungie's Destiny, generally seen as Titanfall's closest competition, instead. That could be bad for Titanfall's future, even if (as Zampella hopes) future Titanfall games appear on Sony platforms. Shooter fans tend to become quite attached to particular franchises in detriment to others, and a hypothetical Destiny-loving online PlayStation 4 community might not be interested in Titanfall 2 once it rolls around. EA's decision to milk money from Microsoft now could end up costing both itself and Respawn dearly in the long term.
Sources: Twitter, Gamasutra, and Rock, Paper, Shotgun