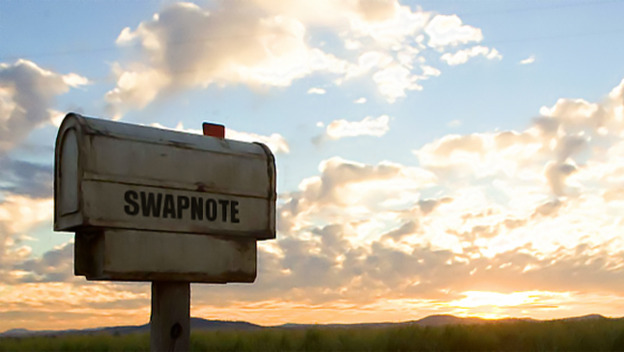 My name is Jenni, and I'm one of the 100 people out there who used Swapnote fairly regularly. I have a number of people I know registered to my 3DS Friend List, and we've actually used the message-exchanging system pretty often since its December 2011 launch.
Many of us had Colors 3D, which meant the exchange of fan art or original works when they were finished. (I have an incredible Samus image locked in, so I can never delete it.) One of my friends is an online cartoonist, and his early messages used each note as a different panel. Our communications slowed a bit towards the end of 2012, but the introduction of Animal Crossing: New Leaf and its screenshot function led to a resurgence of messages. We'd show off our townsfolk in silly situations, brag about outfits we'd made, and generally have a good time. An era was just dawning in which we'd send Pokemon X and Y photos of our trainers to one another, when the message came in last night.
Nintendo shut down Swapnote.
Because a few people had abused the system, which happens with pretty much any system, everyone lost it. Nintendo claimed that users were going to message boards, swapping Friend Codes, and sending each other offensive pictures and drawings. While that does sound like something people would do, deciding to shut down Swapnote entirely is extreme.
If Nintendo was so concerned about offensive images being shared, then patch Swapnote to remove the ability to include photos. Earlier this year, the company updated Swapnote to allow people to insert pictures in their replies to friends. Surely, the ability to add images could be removed completely.
Perhaps this is just me sounding a personal "wahmbulance," but I'm actually hurt that Swapnote is gone. I loved collecting the promotional stationaries, not only from North America, but also from Japan and Europe. I liked seeing a little message from friends, and engaging in a dialogue chain. I used to applaud Nintendo's efforts with Swapnotes, saying it was superior to the PS3 and Vita's messaging systems.
But part of me thinks this isn't just a case of Nintendo doing something "for the children." Go ahead and label it a conspiracy, but I think Nintendo wanted Swapnote out of the way. At E3 2012, Nintendo said Miiverse would be coming to the Wii U, 3DS, PC, and mobile devices. A year later, it's still pretty much a Wii U exclusive.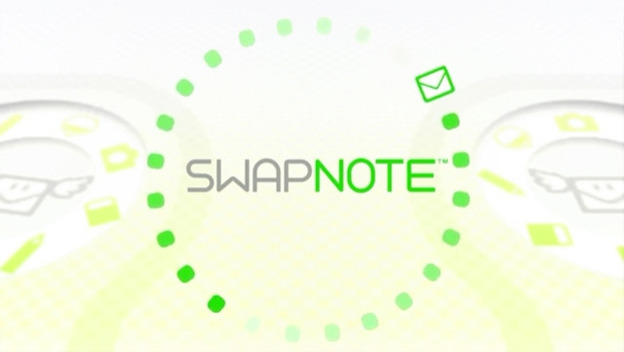 Nintendo has claimed the 3DS will get Miiverse before 2013. In April, during the Financial Results Briefing for Fiscal Year Ended March 2013, Miiverse came up. The following was said, "At the same time, the more people take advantage of Miiverse, the more deeply and correctly they will understand the charm of the other platform, Wii U." We know the Wii U isn't selling as well as Nintendo, or anyone, would like. Though Swapnote wasn't a widely used and incredibly popular application, it would've been a rival to Miiverse on the 3DS. By eliminating it, people will be forced to use Miiverse to communicate, and perhaps "understand" the Wii U's charm through it.
It's a shame it had to come to this, with Swapnote being shut down in the middle of the night, with little to no warning. I would have liked to have sent a last message to my friends, perhaps one last Colors 3D masterpiece, if I had known what was about to happen. Perhaps just a last screenshot from my Animal Crossing: New Leaf Halloween adventures. But it won't happen, and while Nintendo has offered a very plausible line about closing this application for the greater good, a part of me will always wonder if Swapnote was axed to pave the way for Miiverse.