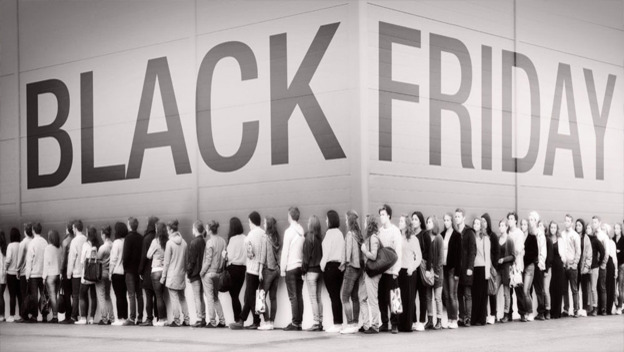 Most of the Black Friday 2013 ads have hit the Internet, so it's time to start making a game plan. Maybe you're going to actually spend part of Thanksgiving Day with your family, working off your meal by tackling other people at your nearest big box store for a super-cheap copy of Assassin's Creed IV: Black Flag. Or perhaps you've been working on your pitching arm, so you can grab one of those awesome The Legend of Zelda: A Link Between Worlds 3DS XL bundles, and throw it to your cohort at the checkout counter.
Point is, you have to work on getting yourself into peak Black Friday shopping condition. Whether it's preparing that mouse-clicking finger for online shopping or using some weights to prepare to carry your haul to the car, you don't have time to sort through all of the deals for the best ones.
Which is why I'm here. I went through the ads. I know what's out there. And now, I can use that information to help you.
Let's start with consoles. The best deal I've seen so far is a Best Buy exclusive Xbox 360 bundle. It's $189.99, and you get a 250GB console with Batman: Arkham City, Darksiders II, Halo 4, and Tomb Raider. It's a fantastic deal and, personally, much better than that standardized Xbox 360 4GB Kinect Bundle with Kinect Adventures and Kinect Sports Season 2 that's showing up for $199.99 everywhere else. If you're just a "Red Ring of Death" sufferer who needs a basic, new console, then Walmart will have 4GB Xbox 360s for $99 each at 6 p.m. on Thanksgiving Day.
Unfortunately, Best Buy doesn't have a similar, breakout PS3 deal. The standardized PS3 bundle this year is a good deal on its own, though, as pretty much every store in existence will have a 250GB model with Batman: Arkham Origins and The Last of Us for $199.99. Considering the two games alone would cost you $119.98 right now, it's a pretty awesome offer. Don't be tempted by Walmart's 12GB PS3 for $149. You deserve better.
For a Wii U, you'd want to visit Meijer. I know, Meijer? But seriously, the store has a good deal. It will have that new Mario & Luigi Wii U Deluxe set for $279.99, with a $30 coupon you can use the next time you shop at the store. You'll be set with New Super Mario Bros. U and New Super Luigi U, and can come back later to use the coupon to get Super Mario 3D World for $29.99. (That's what I'd do.) If you're not ready for a Wii U yet, but for some reason still want a Wii, then GameStop will be selling used ones for $39.99.
When it comes to portable deals, all you have to worry about is the 3DS. So far, it seems like every store has forgotten about the Vita this Black Friday. Which is good, because you'll really have to think about your 3DS model decision. Aside from the standardized $169.99 Luigi's Mansion 3DS and $219.99 The Legend of Zelda: A Link Between Worlds 3DS XL bundles, there are some single sales that are pretty tempting. But first, the bundles.
Toys R Us is cheapest for the Luigi's Mansion 3DS bundle, as it's selling it for $149.99 during its entire Black Friday 2013 sale. It also has a custom 3DS XL bundle that includes the system and either a copy of Skylanders: Spyro's Adventure or Skylanders Giants for $209.98 on November 29-30, 2013. Once again, Meijer comes through as a hero for the other bundle though. It's charging $219.99 for that Triforce-d up The Legend of Zelda: A Link Between Worlds 3DS XL bundle, but is also throwing in a $20 shopping coupon you can use to take $20 off your next purchase at the store.
The only two other notable deals are a $99 2DS at Walmart and a $149.99 3DS XL at Target. Both are the lowest prices ever on the two single systems. Since The Legend of Zelda: A Link Between Worlds is $39.99 on its own, you can always make your own 3DS XL bundle for $190. You'll miss out on the special 3DS XL, but at least that way you get a physical copy of the game.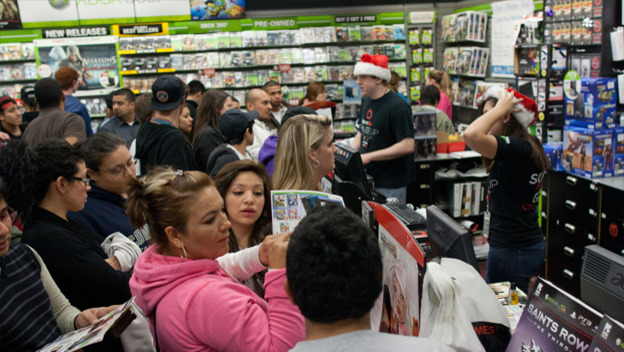 If you want to get into that NFC thing this Black Friday, you have to hit Walmart. It has the cheapest price on Disney Infinity and Skylanders SWAP Force starter kits. They'll be $38.96 each. However, if you just want figures for the games, you don't want to go there. Disney Infinity figures won't be on sale anywhere, but Toys R Us will have two great deals on Skylanders. If you want Skylanders or Skylanders Giants figures, there's a buy one, get one free promotion at our favorite toy store. Skylanders SWAP Force single figure packs are buy one, get one 70% off between 5pm-9pm on Thanksgiving Day.
As for the single-game sales, it's a lot more difficult to tell which store has it best. I'd say GameStop, Target, Walmart, and Best Buy are all winners. Both Target and Walmart will have assorted $10, $15, and $25 games available, and its ad also notes that the new releases Battlefield 4, Batman: Arkham Origins, FIFA 14, Madden 25, and WWE 2K14 will be $25. Best Buy has a few stars too, though, as it has some $11.99, $14.99, and $29.99 deals. However, Best Buy is a few dollars more than Target on Batman: Arkham Origins, Battlefield 4, FIFA 14, and Madden 25. GameStop's best sale games are smaller titles that aren't shown in the other ads, and it's the only store with a Black Friday ad that actually shows Vita games. Given how people's tastes vary, you really should make a point of skimming the Best Buy, GameStop, Target, and Walmart ads for single-game sales on your own. Have a magnifying glass ready for the Target and Walmart ads though, because they do have some games pictured in the ads, but the print on the titles is super tiny.
Finally, there are the subscription services. So far, Target and GameStop are winning. 3 months of Xbox Live will be $10 at Target, while a year of PlayStation Plus will be $29.99 at GameStop. I'm actually going to break my "never enter a store on Black Friday" code to grab a year of PlayStation Plus at GameStop this year, so you know that offer's got to be worth it.
Hopefully, you're all a little more prepared to face the coming storm at the end of the month. Be smart, wear extra padding to cushion against the blows of angry shoppers, and go in with a team. Most importantly, get yourself a year of PlayStation Plus. It's a crazy awesome deal at $50 for a year, and just plain ridiculous when you're only paying $30.