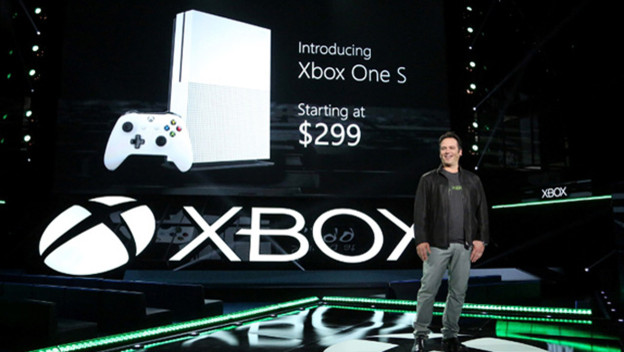 Play anywhere; no boundaries; more innovation; new power that transcends generations: these were the themes around which Microsoft's E3 conference revolved this year. It was hugely ambitious in scope, but hit-or-miss in its execution; I was left dazzled but wanting. Be that as it may, it was a solid show with so much on offer. Let's "jump in."
Xbox One S
Microsoft hit the ground running, kicking things off with a reveal trailer for the new Xbox One S. Slimmer and sleeker, this new Xbox One is 40% smaller than the original. An integrated power supply means you won't have a massive power-brick cluttering up the space behind your entertainment center, and the console itself boasts 4K video capabilities, up to 2 terabytes of storage, and will go on sale this August with a starting price of $299. A new controller was also shown that we'll touch on in a bit.
Gears of War 4
Rocking our faces with arguably the most impressive gameplay video of the show, Gears of War 4 showed up in a big way. Laura Bailey (who voices Kate) joined The Coalition head Rod Fergusson on stage for an action-packed co-op demonstration, and what we saw was really impressive. Dynamic and destructive weather and terrain, frighteningly powerful weapons (I laughed out loud at the blade-saw launcher firing in full-auto), and brutal finishing moves. A new Gears-4-themed Xbox One Elite Wireless Controller was shown off.
Play Anywhere
Gears 4 will be one of the first "Play Anywhere" titles. Play Anywhere is Microsoft's cross-play initiative. You'll buy the game for Xbox One or Windows 10, and it will be available on both platforms with seamless progression and trophy support. As Microsoft continues to push ahead with its unified platform, you can bet we'll be seeing "Play Anywhere," as well as "Xbox One and Windows 10 Exclusive" at the beginning and end of most trailers from now on. It is a great concept, and a huge win for PC gamers on Windows 10.
Forza Horizon 3
Forza Horizon 3 was revealed and looks like it's taking the series in some interesting new directions. Specifically, it's taking Horizon to Australia where players on Xbox One and PC will be able to join their friends in a four-player co-op campaign: a first for the franchise. An impressive gameplay demo was presented where the ease of joining friends' games seamlessly was emphasized. The most social Forza ever will be available September 27.
ReCore and Friends
Comcept and Armature Studio's highly anticipated ReCore got a great new trailer and an official release date. The trailer shows off a few of the game's different environments and enemy types, as well as a host of different mechs you'll be able to tame and recruit as companions. Different mechs will serve various purposes as they aid the protagonist in exploring, traversing the game world, and fighting. ReCore is coming to Xbox One and Windows 10 September 13. I had to look that last bit up because during the actual conference, the camera was zoomed way out and I couldn't see the damn trailer or release date for myself. Great view of the dark, black tops of everyone's head in the crowd, though. Thanks, camera people!
Final Fantasy XV showed up with a really lackluster and disappointing combat demo, and a new expansion called Underground was announced for The Division, out first on Xbox One June 28. Battlefield 1 also had a really underwhelming showing, recycling the same trailer we saw at the EA show and announcing (again) that EA Access members get the game first on October 13.
Xbox Live Updates
This summer we can look forward to Microsoft's digital assistant Cortana, as well as the ability to play background music while we game (better late than never). In the fall we have three more significant updates on the way. "Clubs" are going to be the Xbox equivalent of PS4's communities, giving players with similar interests a common space to hang out and talk about their games. "Looking for Group" is exactly what it sounds like, and like the PS4's public events, it will allow players to easily recruit additional companions or opponents when playing their favorite games. "Arena" will be a new competitive hub, with tournaments set up and carried out by individuals as well as publishers.
Minecraft
Minecraft had a cute presentation announcing The Friendly Update, which will allow players across Xbox, Windows 10, and mobile platforms to play with each other. Dedicated servers will also allow players to set up realms for their friends to join, and even when the host is offline, friends can continue to play and build in their realm. Minecraft Realms is available to try for free for Xbox Live members, and more exciting info is coming at MineCon.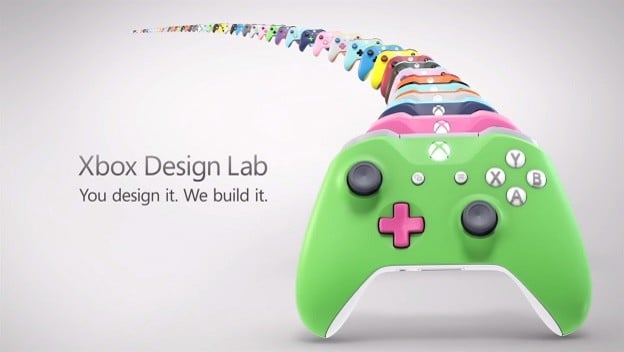 New Controller: "You design it, we build it."
A fancy new Xbox One controller was revealed that players can customize with various color combinations and inscriptions. They have textured grips, wireless and bluetooth capabilities, and increased range.
Hooray for Indies!
We got a sneak peak at a new game called Inside from the team that brought you Limbo; the latter game is now free on Xbox Live. I noticed that Stardew Valley is on the way, and we got a really creepy gameplay video showing off We Happy Few, which looked to be a surreal social commentary on our culture's obsession with suppressing honest emotion. The indie joint wrapped up with a great look at CD Projekt RED's new CCG Gwent, which is coming in September.
New footage for Tekken 7 was shown off, and it looks like the story mode will seamlessly blend narrative cutscenes and gameplay. Dead Rising 4 delighted everyone with a cheeky, gory trailer that concluded with the protagonist taking a selfie right before igniting a big Christmas tree made entirely of squirming zombies. Expect Dead Rising 4 this holiday season.
Gameplay Trailers Galore
We were treated to some impressive gameplay footage from a few high-profile games. We witnessed a huge, co-op boss battle in Scalebound that looked pretty damn rock-and-roll. Platinum Games really owes us one after the dud that was TMNT: Mutants in Manhattan, and Scalebound looks set to deliver a much more polished and wholly original experience next year. We didn't get a great look at Sea of Thieves - it was basically a long, loud, reaction video with quick cuts of players screaming and wandering aimlessly about their ships and an island. I hated it, but I'm still excited for the actual game. Halo Wars 2 promises the biggest battles in Halo history, and will be coming to Xbox One and Windows 10 February 21. An open beta is live all week on Xbox One.
Project Scorpio
Phil Spencer concluded the show by introducing "Project Scorpio," which Microsoft expects to be the most powerful console on the market when it releases next holiday season. "Beyond Generations" was the mantra, and various developers offered up their praise, saying that the machine was basically designed from the ground up to be a dream machine for gamers and developers alike. True 4K visuals and high-fidelity VR are the focus for Scorpio, and all Xbox One games and accessories will be compatible - "No one gets left behind."
And that was that! It was a jam-packed hour and a half. We got a lot of quick glimpses and first looks, but not a whole lot of substance. The brightest spotlight was on new hardware, and I feel like PC gamers on Windows 10 have much more to be excited about than do Xbox One gamers, but that's not necessarily a bad thing; just different.
BE SURE TO CHECK OUT CHEATCC'S EXCLUSIVE HUB FOR ALL YOUR E3 2016 NEWS AND INFO, LIVE FROM THE CONVENTION FLOOR. CLICK HERE!