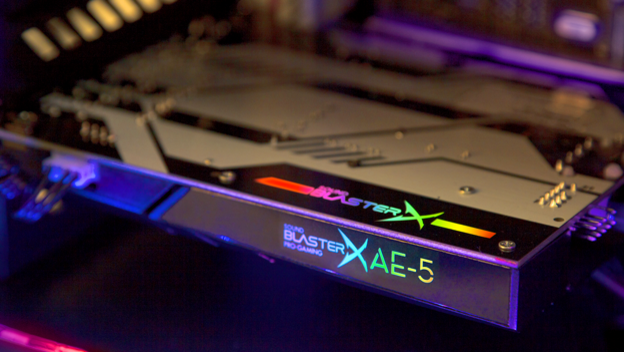 When you play PC games, you want to have a rig that can handle anything. Meeting or exceeding requirements is only the beginning. If you want to do things right, you'll want to go above and beyond to make sure it looks and sounds perfect. Enter the Sound BlasterX AE-5. Creative's new sound card is one of the highest level pieces of gear you can get for your computer. It's the sort of thing a pro would demand, but anyone can enjoy.
So what is the Sound BlasterX AE-5? Basically, it's a sound card and DAC. It's a SABRE32 Ultra Class Hi-Resolution PCIe card that will make any game you play sound amazing. It offers discrete 5.1 surround sound and virtual 7.1 surround sound. Want to know how good it will sound? Well, you'll be hearing up to 32-bit 384kHz playback of any games you're playing, media you're watching, and music you're hearing. There's 122dB Dynamic Range, with CrystalVoice and Scout Mode technology built into it. Combine that with the BlasterX Acoustic Engine, and you'll be able to customize your experience to ensure everything sounds perfect.
Have you heard of CrystalVoice and Scout Mode? They're some pretty cool technologies that will definitely make gamers fall in love with the Sound BlasterX AE-5. CrystalVoice is about providing crystal clear vocal fidelity. This means you will sound better when talking to other people during games or through applications like Skype, as well as guarantee you'll hear them better too. This means there is Echo Cancellation that eliminates echoes, Beamforming Focus that suppresses noise inside a zone it creates, Noise Reduction that monitors environmental noise to eliminate it, and Smart Volume that keeps your voices at a consistent level whether you are whispering or shouting. As for Scout 2.0, it is a smart gaming companion that lets you use your mobile device to act as a radar for your first-person shooters. Both work with the Sound BlasterX AE-5 to help keep you immersed in the game.
Want to know something cool? The Sound BlasterX AE-5 has an entirely new technology in it. Creative has a new amplifier called Xamp. It is designed to individually amplify audio channels for your headphones. Each one is individually amplified. There is ultra-low 1Ω output impedance. So your 16-600 Ω headphones and headsets will sound better than ever. Each one will have the same audio fidelity and quality. Since each one is handled independently, each one will always sound as wonderful.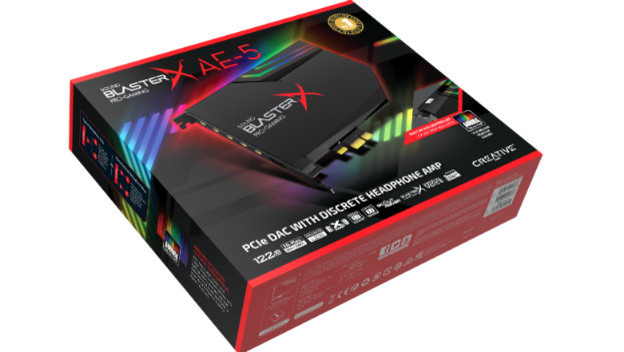 Here's something you wouldn't expect from a sound card. It doesn't just sound impressive, it looks impressive. I'm not talking about that distinct "Sound BlasterX" logo on the side. No, I'm referring to the Aurora Reactive Lighting System. Yes, you're getting something that is a treat for the eyes and ears. The RGB Aurora Lighting System has 16.8 million customizable colors. You can make it look exactly the way you want to, letting people hear and see that you have good taste.
If you have a Windows PC and want to have the best sound card you can get, keep Creative's Sound BlasterX AE-5 in mind. This is a piece of technology that does its best to offer the highest fidelity and quality audio. It has plenty of features that feel geared directly at gamers. And really, $149.99 isn't a bad price for something you will be using for years. Creative has something special here.