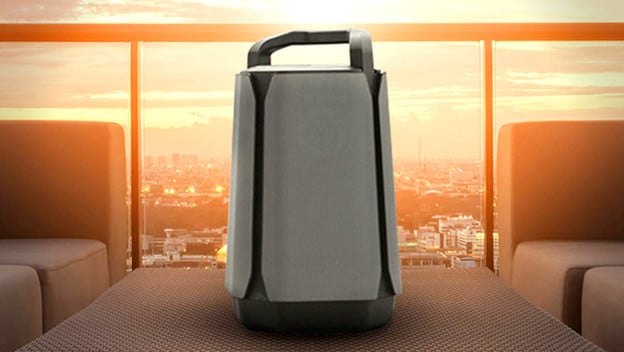 Sound matters. Whether you are playing one of your games or enjoying other sorts of entertainment, you want the option to have crisp and virtual audio. There is a comfort in knowing that wherever you go, you will have the best sort of experience you can. The Soundcast VG7 is the sort of device that helps enable those activities. This is a high-performance, portable speaker that can go anywhere and work well in any environment. This means whether you are gaming or relaxing, you can make the most of it.
The Soundcast VG7 is a portable speaker that can work for you both indoors and out. If the device you are using has Bluetooth or accepts a 3.5mm aux jack, you can start enjoying the sweet sounds with this device's 7" long-throw woofer and four 3" full-range drivers. It hits acoustic frequencies of 55-20kHz +/-3dB and ha a Class D 30W RMS subwoofer amp and Class-D 15x2 RMS stereo amp. It also has eight memory slots and NFC auto device pairing with Bluetooth, so you can start listening to and enjoying the sounds of your music, games, or movies without any sort of delay.
One of the main features of the Soundcast VG7 is the fact that this is a 360 degree speaker. It is designed to provide sound from all angles, so the noises you hear envelope you. Its four enclosed, 3" speakers cover all four directions, ensuring everyone, everywhere can hear what is happening. Since these have high SPL Neodymium motor design, with aluminum cones and butyl rubber surrounds, you are guaranteed they will hit the right notes and offer wonderful base sound.
The importance of the Soundcast VG7's indoor and outdoor technology can not be understated. It has a long life rechargeable battery, so you can listen to it without a power source both indoors and out. There are different sound settings to help keep things optimized depending on where you may happen to be located. It is also weather resistant, so there is no need to worry if there is a sudden rain shower when you are outside or if you are by a pool where people may splash. The Soundcast VG7 will be safe and continue providing the sound you deserve.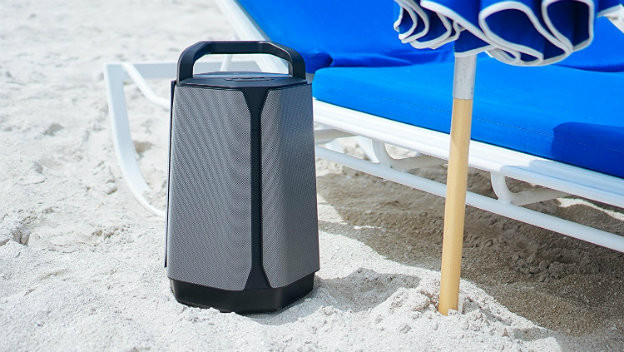 What I think may be most valuable for gamers is the fact that the Soundcast VG7 has a power bank built into it. Imagine you are by a pool or outside with friends and have a phone, tablet, or console with a USB Type-A to Type-C cable like a Vita or Switch. The device is running low on power, because we all know phones, tablets and consoles that can be used on the go just suck up energy like it is nothing. But if you have the Soundcast VG7, you can go ahead and tap into its power bank for an extra jolt. It could also be handy if you have an indoor space with few power outlets, as you can save space by plugging the speaker in, then using its USB ports to charge other devices.
All in all, the Soundcast VG7 is a convenient piece of technology. It offers an opportunity to enjoy incredible sound from your various devices in any possible location. It caters to each situation, while also remaining quite sturdy. While it does have an intimidating $799.99 price tag, this is the sort of device that can serve multiple purposes in your home and last you for years to come. Keep it in mind, in case you want the best sound ever wherever you go.