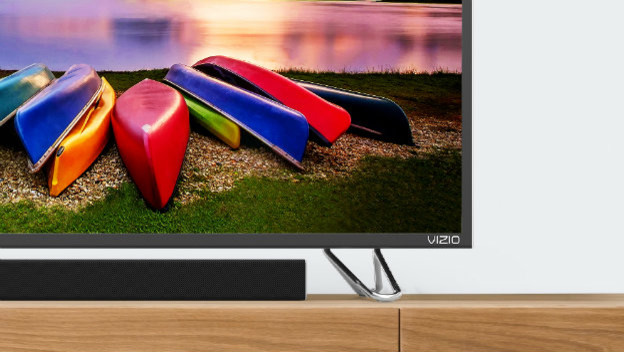 Putting together a great gaming den means assembling pieces of a puzzle. You need consoles and computers. Some sort of high-end TV or monitor is necessary. There's also the whole figuring out where to sit thing. But one thing people might overlook is the aural experience. Audio is a critical part of enjoying our media, but we often forget and just make do with the speakers built into our TVs and computers. When really, we should all be using things like a VIZIO SmartCast Sound Bar System. At $249.99, it can keep us covered and make our home theater experiences more complete. Fortunately the folks over at VIZIO gave us a sample in exchange for a review so we could take a look at this unit up close and personal, which we instantly fell in love with.
The VIZIO SmartCast Sound Bar System is an unobtrusive way to make any room it is placed in sound better. After all, it is only a 36" by 2.10" sound bar—with a 6.7" x 11.8" x 7.90" wireless subwoofer and two dimunitive but powerful satellite surround speakers, meaning the sound bar can easily rest beneath a TV inconspicuously. Or, against a wall even, should you decide to mount it. The wireless subwoofer can sit near the couch in the back of the room for added impact, without pesky wires running to the bar, while the surround speakers connect to the subwoofer and can be placed behind the listener for maximum envelopment. It is this subtle piece of technology that blends well in a home, doing its job without calling attention to itself. You want it to make itself known with its sound power, and this diminutive device does exactly that, thanks to it using Dolby Digital, DTS Studio Sound, DTS TruSurround, DTS TruVolume, and DTS Digital Surround.
Let's set up a scenario for you to show what kind of impact this would have as part of your gaming setup. Let's say you enjoy shooters like Call of Duty: World War II. This soundbar will ensure you hear every part of the firefight, keeping you immersed in the action as you head out onto the battlefield with your friends. What about Monster Hunter: World? The VIZIO SmartCast Sound Bar System can be reduced to 20 Hz, which means when those monsters roar, you will actually feel it. It will make the area shake both in-game and in your home. Maybe you are playing Resident Evil 7 or Outlast 2. You will be ready for those otherworldly whispers and terrifying creaks with 101 dB of output, but still preserving clarity that lets you clearly hear what those monsters are saying.
There is also a sense of convenience that the VIZIO SmartCast Sound Bar System provides. We all know how easy it is to use a sound bar when it is hooked up to our TVs. But this is especially impressive is when you walk into a room and just want to listen to some music or podcasts you love without messing with anything else in your house. Since this hardware has Chromecast built into it, all I would need to do is tap "cast" to get my phone and sound bar talking to one another. Spotify, Pandora, Google Play, YouTube, and lots of other Chromecast-compatible apps immediately kick into gear, letting me enjoy these sweet sounds in an enveloping and comforting way. Even just setting it up is effortless, since the VIZIO SmartCast Sound Bar System kicks in the moment my phone is connected to the WiFi network. There is no need to worry about any pairing.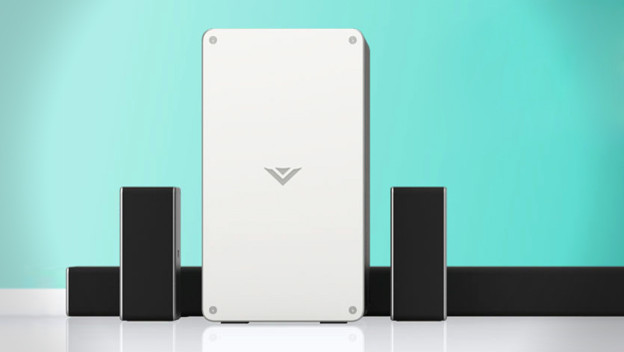 Or, if I did not want to restrict myself to specific applications, I could always turn to the VIZIO SmartCast Sound Bar System's Bluetooth functionality. It has BLE 4.0, which means it not only connects to anything compatible, but does it well. Did I want to watch something on my iPad, but not have to suffer with its poor audio quality through its speakers? I could connect to the sound bar and enjoy things the way they were meant to sound. Did I have friends over and want to share playlists I had put together on my laptop that was in another room? With a push of a Bluetooth button on the sound bar, I could have things set up and make everyone happy. Or, if I have a Google Home assistant, I can connect it to this sound bar. Google's assistant will hear you and play back anything you request through it. There's a versatility here.
Sound systems are an important part of people's practical lives. If you are a gamer, you are going to want to hear every moment of your game. The VIZIO SmartCast Sound Bar System has all of the features to ensure you know when the bass drops and catch any possible whisper. But when you're not in the middle of fighting Nergigante or preparing to make the Nazis pay, you can also use it to enjoy other forms of media. It is even effortless to use with your phones or computers, meaning it's useful for members of the family who aren't going to take a few hours to complete one of Destiny 2's raids. The VIZIO SmartCast Sound Bar System is practical and comprehensive.