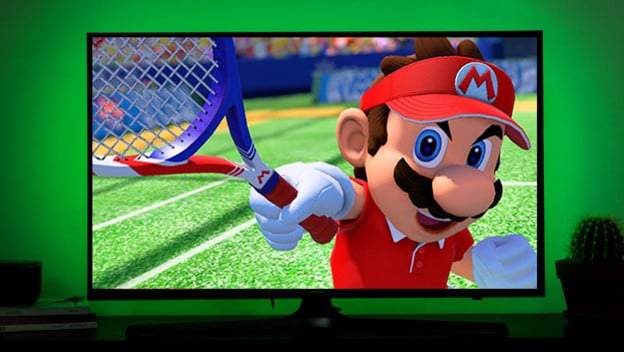 Color bias lighting is usually seen as a means of improving viewing. Whether you are watching TV or playing games, having this extra ambiance is about giving people an opportunity to influence the activity in a subtle way. Most people think about using the Luminoodle Color Bias Lighting for just the TV, but there can be more to it than that. This can be a gaming room essential for many reasons.
First, let's go over what Luminoodle Color Bias Lighting is, since some people might look at a product listing and think they are like strings of holiday lights. While there is some merit to that, it over simplifies things. Luminoodle Color Bias Lighting is a string of lights that provides colorful, ambient lighting. They have 10 brightness settings, 15 color options and installs easily with 3M tape. You install it to your liking, plug it into a device with a powered USB outlet, and enjoy. While all these things apply to any kind of activity, it is the gaming-specific applications that can make it more handy.
The most basic part is to ease eye strain. Some people have a habit of playing PlayStation 4, Xbox One, or Switch games with only the TV offering any source of light. Having Luminoodle Color Bias Lighting plugged into a console and offering extra light in the room may make you more comfortable. Being more comfortable could mean you would feel better about playing for longer periods of time. And, with systems where the outlets always remain powered, even when asleep, it means having an extra light source in your room that can be controlled via a remote.
Speaking of light, using Luminoodle Color Bias Lighting with a console gives people another option. You could consider it a more decorative room element. If you feel you do not need light around your TV, you could apply the lights with the 3M tape around your console in a pleasing way. This might be a bit difficult with the Switch dock, as the smallest length is 3.3ft, but you could easily outline and accent your PlayStation 4 or Xbox One to make it stand out more on a shelf. And, with the remote, would be able to toggle it on or off at your leisure.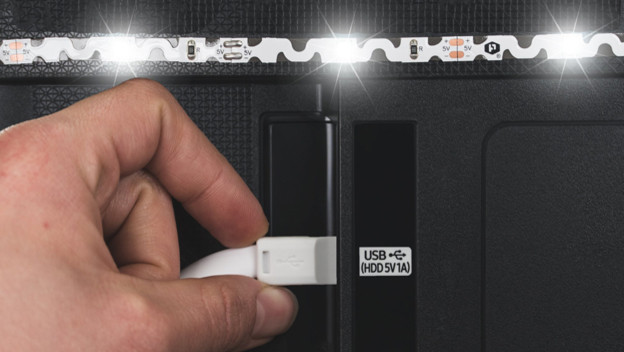 But the biggest change may come with the way Luminoodle Color Bias Lighting helps you see your games. While this is not a dynamic light system that automatically senses what is happening on the screen and adjusts accordingly, the range of light available can help with viewing games. It is noted that these kind of color lamps help with contrast, making blacks stand out and colors more defined. With games like Call of Duty, Fortnite, Monster Hunter: World, Overwatch, and Rocket League, having a little extra definition, due to a nearby, outside light source that you have set in a stable, complementary color, could be a help.
Having something in your gaming room that looks nice, calls attention to your setup, may ease eye-strain, and could help an image look clearer can be a definitely plus. Having Luminoodle Color Bias Lighting around a TV or system could help make your gaming situation more visually impressive at the very least and more comfortable at its best.