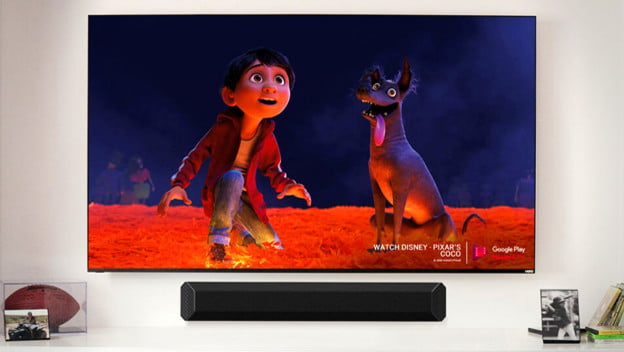 When we get home at the end of the day, we all want an opportunity to enjoy whatever form of entertainment we enjoy the most in the best possible way. But, sometimes things get in the way. Things may not sound as good as they could, we may not have enough space to have the sound system we want or need, and money could be an issue. If any of these things has ever been a problem for you, it might be time to go to VIZIO. While it is easy to think of them for more expensive and comprehensive systems, like the SmartCast Sound Bar System, the company also has economical and practical ones like the VIZIO 2.1 Sound Bar (which they were nice enough to provide a sample of for review). What is nice about the 2.1 Sound Bar is that it's an all-in-one system. You do not have to worry about space for subwoofers or making room in your personal space.
This is a 36" sound bar that fits in well anywhere. For example, you could have the 2.1 Sound Bar mounted on the wall under your TV. It comes with the template and mount brackets for that very purpose, after all, and helps save space. But if you would rather have it on an entertainment system, it is thin and small enough to rest just below your actual TV, wherever it may be.
In either situation, VIZIO's 2.1 Sound Bar only takes a few minutes to get it in place and ready to go. Especially since the setup only involves connecting the Digital Optical or 3.5MM to RCA cable to your monitor, plugging it into a power source, and turning it on with the remote. It automatically looks for an audio input when both it and the TV are on, even if you are not pressing the input button on your own. It is incredibly convenient to have a sound bar that is that intuitive. You'll feel like once you have it set up, you can almost forget it is there.
Part of that is because the VIZIO 2.1 Sound Bar does its job in such a way that it is working remarkably well, but sounds natural. Each one has two front 45" speakers. These have DTS Virtual X processing technology that can be turned on and off. This means that when you are listening, it sounds like the noises you hear are coming from all around your environment, surrounding you (we're talkin' above and below). The two subwoofers built into the sound bar are each 3"and are designed to fire the base sounds upwards. This means they too make everything sound immersive. Its use of DTS Virtual:X and Dolby Audio both keep everything crisp, clear and precise. Like when playing Monster Hunter: World and a Legiana roars, it sounds like that creature is right behind you. If you pop in The Crew 2 and start driving around the country, you hear the noises of the road and sounds of the radio as though you were sitting in a car.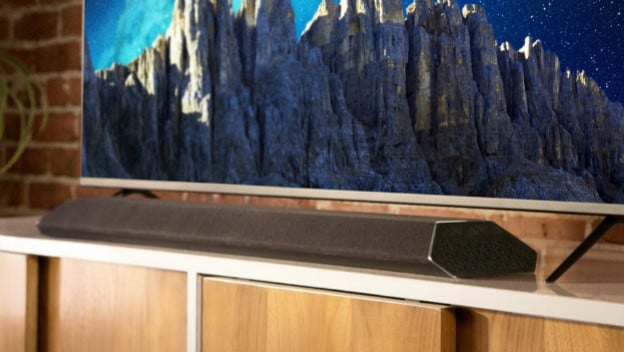 It also helps that the VIZIO 2.1 Sound Bar does so much, it is easy to justify its more affordable $139.99 suggested retail price. But it's worth mentioning that, as of this writing, you can find them on Walmart's website as low as $100 or less! It is great for gaming, since it makes it easy to hear those detailed tones you might not pick up with just your HDTV's built-in speakers. It is good for watching TV, as it helps the sound carry and envelop you. But what we really like is the Bluetooth compatibility. If you want to listen to some music that is on your phone, simply check in and have a better way to hear it. If you want to watch some goofy YouTube video on a tablet, just connect it and get the sound from a substantial speaker system, rather than the one built into your device and possibly hidden by a case.
The VIZIO 2.1 Sound Bar is the kind of device that can be a solution in many situations. It is affordable, considering the technology, size, and experience it offers. It keeps everything together in an all-in-one sound bar, so it is easier to install and implement. There is no setup hassle, allowing you to easily connect and listen to your games, movies, shows, and music. It makes things easy, so you can focus on what matters: hearing everything the way creators intended.