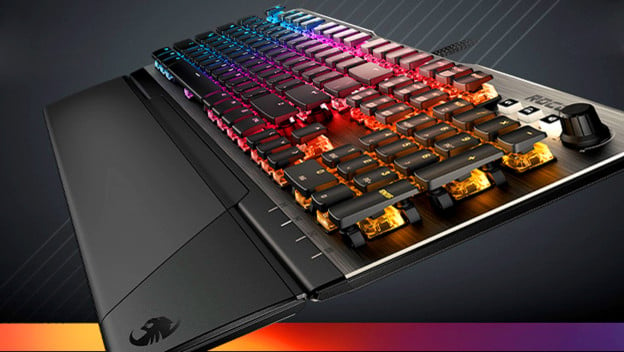 If you have a desktop computer, odds are you are serious about your system. It might be a major part of your life. You probably use it for gaming, media, casual internet surfing, and work. Such an important device deserves a keyboard that can keep up with everything you do. Later in 2018, ROCCAT is hoping to meet people's expectations with a line of Vulcan mechanical keyboards. These will be top of the line, competent peripherals for folks who need to get some serious gaming or work done.
What's wonderful about the ROCCAT line of Vulcan mechanical keyboards is how considerate they are of different situations. There is really a Vulcan for everyone, thanks to there being three different models. Basically, someone who might be hesitant to spend a lot and wants a good general keyboard could go with the $129.99 Vulcan 80. People who demand the best and most feature-heavy can go with a $159.99 Vulcan 120 AIMO. As for everyone in-between, there is a $149.99 Vulcan 100 AIMO. Each one has its own unique options designed to make people's lives easier.
All three have a few things in common, so it is not like the changes are drastically different. They are just enough to make spending more enticing if you feel you need it. All three of the ROCCAT Vulcan mechanical keyboards is a keyboard with remappable keys that have Titan Switches developed by ROCCAT. This is the first time these are being used, and they are also designed to be easy to read and have slightly shorter heights for easy cleaning. They have 1.8mm actuation point, so they are silent and swift, 3.6mm switch travel distance, a 1000Hz polling rate, and a 32-bit ARM Cortex-MO based processor inside. Each one has 512kb macro and settings memory inside, to remember what you like. They have Easy-Shift[+] technology and work with the ROCCAT Swarm software suite. All of them have this incredible, shared foundation.
This means the actual differences can end up being smaller than you think. Let's say you want a basic mechanical keyboard from ROCCAT. You go with the Vulcan 80. It isn't as flashy, since it only has ROCCAT Blue illumination for its keys, but it gets things done. It has the multimedia keys, for easy access to programs you like and specific controls. It functions well and is basic, but still goes beyond other keyboards due to that foundation I mentioned earlier.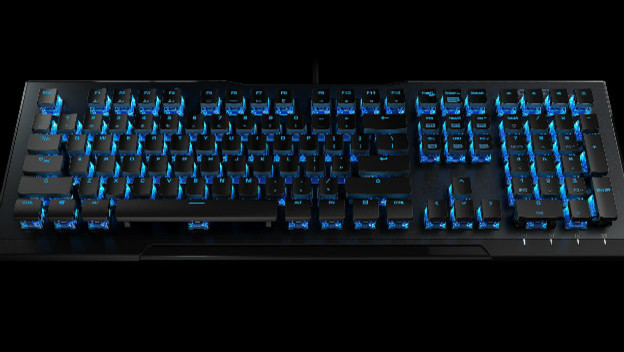 When you get to the Vulcan 100 AIMO and Vulcan 120 AIMO, the differences are more minimal. Both of them have the Vulcan quality you expect, but have extras that make things more comfortable and flashy. These mechanical keyboards each add a media wheel, as well as the other multimedia controls. This lets you adjust audio and visual settings with the spin of a dial. They also have the AIMO illumination system, putting a long-life LED in each switch that can display 16.8M colors. The engine lets you change illumination as you use it, presenting different scenarios without being told. Though, they are configurable too. The main difference between the Vulcan 100 AIMO and the Vulcan 120 AIMO is that the latter includes an ergonomic hand rest that you can equip as needed and desired. Also, the Vulcan 120 AIMO is only at Best Buy in the United States.
The ROCCAT Vulcan mechanical keyboard line is about offering variations for people who want to enter into this elite world and enjoy a peripheral that can make using their computer more comfortable. Each one has this incredible base that has fantastic switches, durable construction, bright lights, and the technology you need to save your preferences. The Vulcan 80 is there for those getting started, while the Vulcan 100 AIMO and Vulcan 120 AIMO kick things up a notch.