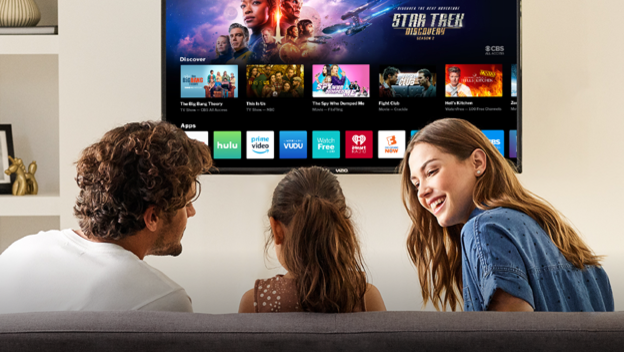 With high end PS4 Pro and Xbox One X systems out and next gen models coming soon, getting a TV to handle it is real important. Getting that best display is a must. Vizio M7-series can do the trick. Time spent with one shows how good it could be for your games. Of course, it's good for TV and movies too, especially since it's got lots of smart streaming support. But it's generally a model that might go good with your major consoles.
I found the Vizio M7-series worked at its best when connecting newer consoles (which we were provided free of charge in exchange for the purposes of this article). It's the sort of TV that picks up on what you're doing. If I connected a Wii, of course it'd sense the SDR and go with that picture mode, so I could go with the right picture mode. But, if I'd connect an Xbox One X, it'd know this is HDR and auto-detect to get things right. Either way, it had crisp, vibrant and clear images. This feels like its due to the quantum dot color wide color gamut and 80% rec 2020 coverage. You could tell how the backlight would kick in with 400 nits of brightness with UltraBright 400 and see the over one billion shades. It also has 4 HDMI ports, so every console can be plugged in, and component cable ports as well. They're all easy to access and reach, which came in handy when getting cords organized and in place for playing.
The Vizio M7-series comes in ready for a PS4 Pro or Xbox One X. Let's focus on an Xbox One X. People who want the HDR experience can connect everything and have real Dolby Vision clarity and compatibility right away. HDR10 is the default for the Xbox One X, and of course it supports that as well. This means you have the two options available out of the box to make games look better, although HLG is there if you need it too.
I notice that the 4K HDR picture worked even better with games with the active full array. the Vizio M7-series TVs have local dimming zones that work with its LED backlight. If you're playing a dark game, like Resident Evil 2, it'll pick up on that to increase the shadows and ambiance. If you're going through Assassin's Creed: Odyssey, it'll pick up on the lighter colors to make details pop. The contrast really helps, especially if you're going through something like Destiny 2 where you'll need to catch details in the environment and aim.
Its built-in Game Mode is real helpful too. The Vizio M7-series has a 120Hz refresh rate and a Clear Action rate of 360, to keep things focused and crisp. When someone goes to Game Mode, it automatically adjusts all elements so there's less input lag when you play. While I didn't notice too much of a difference with less intense games, it was great to have with Dragon Ball FighterZ where extra frames can mean life or death.
Game Mode isn't the only automatic mode to make using a Vizio M7-series real easy. Cinema Mode (also called "Calibrated" for brighter rooms and "Calibrated Dark" for darker rooms) tries to mimic the movie theater experience best it can. It adjusts the frame rate to keep things consistent and displaying well. It also paired well with the medium active full array setting to make things really vibrant and sharp. If I connected a computer or wanted to look at images, Computer Mode was ready for that. For general streaming, with something like Netflix or the Vizio WatchFree function that has 100 free streaming channels, Standard was good for just enjoy what it had to offer.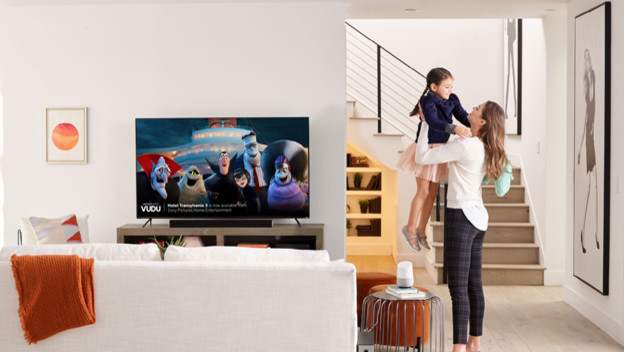 There's also the connectivity options. While a console attached to a TV will give people access to all sorts of streaming services, sometime you don't want to turn extra boxes to do things. The Vizio M7-series has it. Turn a system on, and it'll know what you want. It has Google Chromecast and Apple Airplay included, and both work effortlessly. You have a phone nearby? Ask Google Assistant or Siri. It's real easy and doesn't have any fuss. It's also Alexa compatible. After using past TVs which didn't connect to Siri, but did work with Alexa, it was nice to have that option.
The Vizio M7-series TVs are a sort of saving a dollar model. Compared to a Samsung, you're probably paying 30-100% off the price. Say it's a 49" model. It's $499, compared to a Samsung RU800 that's $649. If you went with a $699 65", then the Samsung Q60R similar size is $1,399. It gives you a way to get a solid 4K HDTV with the features you need without a lot of fuss. It's generally a great TV for gamers' needs.