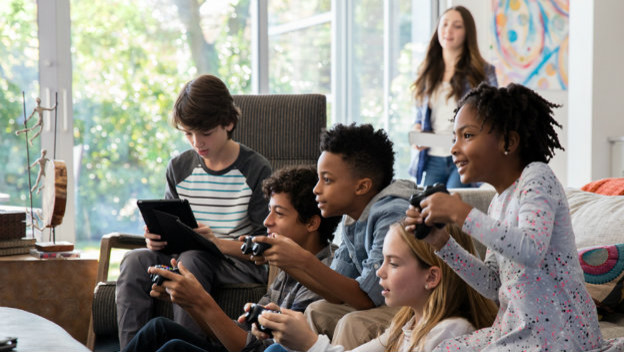 Almost everything in people's homes and offices connect to WiFi. Your computer, phone, and tablet, naturally. Every single one of your systems has that connection as its lifeblood. You might have some sort of personal assistant, maybe like an Alexa device or Google Home item. Your refrigerator, thermostat, and lights might even be connected to everything. Which means everything is constantly being drained and is competing against each other. Which is where something like a Linksys MX10 Velop AX Whole Home WiFi 6 System comes in. Its whole purpose is to help everything coexist.
When you get the MX10 Velop AX, you get two a two pack to start out your $699.99 modular system. Each one is a device designed to act as a router and extender to help bring up your capacity. It includes Linksys' WiFi 6 technology to keep speeds at up to 5.3GBps for everyone within the system's range.
While speed is good, consistent performance for everyone connected is even better. That's another goal with the Linksys MX10 Velop AX Mesh Wi-Fi 6 System. It uses its orthogonal frequency division multiple access and multi-user multiple-input multiple-output technology to ensure everyone has the access they need. Up to 50 devices can be on at once. Of those, the aforementioned MU-MIMO allows eight devices to be downloading and uploading at once. This means someone using Netflix on a smart TV isn't going to be getting in the way of another person uploading a major work project or perhaps a gamer downloading an update or livestreaming a game. This, of course, works with the Basic Service Set Coloring that keeps other WiFi networks from interfering with your own.
But, if you are a gamer, what if you prefer a wired connection? Of course, that's an option with the MX10 Velop AX too. Each one of these units has four Gigabit-Ethernet ports and a USB 3.0 port built into it. If you have a router in one part of the house, but tend to game in the other, each one of the modular parts can extend that range with essentially a WiFi net. Then, if you want extra security, have one near whatever device you'd like to go wired nearby and plug in.
Especially since getting connected is that simple. You're essentially placing each node to quickly set up a WiFi Mesh Network. You get the Linksys Velop app for your phone or tablet. You connect it to the modem you have and set it up step-by-step in the app. Then, you place each one of the devices where it would most be needed.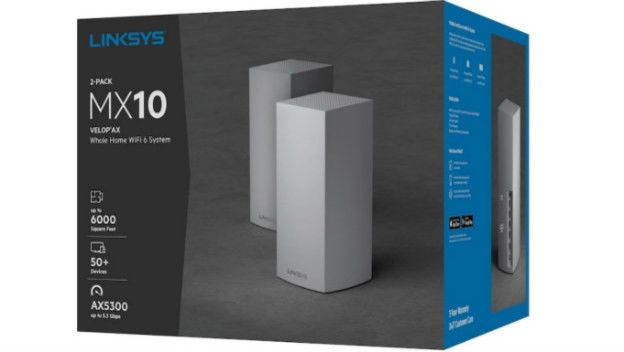 Speaking of both the app and security, people can use it to check up on the network, prioritize, and protect everyone. You can see everything happening from the dashboard. This lets you see who is on and determine which devices take priority. (For example, you might want to set a PlayStation 4 playing a game over a tablet streaming something from Hulu.) You can put together parental controls, have WPA1 encryption and an SPI firewall, and set up guest access passwords for temporary visitors.
The Linksys MX10 Velop AX Mesh Wi-Fi 6 System is there to keep things real consistent and stable. The goal is to have everything working as smoothly as possible. This WiFi mesh network helps keep that up. It ensures fast speeds for multiple devices and the coverage you need throughout your home for any kind of device, be it a little virtual assistant or that pricey Xbox One X you bought and play Xbox Games Pass games on every day for a few hours.