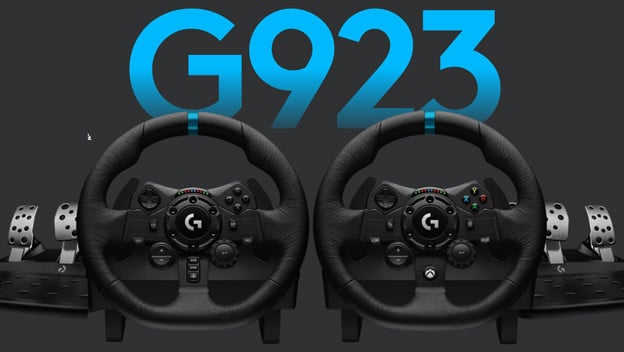 Editor's Update: Tuesday, August 18, 2020
Not to mention, Logitech keeps on trucking. The latest Logitech racing wheels continue to maintain the legacy and quality. The G923 Trueforce Sim Racing Wheel is the latest one in the G Series to keep quality alive. This $399.99 wheel is ready to put you in the driver's seat on the PlayStation 4, Xbox One, or PC. No matter what platform you own or which game you are playing, it will give you the tools you need to take first place and leave others in your dust.
To start, it has the right look. This is a full-sized wheel with all the parts and elements that look like they'd fit as well in your car as they do on the controller. It has a leather cover on the aluminum and steel wheel and controller, giving you something that could last for years, but also feel comfortable. Inside, it has a closed-loop motor control to keep everything moving perfectly and ensuring accuracy when you play. You also have progressive brake pedals with it, which are pressure-sensitive and have springs that make you feel like you're in a real car. There's even force feedback as you play.
As for the other controls, the G923 Trueforce has you set too. It's responsive, with rev indicator on the wheel to show you how you're doing. You have all of the inputs and controls on hand, within reach of your fingers as you drive. And, if something doesn't feel exactly right to you, you can change that. There's a G Hub app that lets you go ahead and connect the controller to a PC to develop profiles and setups so whenever you play a racing or driving game, you'll have the right controls on-hand. Truly, the Logitech G923 Trueforce is ready to pass you the wheel.
Original Publish Date: Thursday, June 4, 2020
There are always times when you want to try and kit out your systems. Especially if someone thinks they'll end up spending more time gaming than usual or are picking up accessories for a system that have had for years and know could use some decking out. Logitech, which was founded in 1981, has been making accessories and peripherals for gamers for years, and its latest lines are designed to help bring people further into the game. Both the Logitech Wireless G933 Headset and G920 Racing Wheel are designed to help people gear up and prepare for any sort of experience.
The $199.99 Logitech G933 Wireless 7.1 RGB Gaming Headset is one of those devices that marries practicality with just a hint of extravagance, giving people an elaborate headset that does all it can to support people and let them control their audio experience. It works with every possible device, of course. If you use a PlayStation 4, Xbox One, Nintendo Switch, or PC, you're set. It can connect via a USB port, 3.5mm audio port, RCA audio output port, or just go wireless. It is ready to work with everything. It also is ready to serve for hours, with it lasting for eight hours if you have a RGB light option on or 12 hours if you don't.
This headset has quality on its side. This is a device with 40mm PRO-G drivers that offer 20Hz-20KHz frequency response to offer the highest highs and lowest bass. There is also DTS Headphone:X 3D positional audio, so it is like the game or show sounds are happening all around you. It has a cardioid unidirectional mic with 100Hz-20KHz frequency response, so it'll pick up every sound you make and use noise canceling tech to make sure other sounds aren't heard. You can add a secondary mic if you need it, or fold up the built-in boom mic so it looks like it isn't even there.
It also offers all sorts of options to customize the experience. First, you start by choosing a black or white headset. Then, you are able to choose your sound profile. You can use the G HUB app to create your profiles, so you can have settings for different games, or also for when you use the headset for other media. Its two LIGHTSYNC zones have 16.8 million colors with animations and effects, which you also set up in G HUB. There are even three programmable keys are built into the headset, to let you set your own controls depending on the current profile.
While the Logitech G933 headset is the sort of device that applies to everyone, the G920 Racing Wheel gets more focused. Basically, if you play a driving game on your Xbox One or PC, this is the one you really need to have. The $299.99 set gives you a wheel and force pedals that work with all of the most famous driving and racing games and also are compatible with different mounts and chairs like the Playseat that let you basically create your own driver's seat. So whether you're getting in the DiRT, heading to F1, driving into the Forza Horizon, getting down on the farm with Farming Simulator, or like Project Cars, you're set.
The G920 Racing Wheel's wheel itself has a dual-motor force feedback device built into it, to make it feel like you're actually driving a car. It has 900-degree rotation, a leather hand-stitched wheel cover, and even a hall-effect steering sensor. The steel wheel feels like you're genuinely gripping a real one and racing down the road.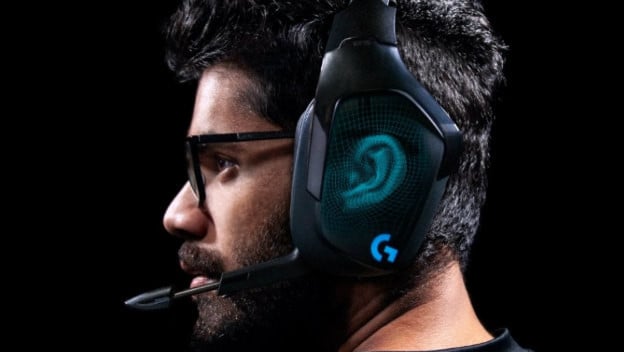 As for the pedals, all three are durable and are there to really make it feel like you're properly braking, shifting, and of course accelerating as you race down the road. It is set up with different grips, so it'll stay in place on a smooth or carpeted surface while you play. The pedals are textured, so you'll find the right space, and are a decent size so it isn't like you're slipping off. Plus, they self calibrate so you basically plug and play.
No matter what you want or do, Logitech has you covered. Every possible gamer could find a use for the Logitech G933 Wireless 7.1 RGB Gaming Headset. It works with everything, has all the bells and whistles, and covers you if you're gaming, working, or just enjoying your free time. If you love driving sims or any game that puts you behind the wheel on an Xbox One or PC, then a Logitech G920 Racing Wheel lets you turn your personal gaming space into a driver's seat. Each one does its best to provide premium experiences.