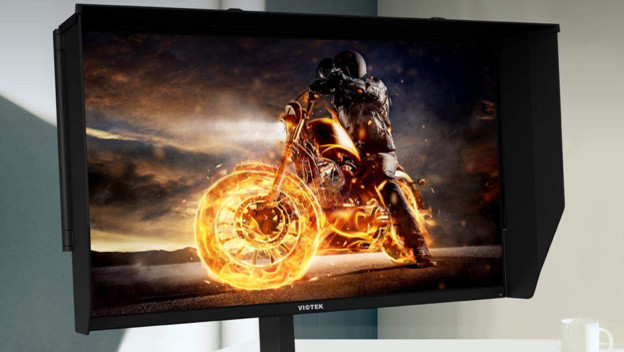 Publish Date: Tuesday, July 7, 2020
Your computer or system is only as good as the monitor you are using as a display. If you have a PlayStation 4 Pro or a decked out PC, that's great! But if you don't have a 4K TV or monitor to use, you're not going to get the best experience. Of course, if you factor in a company like Viotek, you might have an option. The Viotek GFI27QXA 27" IPS 4K gaming monitor is an HDR-ready display that could potentially manage 4K at 144Hz. It can also support FreeSync and G-SYNC. For people willing to invest, it could be a versatile display. It might even help you take advantage of other gaming opportunities.
This Viotek 4K gaming monitor is designed to do as much as possible in as little space as possible. It is only a 27" one, which means it could fit on a disk, a shelf, or in a living room. But even with that size, it has a 3840 x 2160p resolution and can display 16.7 million colors. It is even has a 122% sRGB color gamut, in case you use it for gaming and work. This means someone who uses it for photography, drawing, or designing could have true colors. Or someone using it for gaming will have more natural results.
As for the refresh rates, it is poised to provide good speeds. It supports AMD FreeSync and G-SYNC so you can have all sorts of framerates supported and smooth gameplay. In general, it can manage 48-144Hz range, which means you have any game looking the way it was intended or better. If you have games below 48Hz, it has low-framerate compensation to try and make it look better. The only thing is, people who go for 144Hz 4K will have to connect both DP 1.4 ports to their system or computer's DP 1.4 ports, to make sure you can take advantage. Also, HDMI 2.0 connections do have the 60Hz 4K limitation and you can't have 144Hz 4K and HDR or FreeSync at the same time.
Of course, what's also cool are the game-specific options for gamers. You have FPS and RTS optimization that helps with your vision. In some games, areas with darker tones make it harder to see what's going on. The 16.7 million color support and optimization makes it easier to see subtleties with dark colors. You also have GAMEPLUS, which gives you OSD crosshairs that can help in FPS games. You can put a focus shield around the monitor too, which acts like gaming blinders to keep your attention on the game. It really helps you zero in on what matters.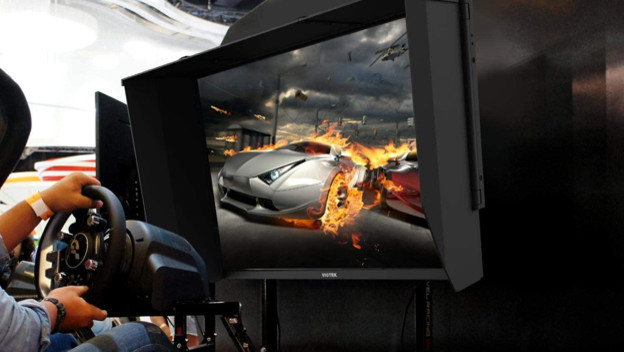 The Viotek GFI27QXA monitor also gets to be pretty versatile. The standard approach is to have the monitor as-is on its stand. If you're going to play games, putting the focus shield on gives you a frame to block out the outside world. That means you have a secure space that lets what you're watching stand out. Then, for some games that benefit from a vertical display, you can shift your whole perspective. Turning it prepares you for classic arcade games that use what's called a tate mode to offer a longer look at the screen.
Essentially, a Viotek GFI27QXA 27" IPS 4K gaming monitor is going to keep you covered and up to date. Even if you're buying the newest and best systems, they aren't going to look right without the sort of display that can handle them. An $749.99 4K monitor like this one has that sort of range you need. Especially since you do have the potential to have 4K resolution with 144Hz refresh rates. Or, if you're playing something that wouldn't or couldn't manage that, you have options like a low-framerate compensation to keep even lesser games looking good. Add on two DP 1.4s and two HDMI 2.0 ports, and you also have enough outlets to keep you from constant swapping stuff around. It's keeping things convenient and up to date.